My Father's Wars - a daughter's story
By JOL Admin | 3 November 2017
Guest blogger: Elaine Acworth - 2015 Q ANZAC 100 Fellow
In January 2012 my mother had a stroke. It was Sunday morning – we were eating yum-cha in the Valley – and my sister phoned, saying Mum had been taken to hospital…
Months later, she had recovered her speech and movement but her memory and capacity were less than they'd been. Quite substantially less.
And right then it truly sank in: my mother was not going to recover, my mother was mortal. She would need – at some point – to be buried somewhere.
Then I realized that she couldn't be buried beside her husband.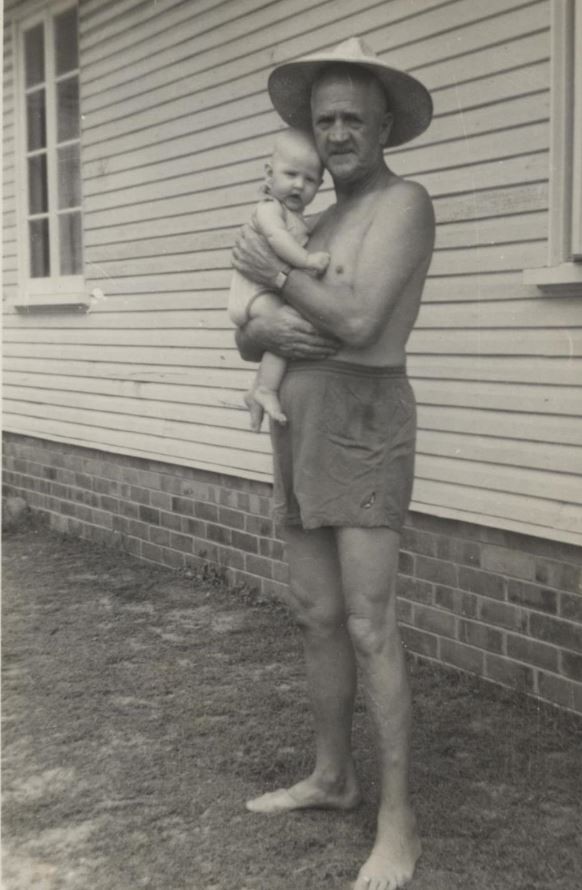 A hot summer afternoon in a Coorparoo yard, (L to R) Elaine Acworth, Bill Acworth. Photograph courtesy of Elaine Acworth
He had died many years before and had been cremated and interred at Mt Thompson Memorial Crematorium and Gardens – in the war memorial wall there. Mum couldn't join him.
I started wondering – why had my father wanted that? Why had he chosen to be buried with his fellow soldiers?
Lieutenant William Snowden Acworth on the boat deck of the Karmala, returning to Australia, 1919. Photograph courtesy of Elaine Acworth
I was a kid, really, when he died. It hadn't occurred to me to wonder at that choice – my father was dead, that was what mattered. But suddenly, now, it was important – not only because it affected Mum's choice, but because it said something about the man he was, the man who raised me, a man I loved but never really knew. I wanted to know him.
That was the beginning. From that moment, I started looking for information: why the memorial wall? And if it was so important to be with his men, why did he never, ever, speak of the wars in which he served? I retrieved his service records from the National Archives – they told me his movements and injuries. I read the unit war diaries on the Australian War Memorial website – usually brief accounts of the battalion's actions, with a totting up of the awful cost – numbers of killed, wounded and missing after each engagement. Diary appendices covered troop movements, ordinance, transport, supplies, signals, reconnaissance – the millions of details required to move an army across a country. But where was my dad in all of that?
Lieutenant Bill Acworth with the other junior officers (names unknown, location unknown. Photograph courtesy of Elaine Acworth
None of his letters home survived and he wrote no diaries. I knew other soldiers kept diaries, though, perhaps soldiers from Dad's battalion, the 26th – I needed to try to find these accounts of what happened there. They might even mention my father, Bill Acworth.
The John Oxley Library at State Library of Queensland is a vast collection, including many memoirs and family papers relevant to the State. Samuel Hackett, George Deviney, Rev. George Green – all of these accounts of action in the war were held here. I needed the JOL. I'm a playwright – I was going to write a play about a young man coming of age during the reign of fire that was the Great War, and a young girl, looking to know her father.
Three days before the closing date, I spoke to wonderful SLQ staff who encouraged me to apply for a Q ANZAC 100: Memories for a New Generation Fellowship – the application was not too long, the strength of the idea was the primary consideration for the panel. I was fortunate enough to be selected in that inaugural round and the play I thought I was writing has become a series of podcasts, tracing both my father's journey through the war and its impact on him, and his children, in later life. I understand, a little, why the memorial wall...
View the digital story created about my fellowship, and the research leading to the podcast series My Father's Wars.
Elaine Acworth, Q ANZAC 100 Fellow 2015
Comments
Your email address will not be published.
We welcome relevant, respectful comments.