Multicultural Brisbane, the 1920s
By JOL Admin | 26 July 2012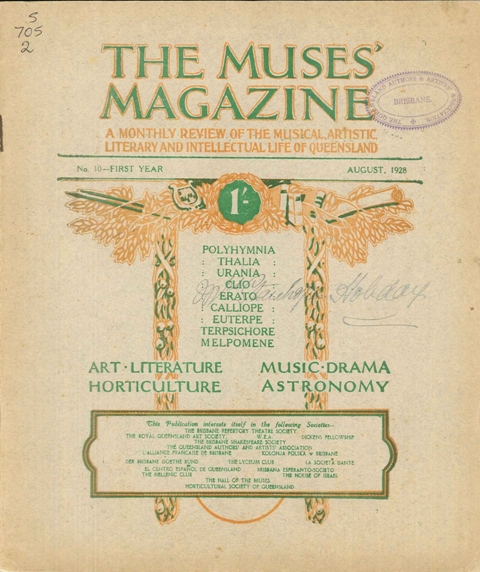 Muses Magazine
Muses Magazine only lasted for 14 issues, but from November 1927 to January 1929 it reflected a surprisingly cosmopolitan Brisbane. Describing itself as a monthly review of the musical, artistic, literary and intellectual life of Queensland, it reported on the activities of cultural organizations such as the Dickens Fellowship and also a variety of 'ethnic' organizations which had sprung up at around the same time. They included the Brisbane chapters of L'Alliance Francaise and La Societa Dante; Spanish, Polish, German, Greek, Israeli groups and even an Esperanto Society.
The driving forces behind Muses Magazine were Henri Alexis Tardent and Luis Amadeo Pares. Tardent was Swiss born, but Pares grew up in Mareeba, before leaving for Sydney to study music and then moving back to Queensland in 1923.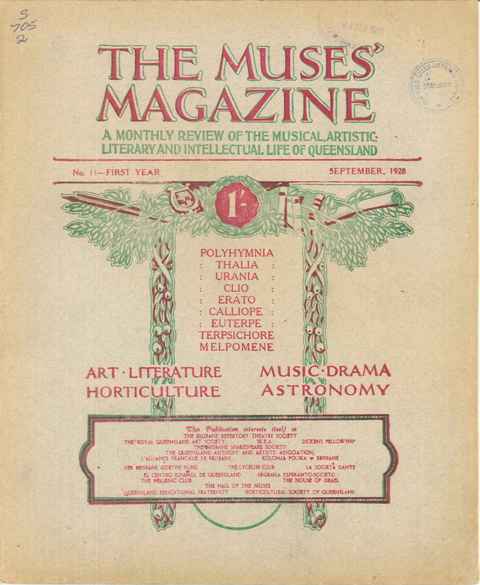 Muses Magazine, September 1928, cover
The magazine was well-produced and contributors came from the cultural and intellectual elite of Queensland. At the end of its first year it was going strong. The October/November issue for 1928 reported circulation penetrating to almost every part of Queensland, to every capital of the Commonwealth and to fifteen countries abroad.
After only three more issues, however, Pares was bankrupt and it was gone.
More information
Buckridge, Patrick. Harmonising the City: Music, Multiculturalism and The Muses' Magazine in Brisbane. Queensland Review. 2011: 18: 26-41.
Evans, Raymond. A History of Queensland. Melbourne: Cambridge University Press, 2007.
Comments
Your email address will not be published.
We welcome relevant, respectful comments.