More to Discover - Visit Anzac Square Memorial Galleries
By Greg Corbett, Visitor Services Assistant, Anzac Square Memorial Galleries | 30 January 2023
Anzac Square. Image by PixelFrame.
Anzac Square is a place that you may know well. Perhaps you've marveled at the stunning architecture of the Shrine of Remembrance with its circular colonnade while passing by on the bus to work. Maybe you've stopped to have lunch in the beautiful and peaceful park area, admiring the bottle trees and Bribie Island pines, the tranquil reflective pools and the statues that honour those who served. You may even walk past the entrance to the Memorial Galleries as you go through the pedestrian subway on your way to Central Station. You'll find that there is so much more to discover inside Anzac Square Memorial Galleries.
The World War I Memorial Crypt. Image by PixelFrame.
In the World War I Memorial Crypt, you'll find many elaborate memorial tablets and honour rolls dedicated to the memory of those who served in Queensland battalions during World War I. There are two interactive touchscreens, one that allows you to read the fascinating stories of the battalions that fought at Gallipoli, in the Middle East and on the Western Front, and the other detailing personal stories of 21 Queenslanders who served in the war. Diaries, photos, letters and enlistment papers offer remarkable insight into the lives, thoughts and personal circumstances of these Queenslanders who answered the call.
While in this space, you will hear a tranquil soundscape in the background. A ringing bell, a plane flying overhead, a child's laughter - the sounds evoke a former battlefield in peacetime, adding to the atmosphere of quiet contemplation.
The World War II Memorial Gallery. Image by PixelFrame.
Moving through into the World War II Memorial Gallery, you'll notice a projection that features poignant wartime photographs. These images offer an insight into the lives of Queenslanders at home and abroad during World War II. On the walls, you will see memorial plaques dedicated to Queensland battalions, regiments and other units, carefully maintained and each with its own story of sacrifice and service, with a space to leave a poppy as a mark of respect.
At the centre of the World War II Memorial Gallery is a large pillar surrounded by table-like screens in a design that evokes the layout of a war plotting room. There is a different theme on each screen, with interactive timelines of significant events, information about notable battles in Africa, the Middle East and the Pacific, and stories about the units that the wall plaques are dedicated to.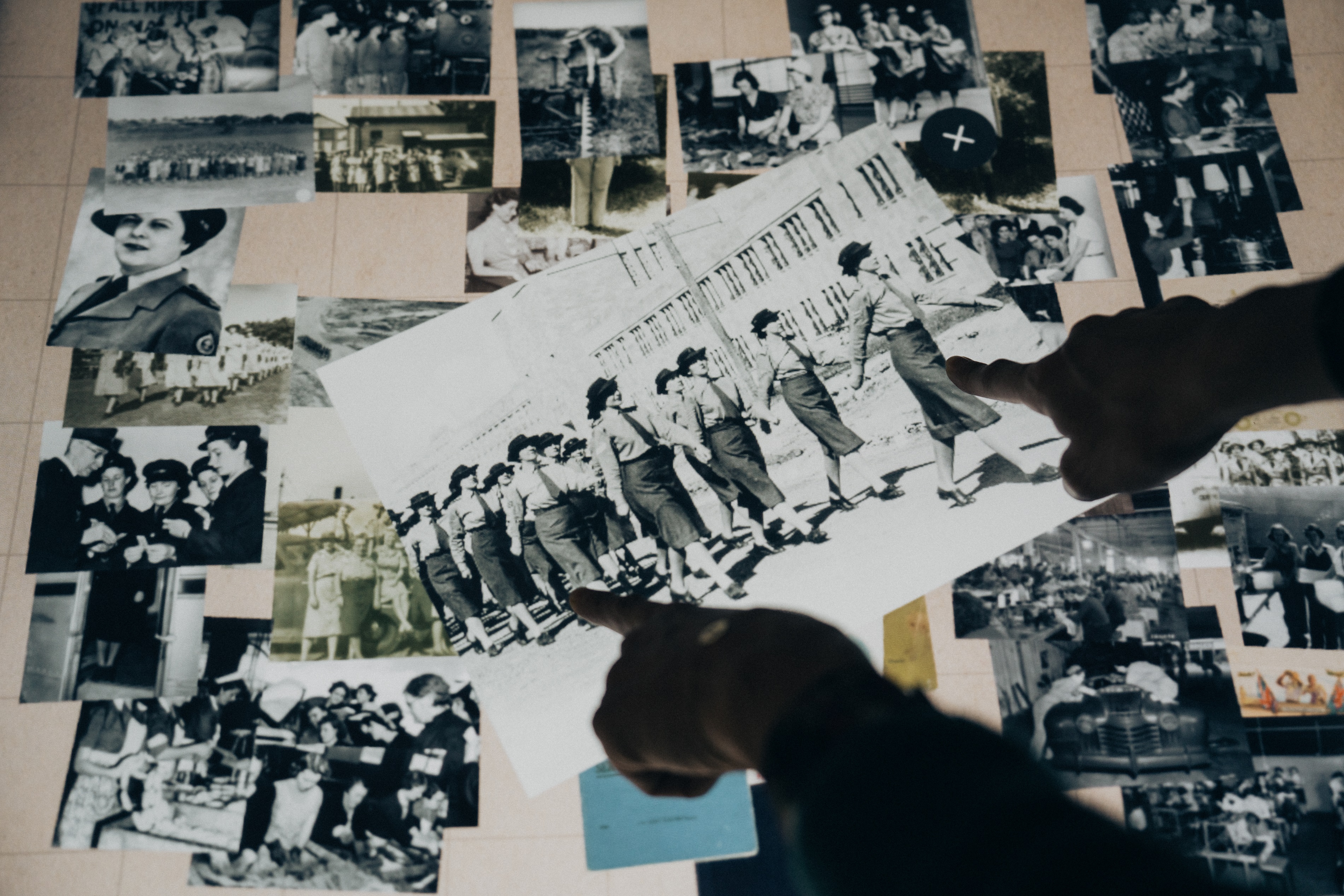 An interactive screen in the World War II Memorial Gallery. Image by PixelFrame.
The screens are engaging and dynamic, even allowing you to examine digitised items of war memorabilia such as photo albums, letters, medals and badges from State Library's collection. Interactive maps show how Brisbane, Torres Strait and Townsville were transformed, and viewing this makes the war feel startlingly close to home. Another map that chronologically details significant battles of the Pacific War brings historical events vividly to life.
Visitors in the Post World War II Gallery at Anzac Square. Image by PixelFrame.
Across the other side of the subway tunnel, you'll find the Post World War II Gallery. One of the first things you may notice is the beautiful porphyry stone retaining wall with its distinctive colour and texture, which adds a unique character to the space.
Interactive screens in the Post World War II Gallery at Anzac Square. Image by PixelFrame.
There are five large touchscreens that allow you to explore Australia's involvement in peacekeeping operations and conflicts since 1945. Infographics detailing countries where Australians have served and where they are buried really give a sense of the scope of Australia's military operations and contributions abroad, and an interactive timeline allows you to gain a broader understanding of the historical context of Australia's involvement.
Here you will find video interviews with six Queensland servicemen and servicewomen, real stories of danger, courage and heartache that offer a fascinating and relatable insight into the lived experiences of military personnel.
The 'How Do You Remember' wall in the Post World War II Gallery at Anzac Square. Image by PixelFrame.
There is a video wall with images from across the state, showing how we have commemorated the sacrifice of Queenslanders since the first Anzac Day in 1916. Further complementing the Gallery's theme of reflecting on the service of Queenslanders, there is a wall entitled, 'How Do You Remember?', and a quick glance around the wall reveals so many touching tributes to both family members and strangers who fought in Australia's wars.
Be sure to talk to our friendly and knowledgeable staff to learn more about the history of the Square, how to use the touchscreens or just to share a story about your connection to Queenslanders who served.
Anzac Square Memorial Galleries is open 10am-4pm Sunday - Friday and entry is free.
Comments
Your email address will not be published.
We welcome relevant, respectful comments.