Miniature Books
By Administrator | 20 January 2015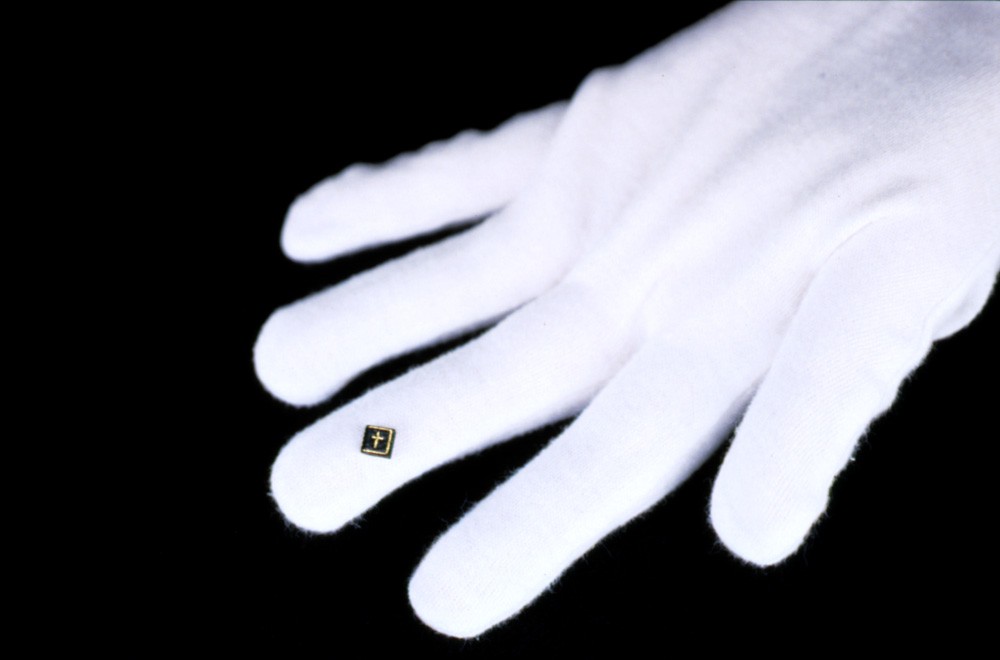 What is it that fascinates us about miniature books? Is it how such a book is made? Is it the size? Whatever the reason, let your curiosity drive you to the Australian Library of Art where a range of miniature and small books can be examined.
Miniature books are not a new fad. William Shakespeare's 5.4 cm high "Hamlet, Prince of Denmark" was published in 1904 and there are many throughout the world created before that. So where to begin? A good place to start learning about these marvellous creations is "Miniature books: 4,000 years of tiny treasures" or "Miniature books: their history from the beginnings to the present day."
With miniature books generally defined as being no more than 7.6 cm in height publication is challenging as being so small they are difficult to work with.
Miniature books can be made out of a variety of paper types as demonstrated in the series "". This series comprises six 7.5 cm high books each made out of a different type of handmade paper originating from different areas of the world - Europe, the Middle East, Asia and Central America.
"Miniature books are the perfect vehicle for designer bindings. Intimate objects, they invite attention to every detail, attracting ornamentation on sumptuous leathers, sequins and embroidery on elegant silks." (Bromer & Edison 2007, pp. 52)
The types of bindings achievable with miniature books can be viewed in David Bromer's 11.3 cm high "35 miniature books in designer bindings". This book contains descriptions and photographs of "one off" bindings for miniature books created by a number of internationally acclaimed book binders (Bromer & Edison, 2007, p. 61). John Adam's "The wants of man: a poem" at 7.5 cm high is a good example of a miniature book with designer bindings. This book has black leather covers with gilt writings and illustrations, marbled end papers and gilt page edges. For further reading on miniature book binding see "An overview of book binding in miniature from medieval times to the present day".
Applying art to miniature books is particularly challenging. Marbling - "the art of combing and swirling colour patterns onto paper" (Bromer & Edison 2007, pp. 45) has been used by Christopher Weimann in his 7.5 cm high book "Marbling in miniature" and Nedim Sönmez in "A history of marbled flowers : with 10 original marbled flowers" to create beautiful designs. The highlight of Nedim Sönmez's 7.5 cm high book are the miniature marbled flowers; easily recognisable as daisies, poppies, lilies, irises and chrysanthemums that have been carefully created in a variety of colours.
Paper folding is often used in artist books as a different way of creating pages. Christine Kermaire's "Memory of Al-Mutanabbi street" is a beautiful cloth covered square "book" 8.3 cm high consisting of four concertina pages that each fold out from a different side of the book : top, bottom, right, and left. Written on the pages are the names of people who died in the 2007 car bombing in Al-Mutanabbi Street, Baghdad, the "heart and soul of the Baghdad literary and intellectual communauty (sic)" (Kermaire 2012).
My favourite miniature artist book is Helen Sanderson's "Licorice allsorts". 2 cm high these were created from off cuts of coloured paper. Bound on one side they resemble the lolly themselves.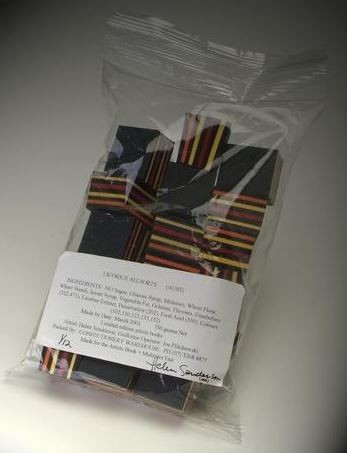 "Working with the guillotine operator at Edwards Dunlop Paper, I spent much time watching him cutting up the great stacks of papers for the normal daily orders...Some of these stacks were of multicoloured papers, and while those large sheets were being cut into A4 size, it became apparent there was opportunity to create small works based on the principle of cutting with coloured papers...The illusion of licorice allsorts is quite convincing, underlined by the fact that I have had some people unaware of what I was doing tried to eat them!" Helen Sanderson – Artist's statement
All of the books discussed are part of the Australian Library of Art collection. If time constraints prevent you from requesting a book, spend a few moments in the ALA Showcase where some miniature books are on display including the smallest book in the collection "Het Onze Vader" which is 0.5 cm high and the beautifully bound "Koran" just 2.7 cm high. We hope to see you soon.
List of References
Bromer, A C & Edison, J I 2007, Miniature books : 4,000 years of tiny treasures, Abrams, New York.
Kermaire, C 2012, Memory of Al-Mutanabbi street, Christine Kermaire, Belgium.
Bec Kilner, Arts Portfolio Technician, State Library of Queensland
Comments
Your email address will not be published.
We welcome relevant, respectful comments.