A Message from the Sea: WW1 letter in a bottle
By Alaine Baldwin | 10 November 2022
When on the Troopship Demosthenes, Bandmaster of the 41st Battalion Band Alfred Hardinge partook of what was rapidly becoming a tradition of departing troops: he wrote a letter, placed it in a bottle and threw it into the ocean.
Alfred was born in Runeegunge, India in 1870. When he was 14, he went as a drummer with the British Army's 'Gordon Relief Expedition (1884-1885)' that headed to Khartoum to assist General Charles Gordon. He then served for 12 years in the Duke of Cornwall's Light Infantry, British Army before heading to Australia and landing at Thursday Island in February 1898.
Using his musical ability, he was a band master for several bands in north Queensland before moving to Rockhampton as band master for the Forrester's Band. At the age of 44 Alfred enlisted in the AIF on 16 October 1915. He left his wife and children behind in Rockhampton.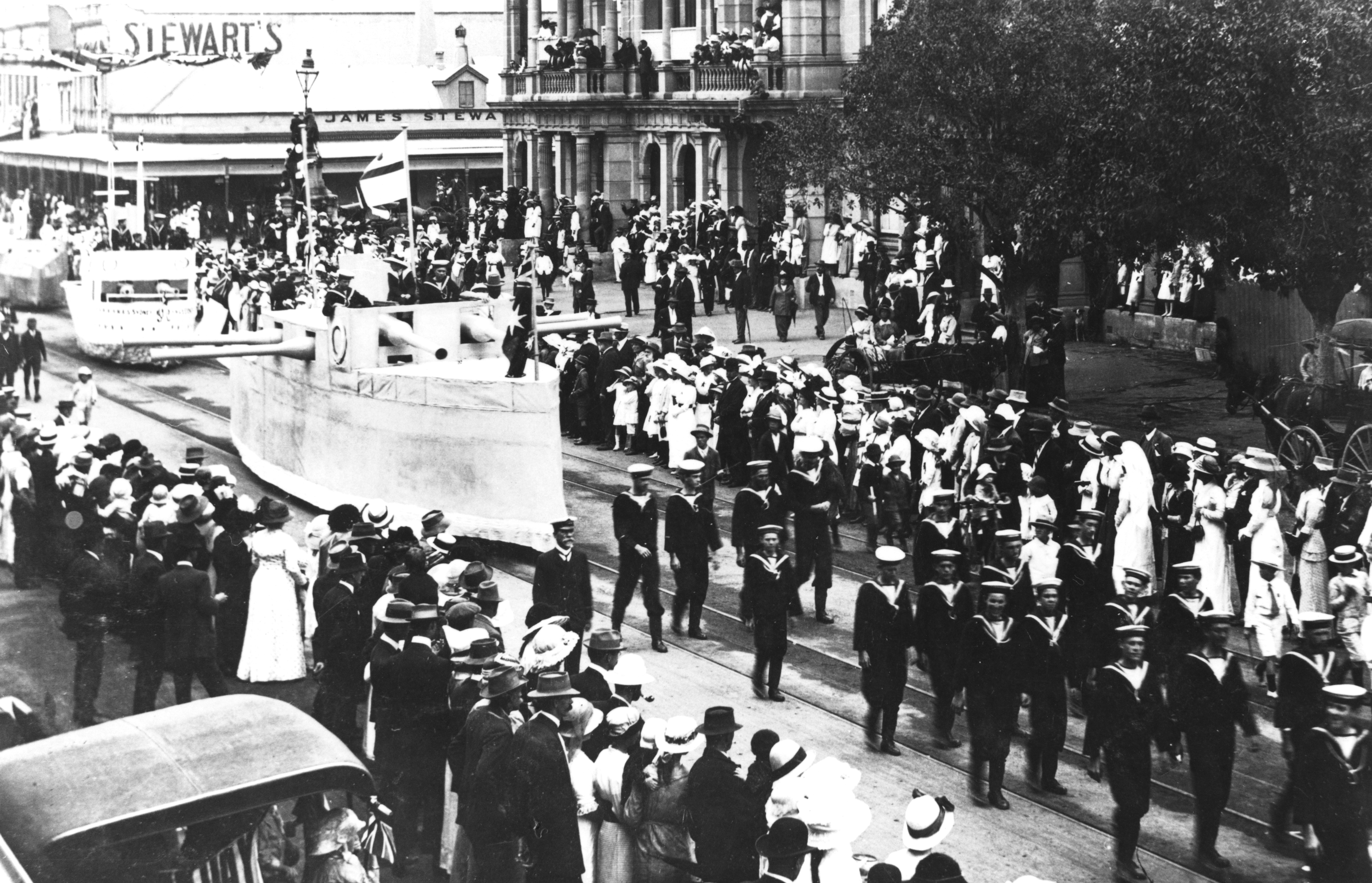 Military parade passing along East Street, Rockhampton, ca. 1915. John Oxley Library, State Library of Queensland. Negative number: 24764.
He embarked for active service aboard the HMAT Demosthenes on 16 May 1616. When the ship was 2 days out of Albany, he threw his message overboard. The bottle containing the letter was found, over 3000km away in Rivoli Bay South Australia by Mr. Herbert Stewart, who sent it on to Mrs. Hardinge with the following note:
South Australia,
Bleakfield, Rendelsham. September 17th, 1916.
Dear Madam,
I found the enclosed letter 12 miles south of Rivoli Bay, south-east coast of South Australia, in a bottle into which the sea water got. Being much worn required careful handling to unfold. This is the first letter I have found (of which there are 109), addressed to Queensland. 'I am taking' the liberty to gum the address on to the envelope, as I am not certain of the name. The post- office people I expect will be able to find you. Hoping your husband is well. Please acknowledge.
Yours truly, Herbert A. Stewart.
Herbert would eventually find over 200 of these messages in bottles on the beaches near where he lived. For each one that he found he wrote a covering note and ensured the letter was sent to the addressee.
Soldiers on board the troop ship Demosthenes, 1916. John Oxley Library, State Library of Queensland. Image number: 29980-0001-0022
The enclosed letter from Alfred was brief:
May 21st, 1916.
On board troopship bound for somewhere. Will the finder kindly forward this on to my wife?
"My dear wife and children. I am throwing the enclosed in a bottle overboard two days' steam from Albany. Am in good health, also enjoying the trip immensely. Thinking of you always. Cheer up, I shall return safe and sound.
Love to the children and yourself.
From your loving husband.
Alfred Hardinge.
After his arrival at Plymouth on 20 July 1916 Alfred marched into Wareham camp for more training. However, he was diagnosed with Neoplasm of the back and invalided home in April 1917. Unfortunately, he never got to serve with the 41st Battalion Band.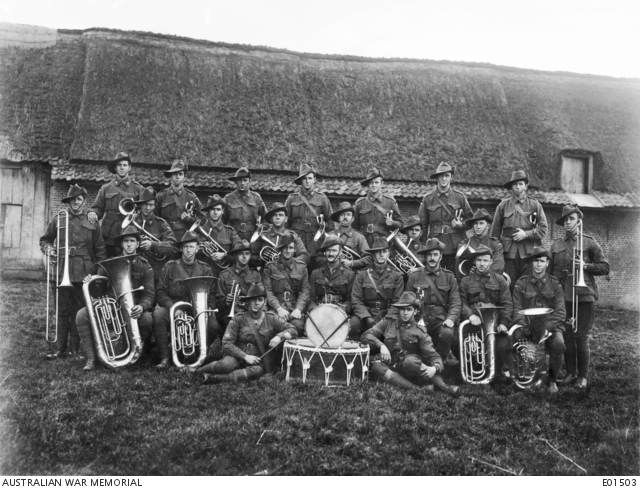 Group portrait of the 41st Battalion Band, Belgium 1918. Australian War Memorial, E01503.
On his return to Rockhampton, he worked at the railway workshops. In 1928 a severe illness saw him confined to bed for several months and although he did go back to work, he never fully recovered. Another serious illness in early January 1931 would prove fatal. His wife, three daughters and two sons mourned his passing as did many members of the Rockhampton community.
Comments
Your email address will not be published.
We welcome relevant, respectful comments.