Little Ones Museum Cherbourg
By Sophia Sambono | 9 November 2016
The Little Ones Museum opened in Cherbourg last Thursday at the community run historical and cultural centre, The Ration Shed. kuril dhagun Manager Amanda Hayman and myself were there to help celebrate the efforts of these mini curators.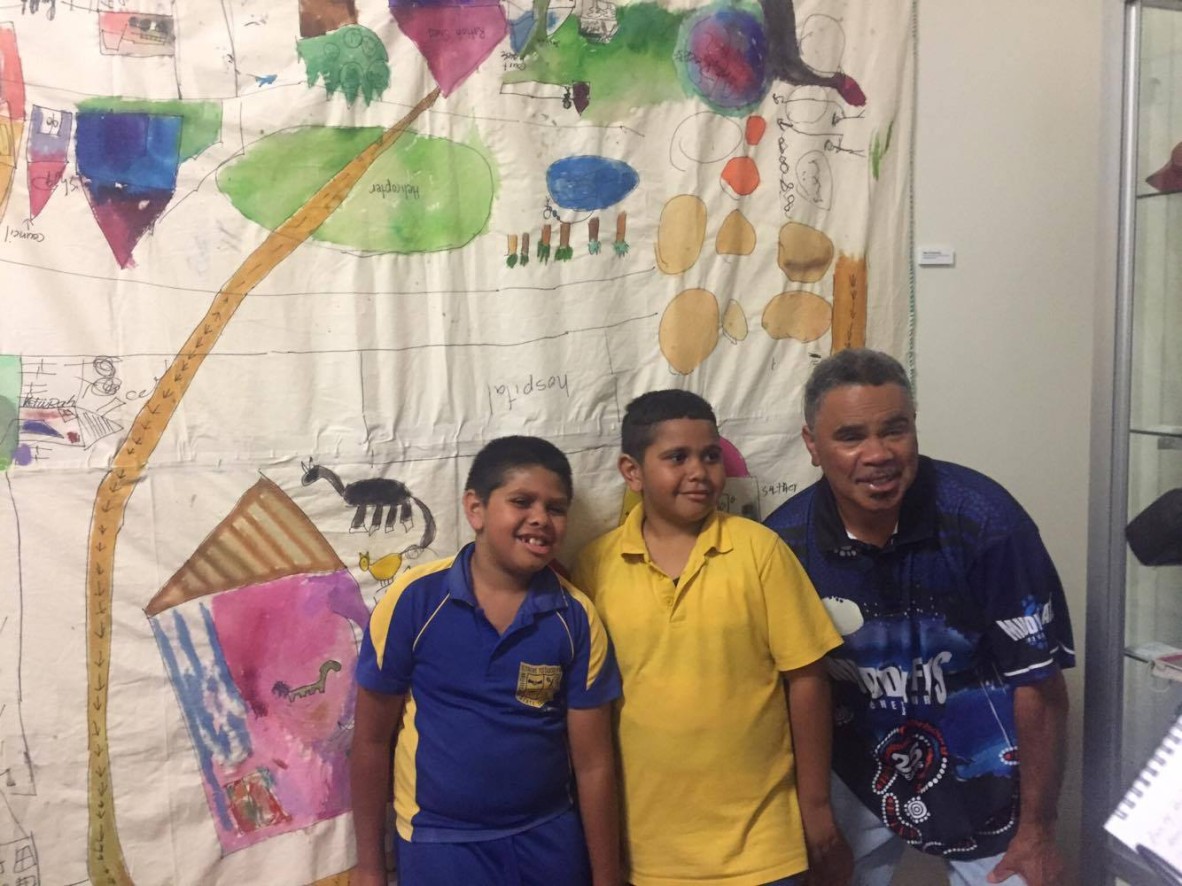 Uncle Rocco Langton with some 'little ones' in front of their map of Cherbourg. Photo by Amanda Hayman.
The exhibition reflects the lived experience of kids growing up in Cherbourg. It is their chance to tell their stories and highlight what is important in their lives. The stories and artefacts are recorded, collected and created throughout a series of workshops with curators and artists. Cherbourg artist Uncle Rocco Langton, with the help of artists and facilitators, Jane Jennison, Delvene Cockatoo-Collins and Libby Harward, worked with a group of 30 kids aged 2 – 9 to explore what they think about museums and how they think a museum should look like.
These kids are re-imagining the experience and display of traditional museums, where they can determine how they are represented. The result is a truly special and heart-warming insight into the lives and dreams of the next generation.
One of the self-portraits from the exhibition.
The Little Ones Museum is third in the series of Jarjums Life Museum projects run by Inala Wangarra and partnered with the Queensland Performing Arts Centre (QPAC). Jarjums has previously worked with Minjerribah (North Stradbroke Island) and Brisbane's Hymba Yumba Community Place. kuril dhagun partnered with Jarjums on the Straddy project providing workshops in creating digital stories.
Sophia Sambono, Martina Jacobs, Marilyn Murray, and Amanda Hayman outside the Cherbourg Indigenous Knowledge Centre. Photo by Troy Casey.
We took this opportunity to visit the recently re-opened Cherbourg Indigenous Knowledge Centre (IKC). SLQ partners with IKCs to help set up, build their collection, and deliver programs. The coordinators have a fantastic energy and they filled us in on the programs they run and their plans for the future.
Comments
Your email address will not be published.
We welcome relevant, respectful comments.