Lexis Advance – Law Database
By Administrator | 29 May 2018
The LexisNexis legal database now has a new look, with the introduction of Lexis Advance.
The cleaner, more intuitive interface is much easier to use and provides access to legal information suitable for consumers, students, researchers and the legal profession. It still contains reliable resources and iconic publications such as Halsbury's Laws of Australia and Australian Legal Words & Phrases, as well as current analysis of emerging and rapidly changing areas of law, such as social media law and cybercrime. Lexis Advance also provides quick links to legislation from all Australian jurisdictions, and you can rely on the information being kept up to date.
You can now search using natural language, as you would in Google, then you can narrow your search by jurisdiction, content type and legal topic.
The Publications list on the right hand side lists subject topics. Click on the arrow to the left of a topic to see a drop-down list of all the titles under that topic that are included in our subscription. You can then click on a title to view information about that title, view and access its contents, or add it to your search filters or favourites.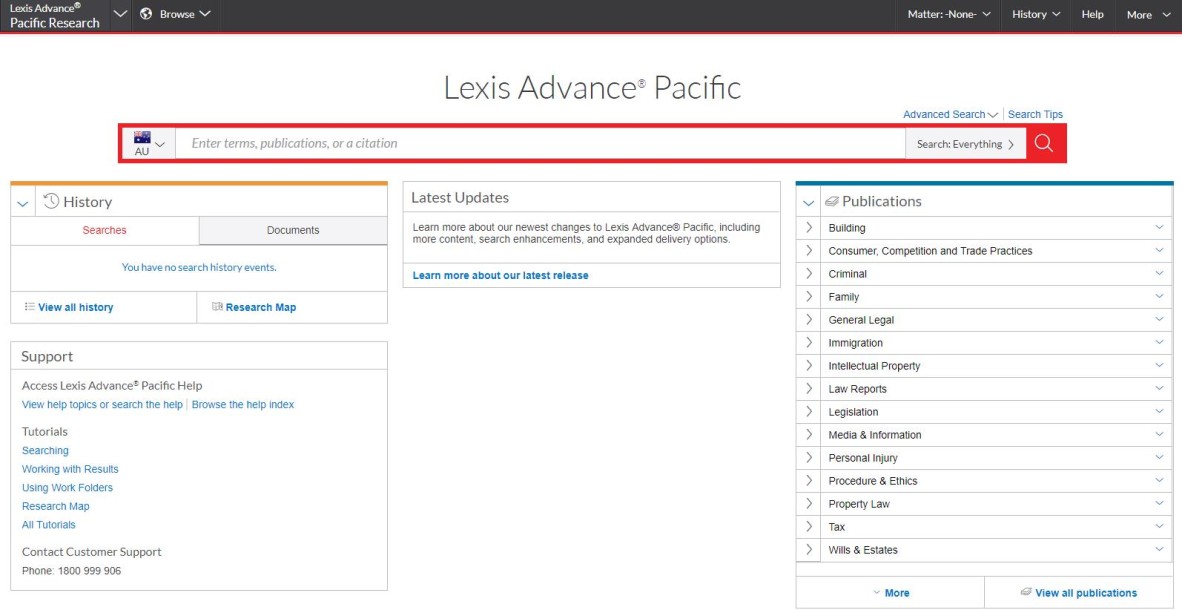 Lexis Advance database, home page
Lexis Advance database, home page
The new Lexis Advance interface also provides easier access to the extensive range of 14 Practical Guidance titles. Practical Guidance provides just what it says – practical and useful information in plain English, which is particularly helpful for consumers, students or anyone wanting an overview or guidance in a specific area of law.
Lexis Advance Practical Guidance titles
Lexis Advance Practical Guidance titles
The Practical Guidance content is written by legal practitioners who are trusted experts in their field. The comprehensive coverage of each topic includes precedents, checklists and toolkits that guide you step by step through frequent tasks. It also provides links to external sites, such as courts.
Whether you are a legal practitioner wanting quick access to precedents, or someone wanting straightforward advice on matters such as immigration, wills and probate, employment law or personal injuries, the Practical Guidance series will help you to understand processes and legal requirements. Access the Practical Guidance topics in the Publications list by selecting "General Legal", then choosing your topic.
To access Lexis Advance, search for LexisNexis in our One Search catalogue, or go to our Databases-by-topics page and select LexisNexis under the Law heading.
MORE INFORMATION
/search/eresources/search-databases
Ask Us service: /services/ask-us
Visit us: /visit-us
Fiona Dixon
Librarian, Content and Client Services
Comments
Your email address will not be published.
We welcome relevant, respectful comments.