Let perpetual light shine upon him
By Marg Powell, Specialist Library Technician, Metadata Services | 28 September 2017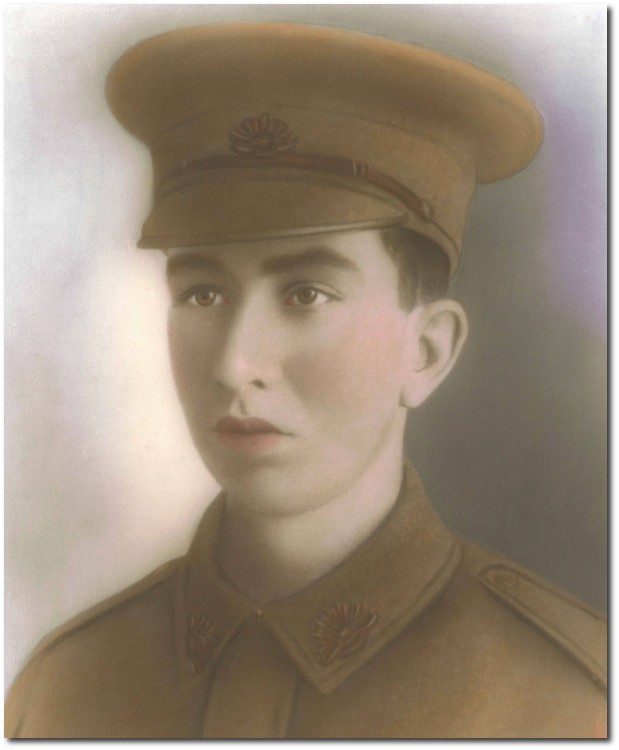 Archibald Wilfred Sinnamon, 31st Infantry Battalion, killed in action Polygon Wood, September 1917. Image courtesy Sinnamon family.
Archie volunteered to serve with the First AIF in March 1916, two months after his older brother Walter enlisted. He trained at Thompson's Paddock, Enoggera and was assigned to the 9th Reinforcements of the 31st Infantry Battalion. While he was at camp he contracted a throat infection and was admitted to the camp hospital with tonsillitis.
Fit for service Archie left Brisbane in September 1916 on board the troopship Seang Choon and arrived in England in December where he was immediately admitted to hospital suffering from Influenza, which was rife on board troopships at this time. Having recovered sufficiently he joined his mates at the 8th Training Battalion depot at Hurdcott where he remained until February 1917. They were transported to France via the SS Golden Eagle, and joined the Battalion early in March when they were operating near Trones Wood, in the Somme Valley.
The 31st Infantry Battalion spent a good part of 1917 in follow up operations, as the German Army withdrew to the Hindenburg Line, but in September they were deployed to the front lines at Polygon Wood, near Ypres in Belgium.
Over 5,770 Australians lost their lives during this battle, and on 29 September as the battalion was preparing to move away, Archie Sinnamon was killed.
Walter wrote to the Red Cross in August 1918 enquiring about his brother's whereabouts. They informed him of his death "killed in action" on 29 September 1917.
Initially Archie Sinnamon was buried in a small cemetery near where he died, but in 1921 the War Graves Commission exhumed and reburied his remains to an established war grave cemetery, where they could ensure proper commemoration.
Archie's parents were advised of the location of his grave, at Tyne Cot British Cemetery Passchendaele, and they chose to have the following inscription on his headstone:
"Have mercy upon him Lord and let perpetual light shine upon him"
Read more ...
Marg Powell, Specialist Library Technician, State Library of Queensland
Comments
Your email address will not be published.
We welcome relevant, respectful comments.