Leonard Victor (Len) Waters Australia's only Indigenous WWII fighter pilot
By Alaine Baldwin | 14 August 2020
Leonard Victor (Len) Waters Australia's only Indigenous WWII fighter pilot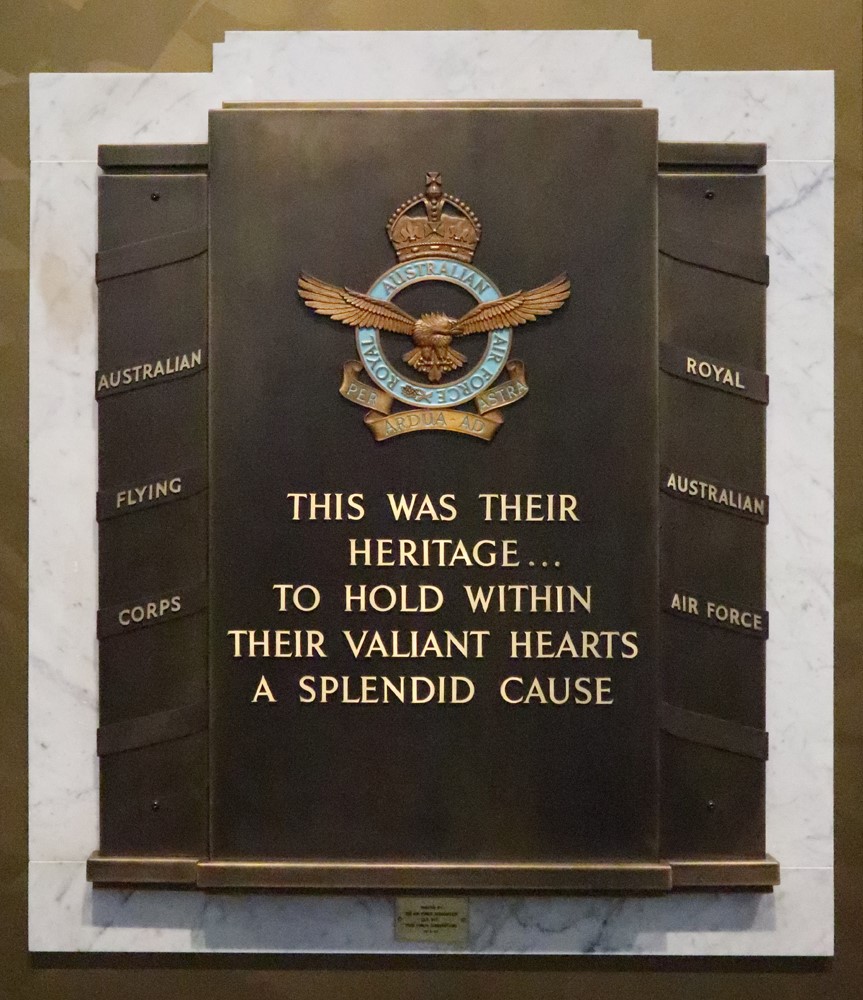 Commemorative plaque at the Anzac Square Memorial Galleries
Leonard Victor Waters was the only Aboriginal person to serve as a fighter pilot in the RAAF during World War II. Born in northern NSW on June 20, 1924 (the fourth of 11 children to Grace and Donald Waters), Len started school in NSW. Despite being a good student, he left Nindigully State School, Queensland in 1938, just shy of his 14th birthday, to help support the family. He worked with his father on a ringbarking team before training as a shearer, a better paid job.
Fascinated by the aviation industry from a young age, Len enlisted in the Royal Australian Air Force (RAAF) in August 1942, the same day his brother Jim joined the army. With Japan having entered the war most services were open to the enlistment of 'non-Europeans'. In fact, due to its heavy commitment of personnel to Britain (some 27,000 partially trained air crew were sent to Britain), the RAAF rarely rejected recruits on racial grounds.
As air force recruits needed two years of college education to get into air crew, Len joined the ground staff and was trained as a Flight Mechanic working on Kittyhawks. However, in 1943 when the RAAF called for 'remusters' to air crew from ground staff, he was lucky enough to be recruited. After his initial training, Len was selected as one of the 44 pilots from the group of 167 'remusters'. Len was very keen but due to his limited schooling had to study hard to compensate. His dedication paid off as he finished 4th in a class of 48 at the Initial Training School in Somers, Victoria. Gaining his wings on 1 July 1944 after learning to fly Tiger Moths and Wirraways was a very proud moment for him. He was then sent to Mildura for operational training in P-40 Kittyhawk fighters. His report from the training institution shows his dedication:
"This pilot is very keen and dependable. Has proved sound and capable at all times. Good type for a squadron." (Kittyhawk training report 22/09/1944)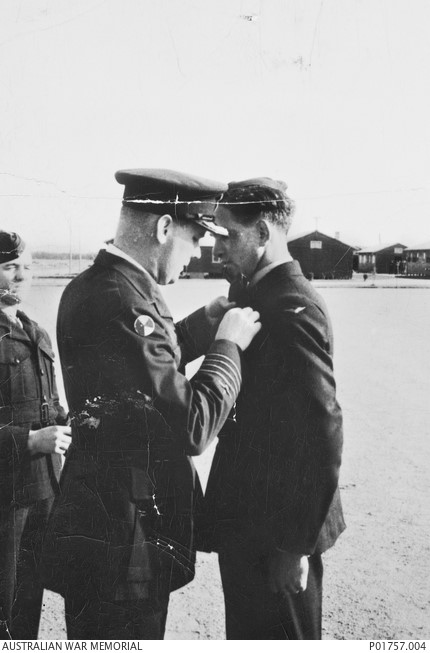 On 14 November 1944 Len joined No.78 Squadron which at that time was on the island of Noemfoor, Netherlands New Guinea (Indonesia). In December the squadron relocated to Morotai where the Kittyhawk he was allocated had been named 'Black Magic'. The amusing coincidence of this appealed to him so he retained the name. This report from his commanding officer shows how he fitted easily into the squadron:
"Sergeant Waters adapted himself to operational flying very quickly and should develop into a sound and reliable pilot. He is a good solid type, popular with his fellow pilots." (Report 18/01/1945 in Service Record)
During his 9 months of active service Len flew a total of 95 missions, mostly ground attacks. When the squadron moved to Tarakan, Borneo on 18 July 1945 he was reunited with his brother who had been on the island with the 2/23rd Battalion since the landing on 01 May 1945. The brothers were both at Tarakan when the bomb was dropped on Hiroshima and the war ended. Originally interested in serving with the British Commonwealth Occupation Force Japan, Len's brother convinced him they should go home. However, after Len's squadron returned to Australia on 27 August 1945, his brother changed his mind and went with the 122nd Transport Platoon to Japan.
Len was discharged on 18 January 1946 and like many military personnel, who had demonstrated skill and leadership during service, was forced to resume civilian employment well below what he had achieved in the RAAF. Despite wanting to use his experience to start a Western Queensland Air Taxi Service he was thwarted on several fronts. Not only was he unable to obtain a civil pilot's licence but he lacked the financial backing to buy a share in an aircraft to use in the enterprise. The lack of discrimination he had experienced in the RAAF failed to follow him once the uniform came off and he was forced to return to his pre-war life of shearing and bush work.
Soon after he left the RAAF, in February 1946, Len got married in St George, Queensland to Gladys Mary Saunders with whom he had six children. In 1956 he was allocated housing commission accommodation in Inala, Brisbane, which he eventually bought, and the family lived in for 33 years. He died at the age of 69 in 1993 in Cunnamulla but was buried in St George Cemetery.
His achievements have been commemorated in several ways since his death including: having his portrait on a stamp as part of Australia Post's 1995 Australia Remembers campaign; having Len Waters Place, a park in Inala dedicated to him on 27 July 1995; the naming of a street in Ngunnawal, Australian Capital Territory, after him and the erection of a monument to Len and another local RAAF pilot Squadron Leader John Jackson, in St George in 2003.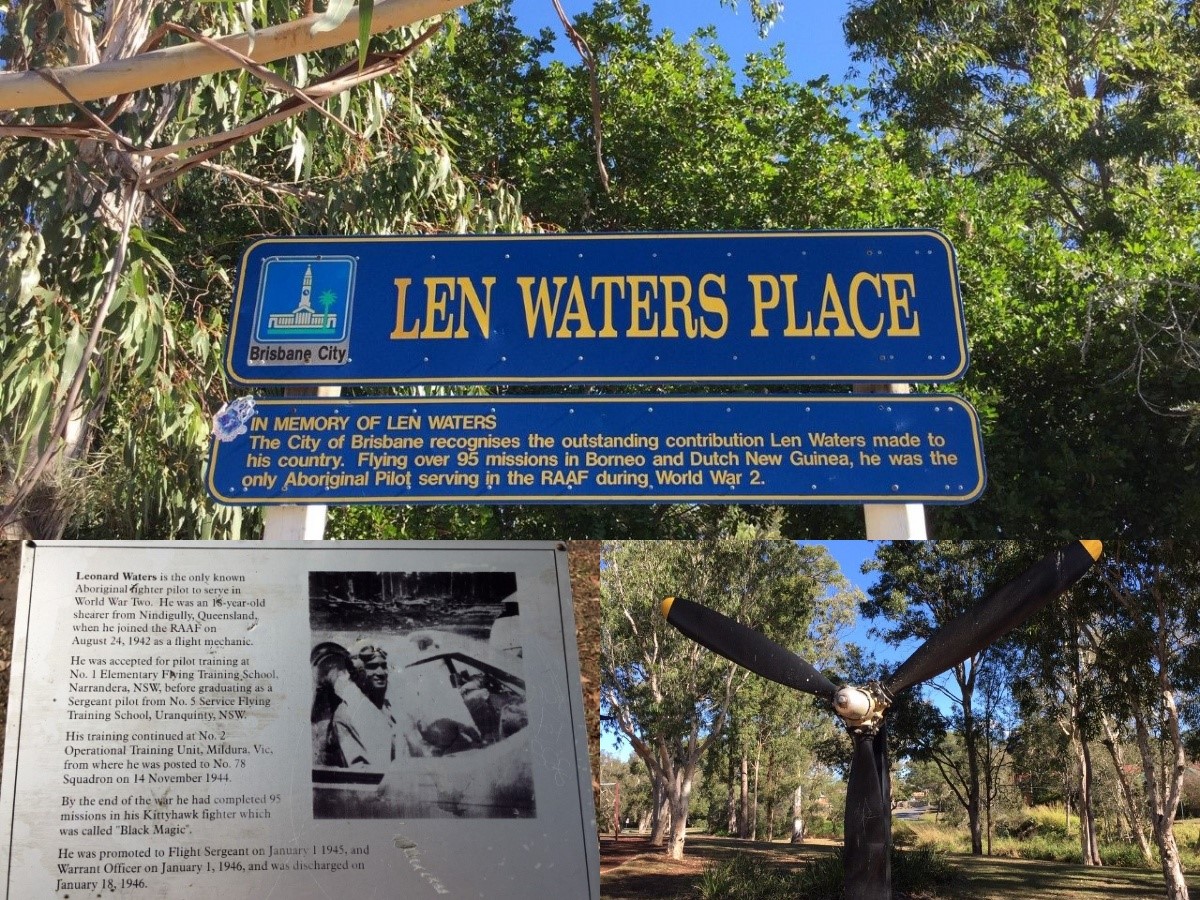 Leonard Waters is commemorated by Len Waters Place Inala, Brisbane
In 2018 Peter Rees' book about the life and achievements of Leonard Waters, Missing Manopen_in_new was published. Peter felt the need to tell Len's story as it reflected the larger story of racial discrimination and its ramifications for indigenous Australians.
Comments
Your email address will not be published.
We welcome relevant, respectful comments.