Judy Watson artwork at QIMR
By Administrator | 16 April 2013
Last week I attended the official opening of water memory, a public artwork by Judy Watson in the new building of the Queensland Institute of Medical Research (QIMR) in Herston.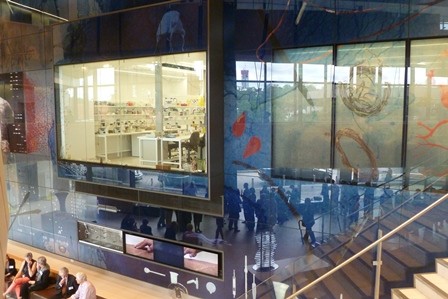 This intricate and multi-layered site specific work sits within a huge glass wall in the foyer of the building and incorporates a 3 channel video work and a case of glass laboratory vessels. It refers to the Aboriginal history of the area, its botanical history and the scientific research that has taken place there, specifically the work of the Bancroft family, pioneers of Brisbane's early medical community. Water links all the stories.
Imagery includes aboriginal clubs and shields, botanical and zoological specimens, surgical and scientific instruments and scientific data in graphic form, such as DNA sequences.
A particularly striking image is that of an Aboriginal man with scarification on his back. The image from the QIMR collection may have been taken by Joseph Bancroft himself. "The scarring is seen by some Indigenous people as an indication of the man's status and wisdom. It's been described as the equivalent of wearing university degrees, a result of accumulative knowledge." (From an excellent brochure which was available at the launch and includes a diagram of the work with a key to the origins of each image. A copy is available in the ALA ephemera collection.) Maps from State Library's collection form part of the background of the work.
Comments
Your email address will not be published.
We welcome relevant, respectful comments.