Johnny's Mate
By Marg Powell, Specialist Library Technician, Metadata Services | 19 November 2014
The Jackson family of North Queensland, would like to share the story of their ANZAC, Private Johnny Jackson, 5th Light Horse Regiment.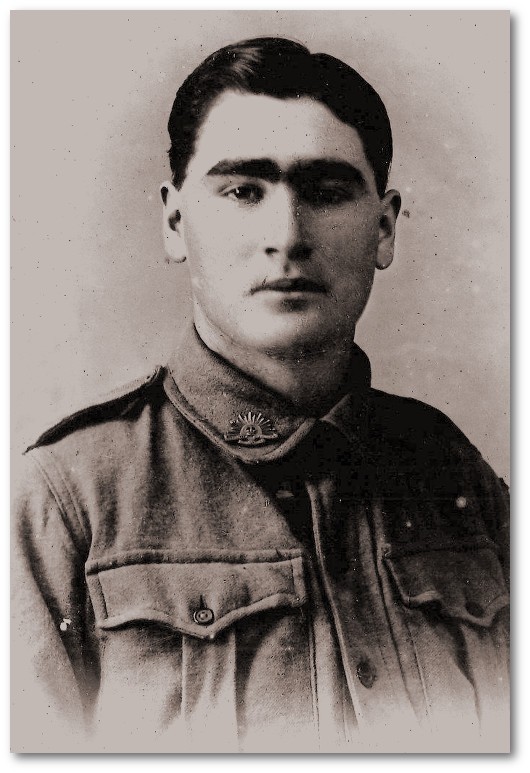 Private Johnny Jackson, 5th Light Horse Regiment, First AIF. Image courtesy of the Jackson Family.
When Johnny enlisted in the first AIF in November 1915, Australians were still fighting at Gallipoli. Assigned to the 1st Light Horse Regiment Train, he later transferred to the 5th Light Horse Regiment where his brother Ernest also served, and where he trained and worked in railway construction.
The 5th Light Horse Regiment served in Egypt, Sinai and Palestine under extraordinarily difficult conditions in unforgiving landscapes. The laying of the broad-gauge railway from Kantara, Egypt through Palestine was essential to supply the requirements of the forces. The railway was constructed by Army Engineers, Egyptian labourers and volunteers from Australian units.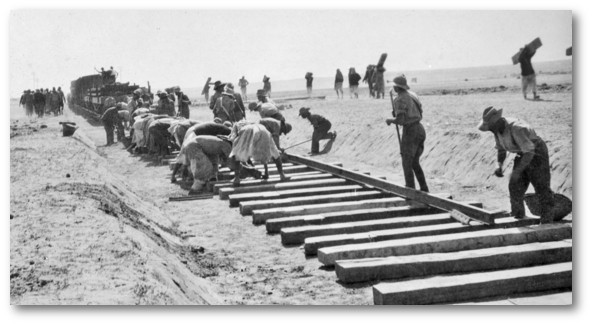 Railway Construction, Kantara, 1917
Johnny Jackson rarely talked about his experiences, however his family can recall several, that are retold here.
Johnny was wounded by shrapnel, shortly after he heard a man call for water, and although injured dragged himself to where a Turkish solder lay, badly wound. Johnny cradled the soldier in his arms and offered him water from his supply . . . Before the Turk died he handed Johnny a photograph of his wife and two children and a fob watch.
Johnny kept the photo for many years, until it disappeared after his death in 1973. The watch still operates and remains with the Jackson family to date.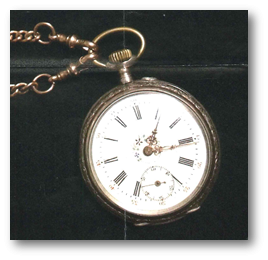 Turkish fob-watch, kept as a memento by Johhny Jackson. Image courtesy Jackson Family.
On another occasion … Johnny was fighting in the trenches near the Jewish settlement of Mulebbis, then Palestine. Johnny was seriously wounded in the right thigh and just as a Turkish soldier was about to finish him off with his bayonet, Johnny's 'Little Mate', name unknown, shot the Turk dead and saved Johnny's life ... Johnny was evacuated to the 14th Australian General Hospital in Abassia, for treatment. Unfortunately his 'Little Mate' was killed in action two days later.
Johnny's family have tried valiantly to establish his identity. Much research has led them to believe it may have been Albert Chard, also from Fordsdale, Queensland. He served in the 5th Light Horse at the same time as Johnny, and was killed in action two days after Johnny was wounded.
Sergeant Albert Arthur Chard, 5th Light Horse Regiment. Image courtesy Jackson Family.
Sergeant Albert Chard, died on 4 December 1917 while working in the trenches at Hill 265 near Jaffa. He is interred in the Ramleh War Cemetery, near Jerusalem, Israel. Unfortunately there are no persons alive today who can confirm that Albert Chard was Johnny's Little Mate, but his family is eternally grateful to whoever that soldier may have been.
Read more ...
Service records, National Archives of Australia
Marg Powell, Specialist Library Technician, State Library of Queensland
Comments
Your email address will not be published.
We welcome relevant, respectful comments.