John William LAYCOCK #2416
By JOL Admin | 13 February 2018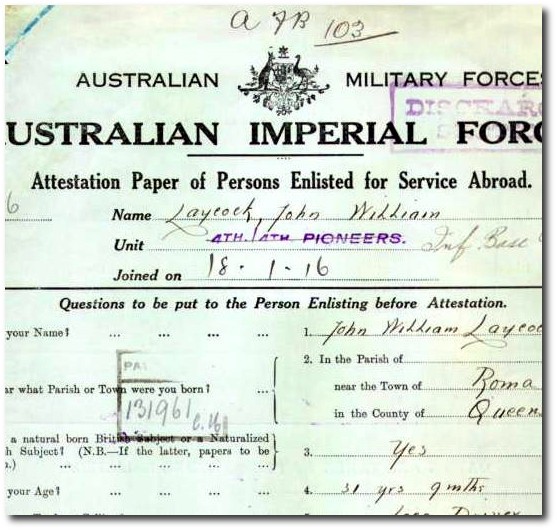 John William Laycock 4th Reinforcements, 4th Australian Pioneer Battalion.
Thomas and Sarah farmed in the Maranoa district, tragically Sarah Laycock died from accidental poising in 1888 leaving their children John age 5, Elizabeth age 4, Robert age 3, and Thomas age 1 to be brought up by their father.
John Laycock volunteered to serve with the first AIF in January 1916, age 31. He travelled to Brisbane where he trained at the infantry camp at Enoggera before being posted to the 4th Reinforcements for the 4th Australian Pioneer Battalion.
AWM: E00469
Prior to sailing for overseas, he was presented with a wrist watch by his friends at Cattle Creek, after which he sailed for England on board HMAT Itonus; he became unwell during the six weeks voyage and was admitted to the ships hospital for several days.
When the reinforcements arrived in England in October 1916, he was admitted to the military hospital at Fovant most likely with mumps, and returned to the training camp two weeks later.
Prior to embarking for France, and the western front, Laycock was found to missing from camp and was at first charged with desertion. An enquiry found that was not the case and it was a 'usual' incident of being AWOL, not having applied for leave and being missed on parade. Laycock was arrested and detained for 23 days and forfeited 54 days pay for this 'crime'.
Laycock joined his unit in northern France in April 1917 where the Battalion was involved in constructing a narrow gauge railway at Fremicourt.
In June 1917 he was temporarily attached for duty to the 4th Division Baths. By September 1917 his health had begun to deteriorate, suffering from chronic gastritis he spent the remainder of 1917 being treated for and convalescing from this debilitating condition.
Eventually in May 1918 he was transferred back to England, where it was concluded that he should return to Australia, no longer fit for active service, and be medically discharged.
Upon his return, Laycock returned to his family in Cattle Creek and married Mary Harvey ; they had two sons, Harold and John.
Subsequent to his war service, John Laycock never enjoyed good health, he moved to Brisbane and was admitted to the Rosemount Repatriation Hospital, where he died in November 1934.
Read more ...
Comments
Your email address will not be published.
We welcome relevant, respectful comments.