John McKenzie LAURIE #2432
By Marg Powel & Des Crump | 27 November 2017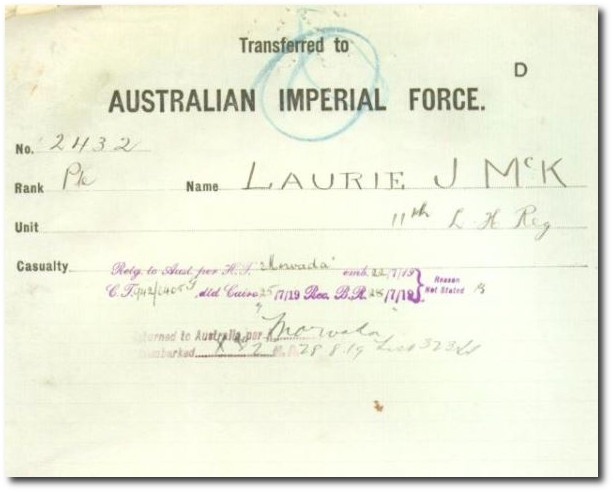 Extract from AIF service record for John McKenzie Laurie (National Archives of Australia)
Indigenous Australian, John LAURIE, 11th Light Horse Regiment
John McKenzie Laurie, a Yaegl man was born in 1884 to John Warby Laurie and Jessie at Kempsey, NSW. He was working at Duranbah, in the north east of the state when he volunteered to serve with the first AIF in June 1917. Laurie enlisted in Lismore and like many others from that recruitment centre, he was sent to Brisbane to train at Enoggera army barracks near Brisbane. It was here that he was selected to compliment the reinforcements currently being mustered for the 11th Light Horse Regiment.
The recruits embarked from Sydney on board HMAT Ulysses in December 1917 bound for Egypt. Laurie would have found himself in the company of a number of known Indigenous recruits who included:
William Brown, Fred Burnett, Edward and Fred Collins, Jack Costello, Harry Doyle, Joe Fitzroy, Frank Fisher, John Geary, John Johnston, Jack Kearns, James Lingwoodock, Leonard Lynch, Frank Morris, James McBride, David Molloy, Harry Murray, William Nicholld, Jack Oliffe, Charlie Parks, Jack Pollard, Ed Smith and Joe White.
Nick-named the 'Queensland Black Watch' when they arrived in Egypt they were assigned to the Reinforcements Camp at Moascar. Here they honed their skills with the 4th Light Horse Training Regiment before joining the 2nd Light Horse in the field in the vicinity of Jericho in May 1918.
Later that year Laurie was admitted to hospital in Abbassia with tonsillitis, and discharged fit for service five weeks later. Shortly after rejoining has unit, Laurie fell foul of the authorities and was found guilty of "conduct to the prejudice of good order & military discipline" and punished for missing parade and being under the influence of liquor.
Laurie's conduct continued to come under scrutiny - he was fined and "confined to barracks" on several other occasions; he was eventually returned home to Australia in July 1919.
Laurie returned to life in northern New South Wales, gaining work periodically as a labourer. In 1935 he applied for and was granted a travel voucher to attend the 20th Anniversary Anzac Day Parade in Sydney ; he died in 1952.
Read more ...
The information in this blog post has been researched by State Library staff and volunteers, it is based on available information at this time. If you have more information that you would like to share or further research uncovers new findings, this post will be updated.
Comments
Your email address will not be published.
We welcome relevant, respectful comments.