John MAKINSON #2184
By Marg Powel & Des Crump | 8 October 2019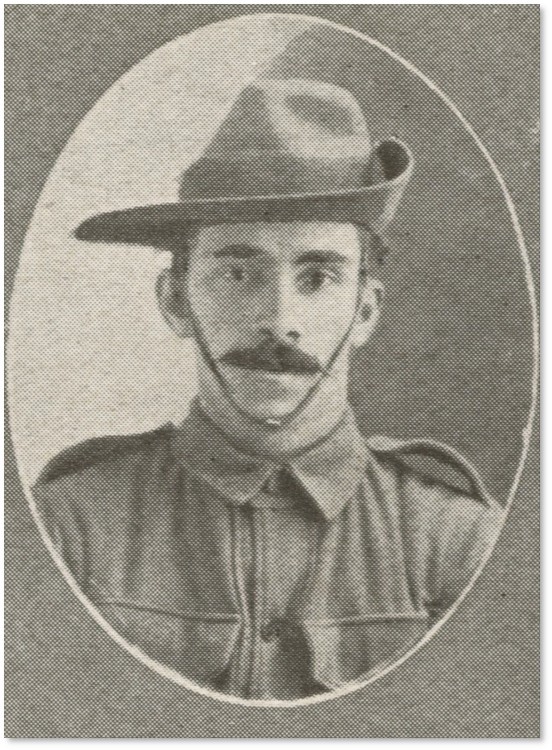 John Makinson, The Queenslander Pictorial, 1915
Indigenous Australian, John MAKINSON, 25th & 9th Infantry Battalions
Jack MAKINSON was just 6 years old when his mother Catherine Gissell passed away. His father, also John, relinquished the care of his seven children to a Policeman and his wife in Dubbo who cared for them until they were old enough to make their own way.
Jack made his way north and found employment as a timber cutter in the Sunshine Coast hinterland, at Beerwah, in southern Queensland. In June 1915 while troops were still fighting at Gallipoli, Jack volunteered to serve for his country, enlisting at Woodford, before making his way to the training camp at Enoggera Army Barracks, just outside of Brisbane.
Jack's picture was taken by one of the enterprising 'photographic tent-studios' that set up outside the camp, and it was published in The Queenslander Pictorial in late August.
Assigned to the 4th Reinforcements for the 25th Infantry Battalion, Jack left Brisbane in September on the troopship HMAT Armadale, on-board were two other identified Indigenous servicemen - Towney Kelly #2176 and Frederick Malthouse #2187.
Jack and his fellow reinforcements did not serve at Gallipoli, instead they spent their time in Egypt coming to strength and training for the battles that were ahead of them. After troops were withdrawn from Gallipoli in December the AIF was reorganized and Jack was transferred to the battle-hardy 9th Battalion. They sailed for Europe in March 1916 and were deployed to the Somme, on the Western Front.
Map of 9th Battalion operations, 22-23 July 1916, Pozieres, France. (9th Battalion, Unit War Diaries, Australian War Memorial)
Jack's first major action with the battalion was in July 1916 when it was tasked with attacking a German post near the village of Pozieres. On the evening of 22/23rd Jack and his mate Private Clarence 'Clari' Smith #2208 'went over' with a bombing party and were both seriously wounded.
Private W.E.H. 'Billy' Snow #2260 dragged them back to a shell hole, where Makinson died of his wounds, Snow was killed shortly after, but Smith survived having laid buried all night in the crater. Clari was later able to provide valuable information about the death of both men, which is now recorded in the Red Cross Wounded and Missing Files.
Initially declared 'missing' and untraceable Jack was declared 'Killed in Action' later that year. In February 1918 Private Smith was able to verify the details of Jack's death. Clari Smith had also known Jack in camp and his letters back to the London office of the Australian Red Cross Society are full of personal details, which would have been a comfort to any family members who enquired.
Extract of letter from Private Clari Smith, regarding Jack Makinson's death (Red Cross Wounded and Missing Files)
Jack's family and friends did enquire about him. Mr Dixie Chapman, of Dungog, Violet May Mahaffey, Ipswich as well as his sister Maud Mary Kerslake.
The war continued for two more years and Jack and Billy Snow's bodies were never recovered. Their lives are commemorated at the Australian War Memorial at Villers-Bretonneux, dedicated to all Australian soldiers who fought in France and Belgium during the First World War, whose graves are not known.
Maud being the eldest surviving relative became the recipient of Jack's service medals and commemorative items issued by the government after the war.
Read more ...
Scarlett, Philippa. Aboriginal and Torres Strait Islander volunteers for the AIF: the Indigenous response to World War One. Fourth edition, Indigenous Histories, Macquarie, ACT, 2018
Queensland's Indigenous Servicemen [oral history]
Special thanks to Annette Russell for permission to use her family research. Her work is entitled: Family Gissell The Story of Us, 2nd Ed. 2018.
The information in this blog post has been researched by State Library staff and volunteers, it is based on available information at this time. If you have more information that you would like to share or further research uncovers new findings, this post will be updated.
Comments
Your email address will not be published.
We welcome relevant, respectful comments.