Jack KEARNS #2431
By Marg Powel & Des Crump | 30 November 2017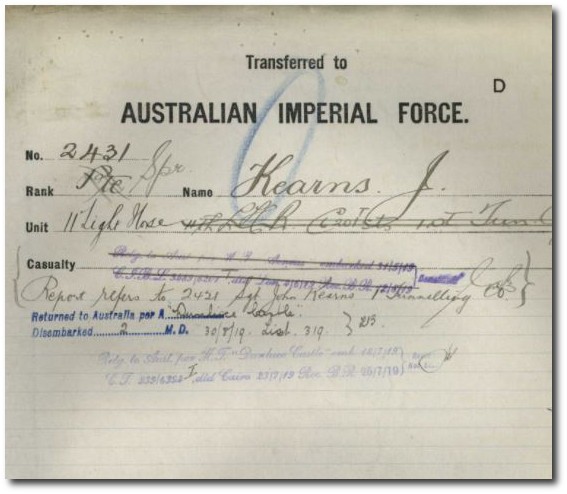 Extract from the service record for Jack Kearns (National Archives of Australia)
Indigenous Australian, Jack KEARNS, 11th Light Horse Regiment
Jack Kearns was born at Dirranbandi in 1895, he and his two sisters Annie and Elizabeth were removed from their parents care and placed at the Barambah Aboriginal Mission in 1909. Jack had been working as a labourer at Gowrie Station, near Charleville when he volunteered to serve with the first AIF in July 1917.
When Jack arrived in camp at Enoggera he was assigned to the 20th Reinforcements for the 11th Light Horse Regiment, this contingent was made up of many other Indigenous recruits including:
William Brown, Fred Burnett, Edward and Fred Collins, Jack Costello, Harry Doyle, Joe Fitzroy, Frank Fisher, John Geary, John Johnston, John Laurie, James Lingwoodock, Leonard Lynch, Frank Morris, James McBride, David Molloy, Harry Murray, William Nicholld, Jack Oliffe, Charlie Parks, Jack Pollard, Ed Smith & Joe White.
Nick-named the 'Queensland Black Watch' they arrived in Egypt in January 1918 and were assigned to the Reinforcements Camp at Moascar. Jack contracted measles not long after arriving and was admitted to hospital in February 1918; he spent several months regaining his health and was able to join his unit in the field near Jericho in July 1918.
Jack later contracted influenza in October 1918 and was evacuated to hospital at Abbassia, and he returned to his regiment in December 1918 where they were spending Christmas at Tripoli.
The Unit War Diary for June 1919 notes that Trooper Kearns was again evacuated to hospital - this time suffering from malaria, not uncommon among the troops who had patrolled the notorious Jordan Valley. One month later it was decided that Jack Kearns was no longer fit for active service overseas, and he was repatriated home and medically discharged.
On his return from the war Jack gained employment working with stock on properties across the Maranoa region, he married Ida Collins in 1923, sister of fellow 11th Light Horseman - Ed Collins - they had 12 children. Jack Kearns died in July 1971.
Read more:
The information in this blog post has been researched by State Library staff and volunteers, it is based on available information at this time. If you have more information that you would like to share or further research uncovers new findings, this post will be updated.
Comments
Your email address will not be published.
We welcome relevant, respectful comments.