"I've become a library junkie": Chris' SLQ story
By Administrator | 9 September 2015
Welcome to our new series of blog posts featuring stories from our visitors to State Library of Queensland. First up, meet Chris: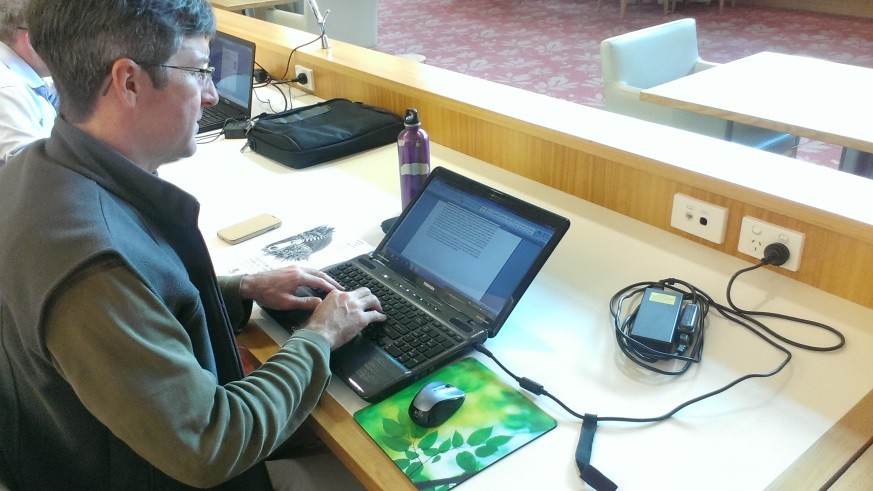 Chris at work in the Poinciana Lounge, Level 2, State Library of Queensland. Image by SLQ staff.
"I'm Chris and I've been living in Brisbane for 26 years now. I have always been aware of the State Library's existence, but I only came to use it five years ago when my first child was born.

I'm a freelance editor/technical writer and I used to do my work at home, but when we had the kids it became nearly impossible.

So I looked for an available space where I could work. I tried a few spaces around Brisbane and State Library soon became my favourite. I think it's a fantastic space. Not only does it provide a desk, a chair and the Wi-Fi for me and my computer (I don't need much really), but I love the fact that it's an inclusive environment. All yours says the slogan; and it's actually backed up.

Chris at work in the Poinciana Lounge, Level 2, State Library of Queensland. Image by SLQ staff.

You get everyone: from young foreigner backpackers to the older family history researcher; from mums with kids to uni students and professionals. Culture and age diversity is a constant feature here. I believe the library has become a social space because it is inclusive, open, warm in winter and cool in summer. People come in and they feel they belong to a community, even if they come alone. There are regulars here who, over time, you just nod at! It's brilliant!

Other positive aspects are that State Library is part of the urban environment and you can feel that by just peering through the window. You can see the buzz of the city by just looking up from your book or laptop. Then the coffee at the Library Shop is good coffee! We need good coffee, let's face it. And speaking of having a break, every time I can't possibly face my work I feel there's every opportunity to distract myself from that. I particularly love the APDL area and the New Books section on Level 2 where I spend my time browsing the shelves.

On that, I have to say that I hope that the library never gets to an electronic only format. I believe it's vital for the younger generations to keep contact with the feel of books.

As for my future, I think I will keep coming here even when my kids are older. I've become a library junkie! I reckon working at home can be harmful to some extent. Coming to a space like this gives you two distinct environments (home and work) which helps me keep a healthy mental routine."
VisitorServices@slq.qld.gov.au
As told to Fed Pani, Visitor Experience
Comments
Your email address will not be published.
We welcome relevant, respectful comments.