"It has helped me to broaden my knowledge" - Laura's story
By Administrator | 9 May 2018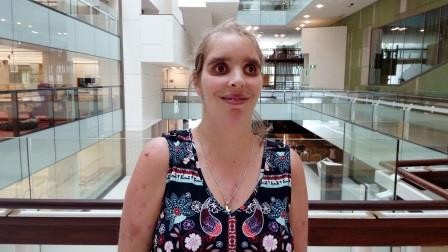 Laura - a State Library member
Laura - a State Library member
My name is Laura. I don't know the exact day I first came in to the library but it was probably about 4 or 5 years ago now. My uncle comes here a lot to do research and, because I'm an avid reader, he thought to bring me to SLQ and show me the children and the psychology sections on level 2.
I love working with children. I have done, and I'm still involved in doing, volunteer work in my local child care centre. I have a special interest in children who have learning or behaviour difficulties, and SLQ has got a really good range of all different children books for all ages. So I often go and find one that may be good for childcare centre, or recommend them to parents or other carers that I know.
Also, I used to read stories to my older sister's daughter when they lived here. Now that they have moved, I come to the library to find children books and read for her over Skype and just before bed time.
So now I'm coming every Thursday, unless I'm sick or my uncle can't take me for some reason.
When the Commonwealth Games started, I followed a lot of sports: swimming, basketball, the gymnastics, diving and some of the netball. So now I'm interested in exploring the history of gymnastics, for which last week I found some books on level 3.
I'm really happy with the service here. It's really excellent and I know I can use the free Wi-Fi, or there are always staff available and around if you need to find a certain book or just wanting to know where certain subjects would be. And I also love all the variety of different activities that people have in meetings rooms on different levels.
It's a really good place to just be calm and really be able to concentrate to what you are doing. Also I love looking out at the view and see the CityCats and all the traffic going past.
SLQ has books of all range on nearly every subject, while some other libraries may not have that for a specific research. It has helped me to broaden my knowledge and become aware of really good children authors!
As told to State Library Staff
Fed Pani
Visitor and Information Services
Comments
Your email address will not be published.
We welcome relevant, respectful comments.