From the idea to the actual object.
By Christene Drewe | 10 June 2016
Siganto Foundation Creative Fellow Ana Paula Estrada shares the journey of her project to document aspects of the lives of local senior citizens. Using collection material from John Oxley Library to elicit memories in interviews with her subjects and to complement the photographic portraits, Ana Paula has created a photographic artists' book which will enhance the artists' book collection of the Australian Library of Art.
FROM THE IDEA TO THE ACTUAL OBJECT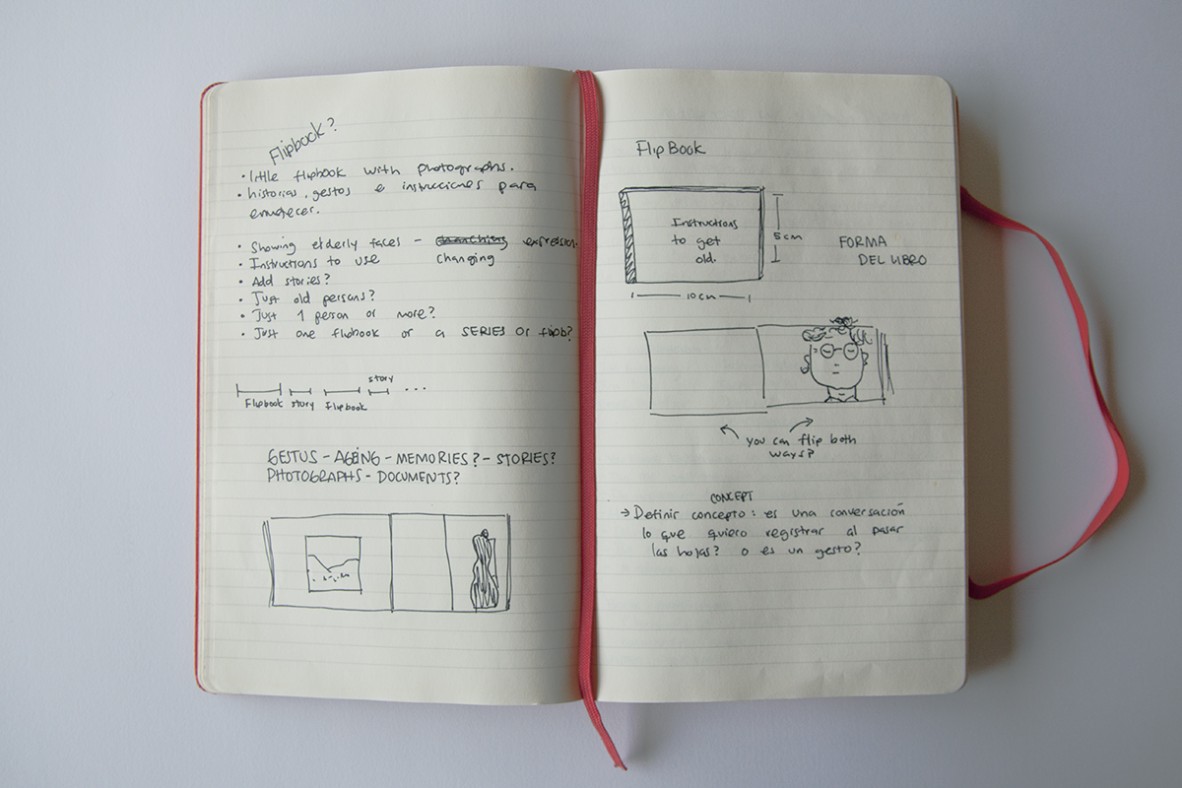 Notes from my diary, 2014.
It was at this stage of messiness that I realized I had the material for a new project, but I did not know what to do next. How could I mix all these ideas and summarize, refine and polish them to turn them into something real? Where to begin? How could I translate the image from my mind into an actual object?
The first stage of the project was to run a storytelling workshop for a group of 6 elders in a respite centre. It was then, when I decided I wanted to include stories and archived photographs in the book and that it was no longer a "normal" flipbook. I wanted to make a book about ageing and memory, featuring different elders. Through small talks and interviews, I wrote their life stories and I also photographed a series of portraits of each of the participants.
Printing proofs of Doreen´s series, 2015.
Printing proofs of Doreen´s series, 2015.
After this, I dedicated myself to listen to the stories and to dig into the State Library of Queensland´s collections to find and select the photographs and documents that would be accompanying the portraits in the book.
The last step was to design and edit the book. The big challenge was to review and condense all the information I had collected - to decide what to keep and what not to keep wasn't easy. I made several handmade dummies.
Making the dummy of Elizabeth´s chapter, "A beautiful feeling of peace", 2016.
Making the dummy of Elizabeth´s chapter, "A beautiful feeling of peace", 2016.
Looking at books was extremely important. I looked out for inspiration in all kind of publications - from pop magazines to unique artists´ books. I looked and tried to understand how others make books and I was always interested in seeing their selections of fonts, size, paper stock, binding and some other things like inserts or the use of different stock and materials within the same book.
At the final stage I had the pleasure to collaborate locally with many talented people; Martin Barry, who did colour correction. Linda Carling, a graphic designer who, from my handmade dummy, created the artwork for printing. Phil Leonard, who was responsible for printing two hundred copies that needed to look and function exactly the same as my handmade dummy. And Doug Spowart, an artist and independent researcher who wrote an essay to be included in the book.
So the simple idea became a more complex project that required two years of production. All these processes, investigations, encounters, conversations and collaborations were summarized into a 196 page book called Memorandum.
Memorandum is a book about things that were remembered, photographs that were carefully stored and conversations that must never be forgotten.
Ana Paula Estrada
*Note: Click here to see the final handmade dummy of Memorandum.
Comments
Your email address will not be published.
We welcome relevant, respectful comments.