A House Divided: Queensland in November 1918
By JOL Admin | 14 June 2019
Guest blogger: Dr Martin Kerby - 2018 Q ANZAC 100 Fellow.
On the night of 11 November 1918 Philip Gibbs, the most famous British War correspondent of the First World War, sat down at his typewriter to compose his final dispatch. Although he had spent almost four years on the Western Front, he was an avowed romantic, one whose colourful prose was more popular with Queensland newspaper editors than Charles Bean, whose mania for detail led English correspondent Ellis Ashmead Bartlett to suspect that he actually counted the bullets. Gibbs was deeply moved by 'the beautiful silence of the nights of peace … as though God gave a benediction to the wounded soul of the world'.1 Almost a world away in the Australian state of Queensland, there was anything but silence, as thousands of people took to the streets to celebrate. The cost of this long awaited victory had been exorbitant. Half of eligible Australian males had enlisted, and of that number 60,000 were killed and 145,000 wounded. For Queensland, the impact of 6,850 dead and 15,950 wounded was catastrophic. The war had indeed wounded Queensland's soul, but peace would not bring with it the benediction that Gibbs saw so clearly from his hotel room in Mons, where for the British the war both began and ended.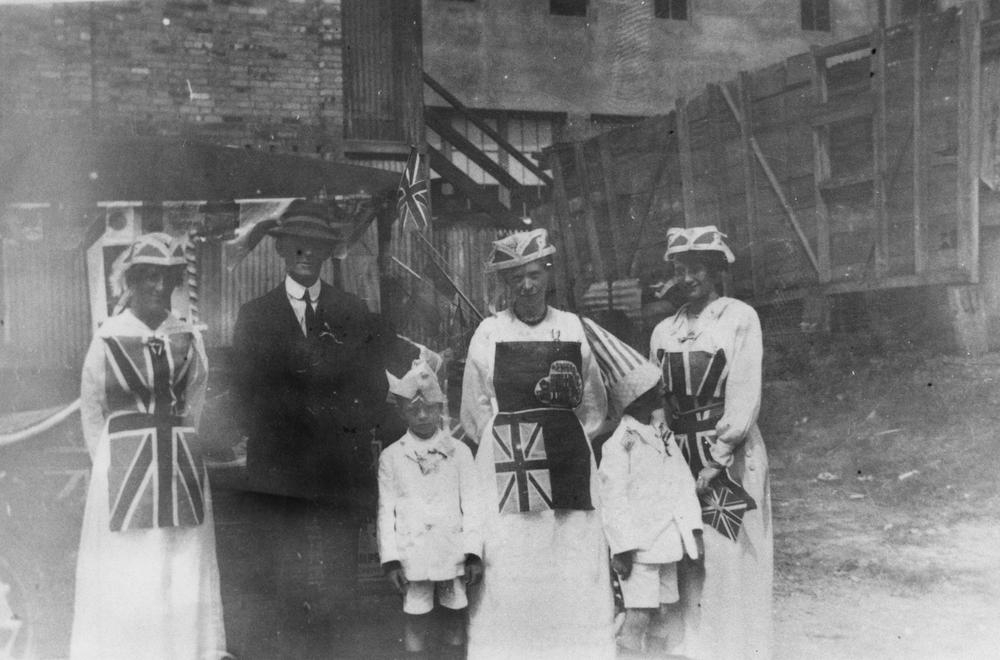 Celebrating the Armistice, Brisbane, 1918. John Oxley Library, State Library of Queensland. Image 188941
Conservatives in Queensland believed that the war had offered their fellow citizens a simple choice. Were they loyal or disloyal? Loyalty demanded a commitment to total victory, whatever the cost. Nuance or criticism was vilified as treachery. Anything foreign, which really meant anything non-British, was immediately suspect. These views were widely disseminated by the Queensland conservative press, who were unrelenting in their characterisation of the war as battle between British virtue and German militarism. In a domestic context, this propensity to see things in simple terms was evident in a division of society into those who were loyal and those who were not. Paul Fussell described this approach in a much broader context as a 'physical confrontation between "us" and "them"'. In this construct, compromise was impossible, for one's binary opposite embodied so 'wicked a deficiency or flaw or perversion that its total submission is called for'.2 Inspired by a sense of either an old order to defend or a new world to win' conservative and radical forces in committed themselves to further battle.3

By 1918, the labour movement was at best lukewarm in its support for the war. In some cases, they opposed it openly. Arrayed against them were Queensland loyalists, for whom imperial loyalty had 'all the depth and comprehensiveness of a religion.4 The growing opposition to war had actually galvanised them into an even more determined and at times frenzied determination to pursue total victory, whatever the cost. In pursuit of that end, they waged an increasingly violent and irrational domestic campaign against those they perceived as disloyal. This confrontation was imbued with an even more fratricidal quality by the fact that far from being the instigator of this loyalist crusade, the Queensland state government was actually one of its prime targets. Indeed, such was the disdain for the state government that since May 1918 the Commonwealth Government, Military Intelligence, Military Censorship, and the Special Intelligence Bureau were supporting anti-revolutionary activity, both real and imagined, by encouraging right wing vigilante activities.5 On both sides of this divide, people saw a world view that was not just different, but antithetical to their own.

Germany's signing of the Armistice in November 1918 did not take Australians by surprise in the same way that the outbreak of war had done in 1914. A few false alarms and the surrender of Bulgaria (30 September 1918), Turkey (30 October 1918), and Austria (3 November 1918) ensured that by the middle of the first week of November 1918 the Australian people were expecting peace, and indeed, they positively yearned for it.6 By the time that the news of the Armistice reached Australia at approximately 7.25 pm on Monday 11 November, a series of headlines across the state from earlier in the day had already made it clear that peace was at hand – 'Panic and Revolt. Capitulation Certain'7 , 'Kaiser and Crown Prince Abdicate. Revolt Spreading in Germany'8 , 'Revolution in German. Spreading over the Country. Warships fly the Red Flag'9 , 'Waiting for the End'10 , 'How are the mighty fallen'11 , 'The Revolution is Coming'12, and 'German retreat on whole front'13. The newspapers in Brisbane posted the news by 8 pm and from there it 'spread like wildfire throughout the suburbs'.14 The next day things were slightly clearer – 'Peace with Victory', 'Revolution in Germany', 'Riots in Berlin'15 , 'The Issue Settled', 'Greatest Judgement in History'16 , 'Germany signs Armistice'17 , and 'Fate of Germany Sealed World-Wide Rejoicing'.

Yet even the celebrations that marked the end of 52 months of total war could not hide the fact that Queensland was a damaged society. The blood of loyalists had indeed run hot in defence of Empire; the hatreds they had mobilized to sustain the nation's war effort could not be contained. Their characterisation of the war as a choice between loyalty and disloyalty 'had unhinged many people … People from the Prime Minister down were becoming frantic, irrational and unmindful of consequences'.18 The central issue that appeared to many to define one's loyalty to nation and empire was conscription, widely and justifiably regarded as the most divisive political conflict in the nation's history. On 28 October 1916 and 20 December 1917, the Australian people twice rejected compulsory military service in bitterly contested referendums. That a government would seek the consent of its people was unique enough in its own right, but that they should vote 'no' in the midst of a world war and then fight on for another two years is 'more striking still'.19 It was, however, a more complex issue than the binary opposites of loyalty and disloyalty allowed, yet in their 'heated propaganda, each portrayed the other as a murderous traitor'.20

Clashes between Ryan and Prime Minister Hughes brought an added personal dimension to the generally strained relations between the Commonwealth and Queensland over issues such as the price of sugar, control of meat exports, power over coastal shipping, and industrial disputes. When Ryan sought to publish a special issue of Hansard that included the text of an anti-conscription speech, Hughes, in person, directed the army in a raid on the Government Printing Office in Brisbane. For a short time in the early hours of 28 November 1917, civil insurrection appeared a very real possibility. On his return to Melbourne, Hughes, also smarting from being egged in Warwick, established the Commonwealth Police. His state of mind was such that he dispatched weapons to Queensland loyalists based on his hysterical fear that left wing groups might seize the city.21

For many, conscription was not just political, but deeply personal, as it was for one women who wrote a letter to the editor of the Brisbane Courier:
Mr Ryan, I am one of many mothers whose joy is tinged with grief at the thought of our loved ones who lie in Gallipoli, France and other battlefields. To that grief is added bitterness at the thought that the man who was at the head of yesterday's rejoicings is the man who worked and schemed to defeat conscription and who openly rejoiced at the sordid 'victory' of the anti-conscriptionists. Well do we know that but for this 'victory' many of our dear lads whom we mourn for would have been at home on their well-earned furlough.22

Even when Queensland politicians and journalists called for unity, their appeals often masked a widely held view that it was now time for the settling of old scores. Another letter to the editor of the Brisbane Courier urged Queenslanders to set their 'house in order, get a new broom, sweep out the corners and the lizards, rattlers, etc. that lurk in them, and then start to patch up our differences, which, with the exception of loyalty and disloyalty, are infinitesimal trifles'.23 Another journalist found some comfort in the belief that 'at bottom, the great mass of our people are as sound as a bell'.24
Large banner being carried during the Armistice Procession, Brisbane, 1918. John Oxley Library, State Library of Queensland. Image 7729-0001-0037
For a Queenslander to be considered sound, he or she needed to be more than just loyal to Britain and a supporter of conscription. One needed to be politically reliable and hold views considered orthodox; to be anything else was to be disloyal, a very wide descriptor synonymous with treason and which was used liberally by the governing elites to demonise their political opponents.25 Yet there was still a very strong element of pre-British sentiment, for as the conservative press reports show, it was not just possible, but indeed imperative that the achievements of the Australian Imperial Force (AIF) be celebrated within a nationalist and imperialist framework. The conservative Telegraph emphasised this view when it argued that it was loyalty to Britain that 'animated our boys in Gallipoli, France, and Palestine'. Even the joy at the surrender of Germany had proved that Queenslanders were 'one in our loyalty'.26 Loyalists enthusiastically embraced this dual identity, one in which there was 'no contradiction in their being simultaneously Australian and British'.27
Those who were not 'sound' and held unorthodox views were derided as radicals 'seeking to raise the red flag of revolution in the place of the British flag of liberty'. They were not animated by sacred ideals, but instead had 'in their hearts a policy of coercion which is the antithesis of the life which now is our joy and the birthright of our children'. Conservative Queenslanders identified the Labor government under Ryan was one of the main culprits, for it had 'temporised' with this 'anti-British element in our political life'. Now the war was over it was time to dispense with 'all disloyalty which obtrudes itself into the community for the old flag is strong and glorious - and it is our flag'.28

The Telegraph feigned a confidence that loyalists in Queensland did not necessarily feel by observing that radical efforts to undermine social and political cohesion would be futile because Queenslanders 'have no grievances. There is no freer community in the world'.29 The 'disloyal' were not content, however, to be pushed aside in so peremptory a fashion. They understood that Empire loyalists demanded 'capitulation and atonement rather than reconciliation'30 ; it was mea culpa that they were in no mood to offer. It was clear, therefore, that the end of the war was the inauguration of a new stage in which conservative and radical forces battled for the right for their world view to dominate post-war Queensland. Through it all Queensland remained steadfastly faithful to its role as odd man out,31 for the divisiveness and bitterness was felt more strongly here than elsewhere, as the newspaper reports during the two weeks either side of the Armistice show.
St Peter's Girls Guild horsedrawn float taking part in Armistice Day Peace Parade, Townsville, Queensland. John Oxley Library, State Library of Queensland. Image 29910-0009-0001
1Daily Chronicle (London), 12 November 1918.
2 Paul Fussell, The Great War and Modern Memory (London, 1977), p. 79.
3 Raymond Evans, Loyalty and disloyalty: social conflict on the Queensland homefront 1914-1918 (Sydney, 1987), p. 145.
4 Leslie Robson, The first AIF: a study of its recruitment 1914–1918 (Melbourne, 1982), p. 16.
5 Raymond Evans, 'Red Flag Riots', in Raymond Evans, Carole Ferrier & Jeff Rickertt (eds), Radical Brisbane: An unruly history (Carlton, 2004), pp. 167 – 174, at p. 169.
6 Ernest Scott, Australia during the War, vol. xi of The Official History of Australia in the War of 1914-18. (Sydney, 1936), p. 445.
7Cairns Post (weekly), 11 November 1918, p. 4.
8Evening Telegraph (Charters Towers, daily), 11 November 1918, p. 3.
9Daily Mercury (Mackay, daily), 11 November 1918, p. 2.
10Daily Standard (Brisbane, daily), 11 November 1918, p. 4.
11Townsville Daily Bulletin (daily), 11 November 1918, p. 4.
12Darling Downs Gazette (Drayton and Toowoomba, daily), 11 November 1918, p. 5.
13Telegraph (Brisbane, evening), 11 November 1918, p. 4.
14Cairns Post (weekly), 12 November 1918, p. 5.
15Brisbane Courier (daily), 12 November 1918, p. 7.
16Darling Downs Gazette (Drayton and Toowoomba, daily), 12 November 1918, p. 5.
17Gympie Times and Mary River Mining Gazette (thrice weekly),12 November 1918, p. 3.
18 Raymond Evans, 'Red Flag Riots', in Raymond Evans, Carole Ferrier & Jeff Rickertt (eds), Radical Brisbane: An unruly history (Carlton, 2004), pp. 167 – 174, at p. 166
19 Robin Archer & Sean Scalmer, 'The Most Interesting Experiment that has Ever Been Made in a Political Democracy', in Robin Archer, Joy Damousi, Murray Goot & Sean Scalmer, Conscription and the Great War (Melbourne, 2016), p. 6.
20 Archer & Scalmer, 'Most Interesting Experiemnet', p. 6.
21 Evans, Radical Brisbane, p. 166.
22Brisbane Courier (daily), 14 November 1918, p. 5.
23Brisbane Courier, 18 November 1918, p. 5.
24Daily Mail (Brisbane), 14 November 1918, p. 4.
25 Joan Beaumont, 'Unitedly we have fought': imperial loyalty and the Australian war effort', International Affairs, 90/2 (2014), pp. 404-405.
26Telegraph (Brisbane, evening), 14 November 1918, p. 4.
27 Beaumont, 'Unitedly we fought', p. 400.
28Telegraph (Brisbane, evening), 14 November 1918, p. 4.
29Telegraph (Brisbane, evening), 14 November 1918, p. 4.
30 Evans, Loyalty, p. 148.
31 Welsh, Great Southern Land, p. 389.
Further reading from Dr Martin Kerby
Comments
Your email address will not be published.
We welcome relevant, respectful comments.