Horses at the end of WWI
By JOL Admin | 29 April 2014
Guest blogger: Captain Adele Catts - Museum Manager, Army Museum South Queensland, Victoria Barracks, Petrie Terrace, Brisbane
Captain Adele Catts, former curator of the 2nd/14th Light Horse Regiment (Queensland Mounted Infantry) Museum shares her knowledge on the subject of what happened to the horses sent to the First World War.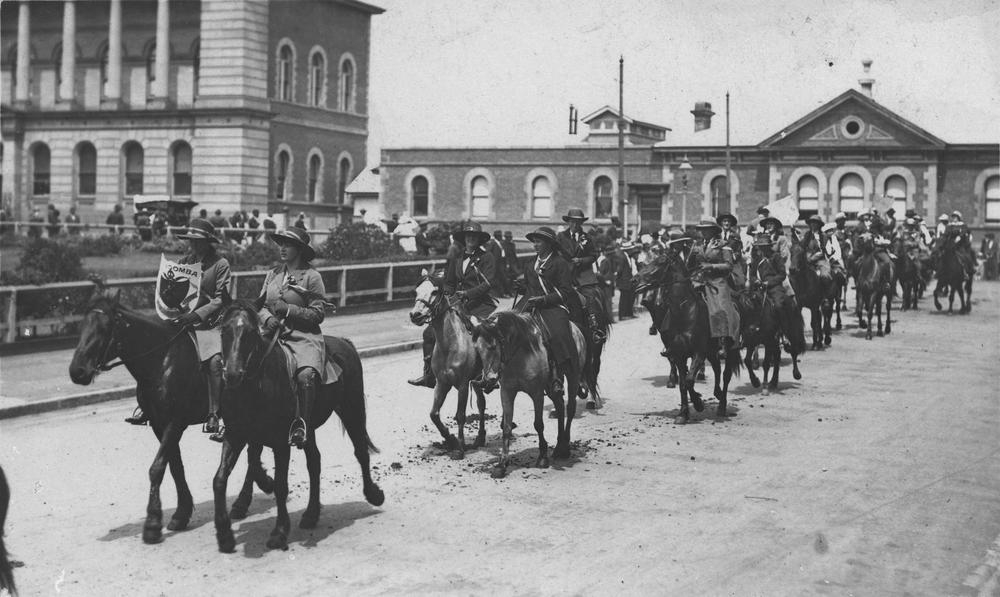 War Horse Day parade in Brisbane, 1918. John Oxley Library, State Library of Queensland, Image 438432
Adele mentioned that the subject came up during discussions and workshops at the recent Q Anzac 100 Heritage Leaders Workshop (April 1-4). This is an example of an 'untold' or 'unknown' story and one that represents the duty of care facing us all during the ANZAC commemoration and future events and activities.
Myth:
One of the most common myths about the Australian Light Horse is that they shot all of their horses at the end of WWI.
Fact:
There were 122,000 horses exported from Australia during WWI. At the end of 1918, 11,037 were still in use with the Australian Light Horse units in the Middle East. These were classified by age and condition into four groups. Those not fit for further use (2,853) were destroyed. Their manes and tails were shorn as horse hair could be sold and their shoes removed. The remainder were sold to the British Army, the Indian Army and the Finnish Army. Six hundred (600) mares were sent to England for breeding purposes. Only 250 were allegedly destroyed by the rider without permission for they feared the horses would be mistreated if sold locally.
Only one horse returned home from WWI – "Sandy" owned by Major General William Bridges, Commander of the Australian 1st Division, who died of wounds sustained at Gallipoli. Sandy's head is now mounted on display at the Australian War Memorial, Canberra.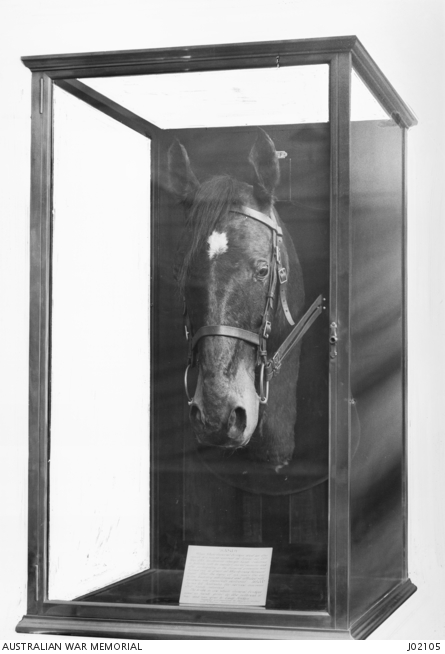 'Sandy's Head' - General Bridges' Charger Sandy, the only horse to return of those that left Australia for active service with the AIF. This display case shows its original installation at the Australian War Museum. Australian War Memorial - Image J02105
It was for quarantine reasons that wartime animals could not be brought home. Similarly, by the end of WWII there were 1,000s of carrier pigeons in New Guinea. Because there were no food grains available for them there, the birds were put down. A few bodies were returned for display at the Australian War Memorial. The tracker dogs used in Vietnam were also not allowed to return to Australia thus suitable homes were found for all of them in Vietnam.
Recommended reading and sources:
Vets at Waropen_in_new by Ian Parsonson
Loftus, N.S.W. : Australian Military History Publications 2005
Series: The Australian Army history collection
State Library of Queensland Open access, level 2 (G 355.345 2005 )
M is for mates : animals in wartime from Ajax to Zep
Dept. of Veterans' Affairs in association with the Australian War Memorial c2009
State Library of Queensland, request and collect at level 3 (CLN 355.424 2009 )
A thousand miles of battles : the saga of the Australian Light Horse in WWI by Ian Jones
Aspley, Qld. : ANZAC Day Commemoration Committee 2007
State Library of Queensland John Oxley Library Open access, level 4 (J 940.415 JON )
Bully Beef & Balderdash : some myths of the AIF examined and debunked by Graham Wilson
Newport, N.S.W. : Big Sky, 2012
State Library of Queensland, John Oxley Library Open access, level 4 (J 940.4 WIL )
Unit diaries and personal files of the Australian Remount Units, Australian War Memorial
Comments
Your email address will not be published.
We welcome relevant, respectful comments.