Horace Thomas DALTON #57247
By Marg Powel & Des Crump | 26 March 2018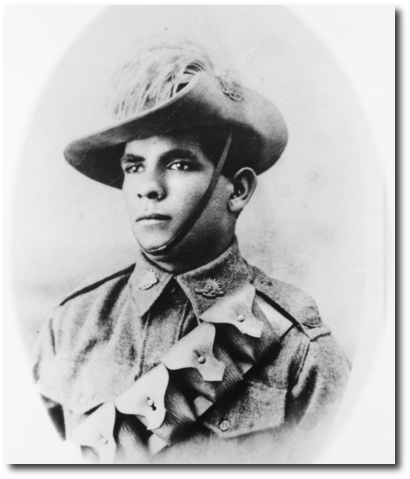 Indigenous Australian, Horace Dalton, 11th Light Horse Regiment
Horace DALTON was born at Dunwich (Goompi), North Stradbroke Island (Minjerribah), Qld. in 1899 to Thomas and Elizabeth (Lizzie) Dalton (nee Parker) and was working as a farmer when he volunteered to serve with the first AIF in May 1918. The Enlistment Officer wrote to his parents asking they supply their consent for their young son to serve overseas, which was freely given. He trained at Rifle Range Camp, Enoggera before being allotted to the 4th General Reinforcements for Egypt. He embarked on board the troop ship 'Port Sydney' in August 1918 arriving at the Port of Suez four weeks later.
After spending two months at the Light Horse Training Camp in Moascar, Dalton was assigned to the 11th Light Horse Regiment and joined them in the field when they were encamped near the village of Zgarta, Libya, in November 1918.
While news of the armistice had been already been received, troops were still required for garrison duties, remaining in the field for some months. The 11th Light Horse celebrated Christmas 1918 encamped near Tripoli receiving gifts from the Queensland Comforts Fund, along with free beer and dry goods such as flour and raisins particularly useful for making Xmas puddings.
Men were kept engaged in various activities which included: police guard in the towns of Tripoli and Zgarta; attending educational courses; taking leave to Port Said, and volunteering for the Graves Registration Unit. As men were left the regiment to return home or take on different duties, others were nominated to take their places.
In February 1919 Trooper Dalton was found to be missing from stable duty, and having taken a horse without permission, he was marched out to serve 28 days detention at the Field Punishment Compound, in Moascar.
He was able to return to the regiment one month later, by this time they had returned from duty in the field and had arrived by ship and then train to set up camp at Moascar. The civilian population of Egypt came under military scrutiny as locals had begun to dismantle railway lines and looting supplies. The Light Horse regiments remained on duty to quell any further unrest.
In May Trooper Dalton was admitted to hospital suffering from a chronic middle ear infection and remained unfit for duty until June. One month later he boarded the troopship Morvada at Kantara north of Cairo, bound for Australia.
Horace Dalton returned to life on Minjerribah, as an oysterman and married Elizabeth Kearns. His parents and some of his siblings had been removed from the island and placed in Aboriginal Missions in the 1920s, as was Horace and his family, to Taroom. Horace was able to return to the coast in the 1930's once again earning a living from the sea. He died at a relatively young age of 57 leaving behind his young son Ken, and was unceremoniously buried at the Ipswich Cemetery. In later years his life and service have been honoured by the RSL and his community, his grave is marked with the Rising Sun for all to observe and commemorate.
Read more ...
The information in this blog post has been researched by State Library staff and volunteers, it is based on available information at this time. If you have more information that you would like to share or further research uncovers new findings, this post will be updated.
Comments
Your email address will not be published.
We welcome relevant, respectful comments.