In Honour of Kelly or Kilby?
By JOL Admin | 28 October 2014
A volunteer and researcher for the State Library of Queensland brought this dilemma to our attention. Perhaps you can help resolve it? In 1917 an Honour Board was unveiled in the Samson Vale Hall, which commemorated residents who had served in the Great War.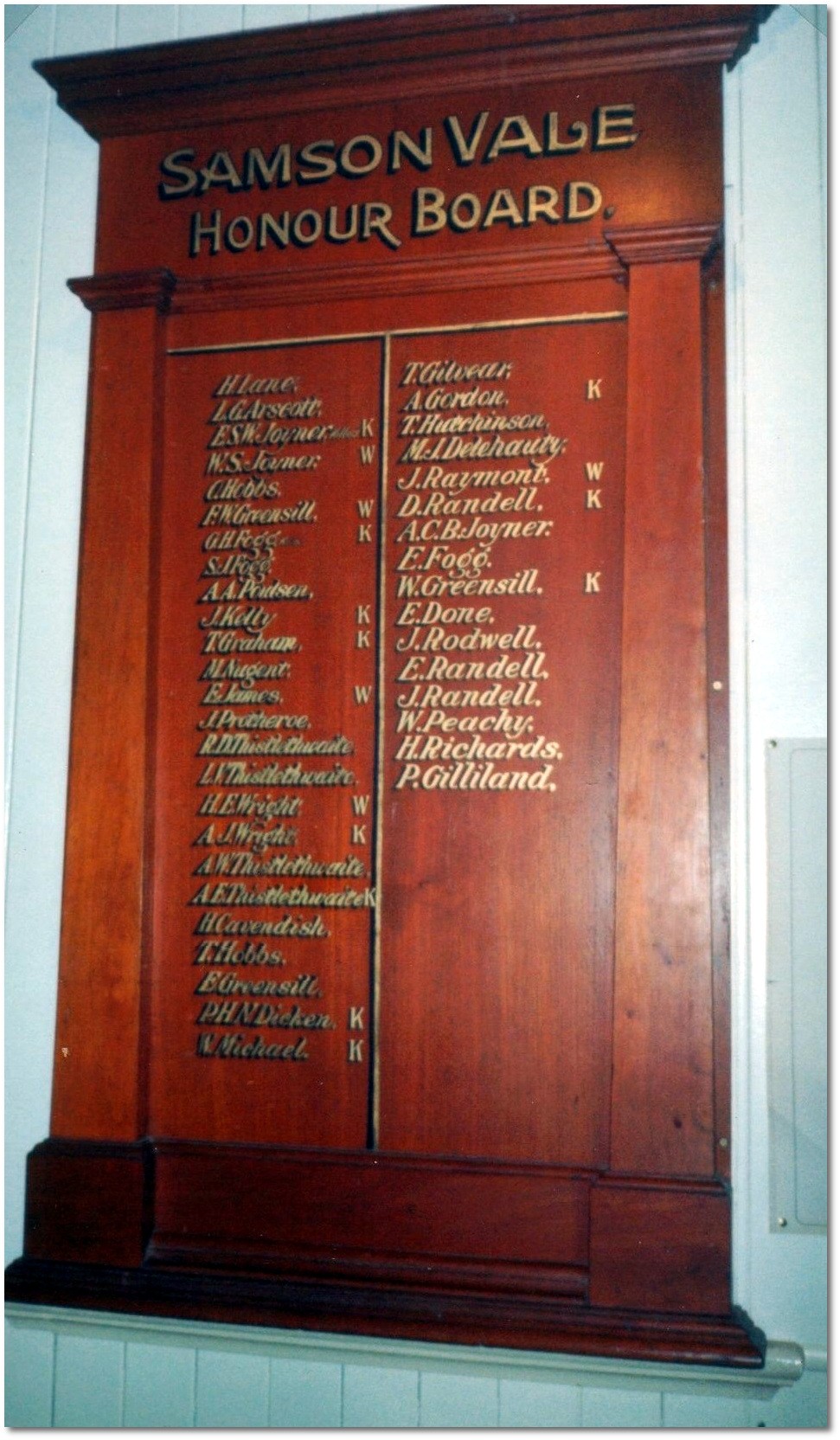 The board as we see it identifies 41 names. In 1995 the old Samson Vale Hall was renovated and a new honour board was commissioned to include those who had served in WWII, but something was changed. The entry for J. Kelly (K) disappeared and was replaced with an entry for J. Kilby (K).

Samson Vale Honour Board, 1995

Samson Vale Honour Board, 1995
Research for the inclusion of names:
"All soldiers were publicly farewelled and presented with various articles such as watches, wallets, periscopes etc. Volunteers accepted and enrolled for service in WWI. Several were labourers employed on local farms. A few were residents. Some just outside our boundaries. The latter were treated as residents because they received no attention elsewhere." 1.
No one named J. Kilby died in WWI according the Australian War Memorial honour roll, there are however 50 entries for J. Kelly that did lose their lives. 2.
Many good minds have tried to verify J. Kelly (K) but alas no one to date has been successful. There was a family of Kelly's who lived in Terror's Creek in 1914, but nothing links anyone of them to service in WWI. 4.
Electoral Roll, North Pine 1914 
In this time of Commemoration, many communities are keen to find out more about their local servicemen and women. Through the restoration and creation of memorials, avenues of honour, statues and remembrance gardens they are researching the names included on their honour boards. The Anzac Centenary Local Grants Program has made funding available for each Federal electorate to commemorate the First World War. More information about the Anzac Centenary Local Grants Program is available at
www.anzaccentenary.gov.au
If you can help resolve the Samson Vale mystery of Kelly or Kilby, please contact us here at: discovery@slq.qld.gov.au
References:
A.J. Gold, Samsonvale : a history of the Samsonvale district. Strathpine, Qld. : Pine Rivers Shire Council, Local Studies Section; 1996
Australian War Memorial - Search for a person - http://www.awm.gov.au/people/roll-search/all/
National Archives of Australia - Name search - http://naa12.naa.gov.au/NameSearch/Interface/NameSearchForm.aspx
Australia, Electoral Rolls, 1903-1980
Guest Blogger: Charlie Nolan.
Comments
Your email address will not be published.
We welcome relevant, respectful comments.