A History of Cherbourg's Marching Girls
By ssummers | 17 February 2017
kuril dhagun was thrilled to support University of Queensland's research project on the history of Cherbourg's Marching Girls throughout the 50's and 60's.
Researchers Gary Osmond, Murray Phillips and Emily Cameron, together with Aunty Lesley Williams, organised the community meeting in the Loris Williams Room which is the perfect place for sharing and connecting.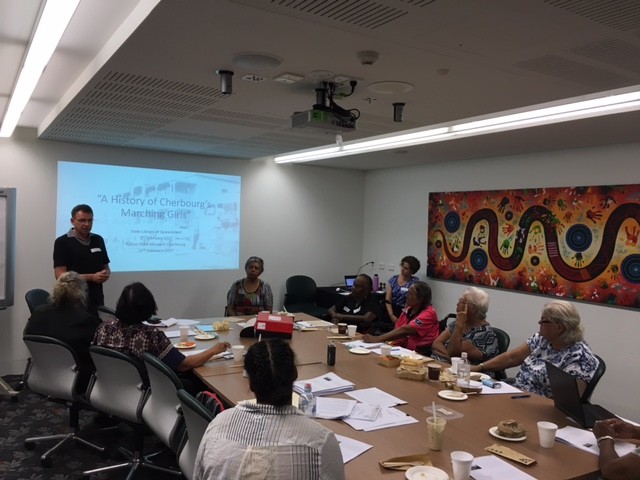 A number o f the original Cherbourg Marching Girls came together again for the first time in years to reflect on their time together. A presentation was given to all the members in attendance and you could see the expressions of pride struck on their faces. At a time where life was hard and many freedoms were taken away, the Marching Girls teams gave these women a real sense of purpose and pride in their day to day lives.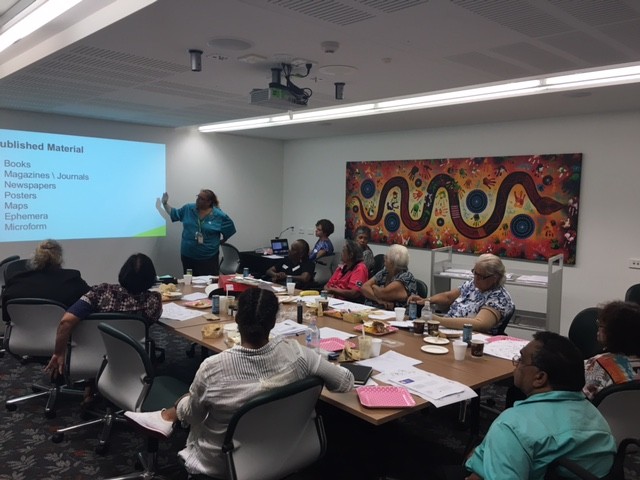 The women enjoyed recalling on memories of life growing up in Cherbourg, their struggles and what it meant for them to be a part of a team. For many of the women involved, this was an opportunity to go out and explore the world beyond Cherbourg, travelling to different parts of the state and even interstate.
Tania Schafer from Queensland Memory at SLQ also came down at the end of the day to run through our family history resources, and how to search the collection for information and images.
State Library holds a wonderful collection of images; two worth noting are:
Marching girls at Cherbourg, 1958 , and
Marching girls at Cherbourg, 1960.
Overall, the day was a great success and it was an absolute pleasure getting to know these aunties on a more personal level. There was lots of reminiscing, storytelling and laughter and we were so thankful to be invited to be a part of it. It really is one of the true perks of our job, to be able to listen and learn about history directly from our Elders.
A huge thank you to Gary Osmond, Murray Phillips and Emily Cameron for all of their hard work, patience and enthusiasm to bring the Marching Girls story back to life.
We look forward to maintaining this relationship and potential partnerships with UQ in the future.
Comments
Your email address will not be published.
We welcome relevant, respectful comments.