Herbert ROBERTS #50265
By Marg Powel & Des Crump | 18 May 2018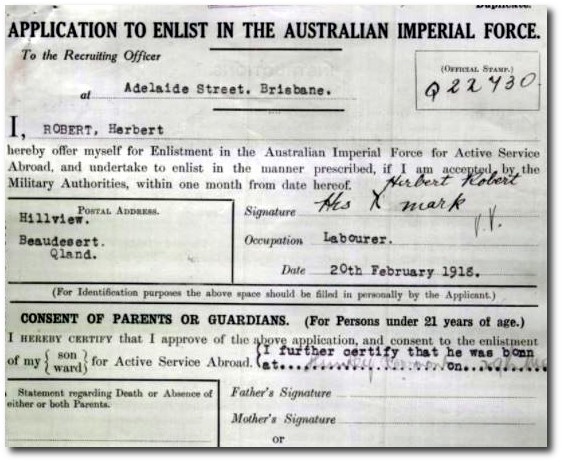 Indigenous Australian, Herbert ROBERTS, 1st Queensland Reinforcements, Egypt
Herbert (Bert) Roberts was born at Huntley Station, near Clermont, in 1896 to William Roberts, a Scotsman and Annie. When he volunteered to serve with the first AIF in February 1918 he named as his next of kin his sister Mary Roberts, care of Mr & Mrs Jackie, Hillview, Beaudesert. His brother Harry Roberts #50278 had previously enlisted the month before.
Anxious to enlist, he signed a statutory declaration that his father was a white man and his mother was a half-caste aboriginal, and that he had lived all his life with white people. Unable to read or write he made his mark with an X when he signed his enlistment papers and was earmarked to join the General Reinforcements for Egypt, like his brother, training at Rifle Range camp, Enoggera and Lytton Camp near the Port of Brisbane.
1st Queensland Reinforcements Egypt, 1918. Photograph features several Aboriginal soldiers - believed to include: Willie Allen (50246), Glen Combarngo (50248), Herbert Roberts (50265), Patrick Brady (50271), John Lewis (50276), Harry Roberts (50278), and Alexander Stanley (50280). No further details on which names match which soldier.
Herbert had his photograph taken with other men destined for the Light Horse Regiments, but he was never to embark with them. He was granted 'home leave' prior to embarkation from 4 - 6 March to say farewell to his family, however in May 1918 he sprained his left ankle. While off-duty at Lytton Camp, Roberts, who was just short of 6ft tall was enjoying a game of 'hop step & jump' when he twisted his ankle causing it to swell and become rather painful. He was admitted to the Camp Clearing Hospital, Enoggera but refused further treatment.
Later the next moth he was discovered absent without leave for less than a day and fined for his actions. Herbert Roberts was no longer considered suitable to contribute to the AIF and was recommended for discharge, medically unfit, 21 June 1918. Herbert (Bert) returned to his family in Hillview, many of whom were later removed to the Aboriginal mission at Barambah, now known as Cherbourg.
Read more ...
Watch ...
The information in this blog post has been researched by State Library staff and volunteers, it is based on available information at this time. If you have more information that you would like to share or further research uncovers new findings, this post will be updated.
Comments
Your email address will not be published.
We welcome relevant, respectful comments.