Glen COMBARNGO #50248
By Marg Powel & Des Crump | 10 July 2017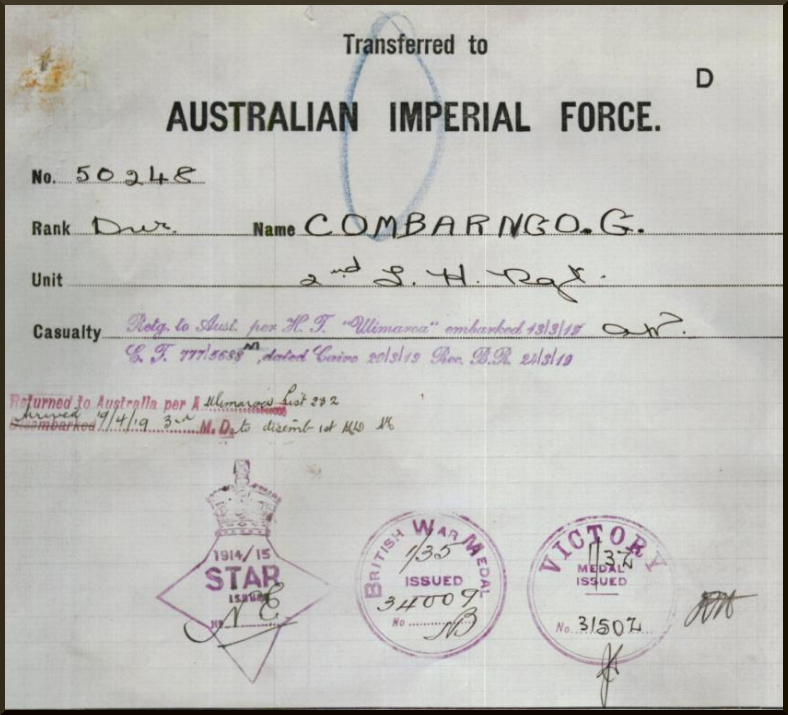 Indigenous Australian, Driver Glen COMBARNGO, 2nd Light Horse Regiment
Glen Combarngo was born in Surat in 1895, the eldest son of Billie Combarngo and Nellie Doyle. He was working as a Stockman when he enlisted in Toowoomba in January 1918. His parents Billie and Nellie had been removed from Surat to Taroom Aboriginal Reserve in 1917.
Combarngo was one of seven Aboriginal men who were part of the 1st Reinforcements Egypt. They were Willie Allen 50246, Glen Combarngo 50248, Herbert Roberts 50265, Patrick Brady 50271, John Lewis 50276, Harry Roberts 50278, Alexander Stanley 50280 and Charlie Alley 71142.
Combarngo embarked with his unit from Sydney on board HMAT Wiltshire in June 1918 and arrived in Egypt four weeks later. He was attached to the Anzac Training Regiment and was allotted to the 2nd Light Horse Regiment. In December 1918 Combarngo was appointed Driver and remained at this rank until being repatriated home in March 1919.
On his return journey on board HMAT Ulmara Combarngo contracted mumps and was admitted to the ships hospital for isolation and treatment. He returned to work as a labourer in Surat but was arrested and convicted of the murder of Joseph Beswick in 1924, for which he was sentenced to imprisonment with hard labour.
Read more ...
The information in this blog post has been researched by State Library staff and volunteers, it is based on available information at this time. If you have more information that you would like to share or further research uncovers new findings, this post will be updated.
Comments
Your email address will not be published.
We welcome relevant, respectful comments.