German soldiers pocket book
By Marg Powell, Specialist Library Technician, Metadata Services | 5 May 2017
Contained within the collection of Lieutenant Edgar Thomas Towner, VC, MC, is a most unique souvenir. Towner wrote to his family in Blackall, in October 1917 that he had removed a 'wallet' from a dead German soldier, and was posting it home to retain as a memento. The pocket book / wallet and its contents is an artifact of immense personal and historical value.
In the process of investigating the 'wallet', we found that there are papers belonging to two German servicemen.
Written on the inside of the pocket book are the details of the first soldier -
Reservist Hermann Schoenfeld,
Reserve Infantry Regiment 2,
1 Company 1 Battalion, 3 Reserve Division
Osten
There are several postcards written to Hermann Schoenfeld, one from his brother, and two from Herr Pieper, 7th Machine Gun Company, Konigsberg.
Research of the limited databases available online, show that a Hermann Schoenfeld, born 13 May was included on a casualty list for October 1917, and that he was from Warberg, Schroda, now a Polish territory. Many records for German soldiers who served during WW1 were destroyed during allied bombing in 1945.
Tucked inside the pocket book is a beautiful studio portrait of a soldier and his son, I would like to think that this image is of Hermann Schoenfeld, and his boy.
Inside the pocket book along with the handful of postcards was also a Soldier's Paybook- 'Soldbuch' which relates to another soldier.
George Julius Augeleit
Reserve Infantry Regiment 265
8 Company
The paybook not only contains details of Augeleit's enlistment, date and place of birth, it tells us he was married to Grethe (nee Schapat) and they had two children.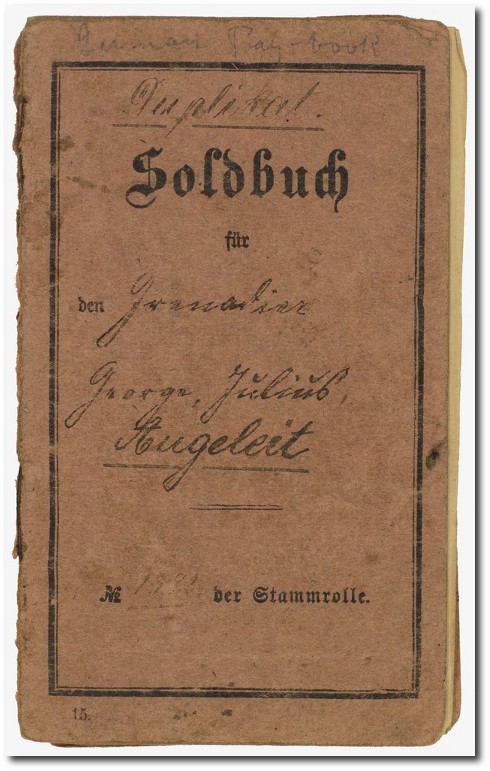 The pocket book relates to a German soldier that died in 1917. The soldier's paybook was still in use in 1918. Lieutenant Towner may have also souvenired this soldiers' documents, and they have been shuffled them together over the years.
German military pay books contained coupons, which were torn out when the soldier was paid. Augeleit was last paid in May 1918. Lieutenant Towner writes that he was the officer in charge of Interrogation of POWs in June 1918. It is highly possible that Augeleit was interviewed by Towner, and his papers confiscated. A casualty list for July 1918, reports that Julius Augeleit, from Sobersken, Ragnit was reported missing.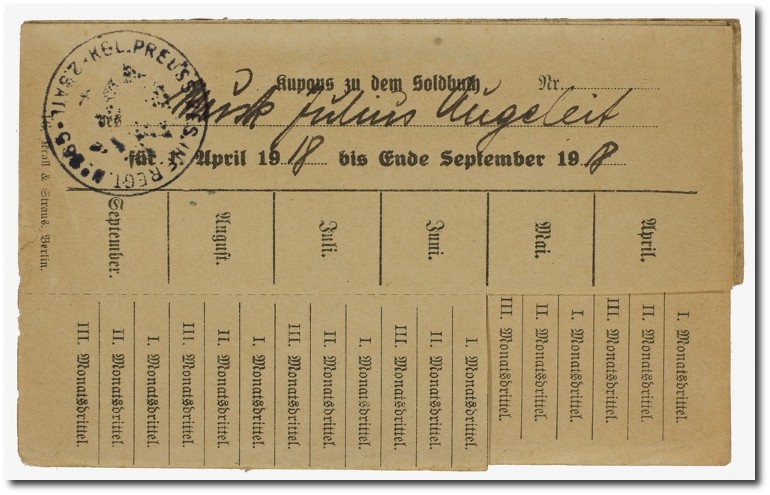 A well creased letter was tucked into Augeleit's paybook, and has been translated to reveal that it is from his wife Grethe, in Tilsit, dated 26 April 1918. Grethe writes that she has had to move and with their two children, she worries about being able to pay the rent.
Julius Augeleit was born in 1882, which made him 36 in 1918. Reserve army soldiers were those who had already served compulsorily, and were again being called to boost the numbers required. His home in Tilsit, Ragnitz is now within a Russian district.
The State Library of Queensland has digitized all of the items which can now be viewed via the online catalogue.
Many thanks to Silke Voussem for her kind assistance with transcription.
Further Reading:
Comments
Your email address will not be published.
We welcome relevant, respectful comments.