The George Weeks Collection
By Guest blogger: Monica Altmann. | 7 November 2022
The State Library of Queensland has recently received the George Weeks collection as a donation. Photographs, medals and papers such as letters, certificates and a memorial scroll are all included in this heritage collection. These items, along with records from sources such as the Australian War Memorial, can help us to piece together the story of this young soldier's life.
George Rickart Weeks was born in July 1894. A Baptism Certificate, which forms part of the collection, tells us that George was born at Vulture Street Brisbane on 15 July. He was the son of William Henry Weeks and Annie Weeks (nee Pope), however William, a baker, had passed away three months prior to George's birth.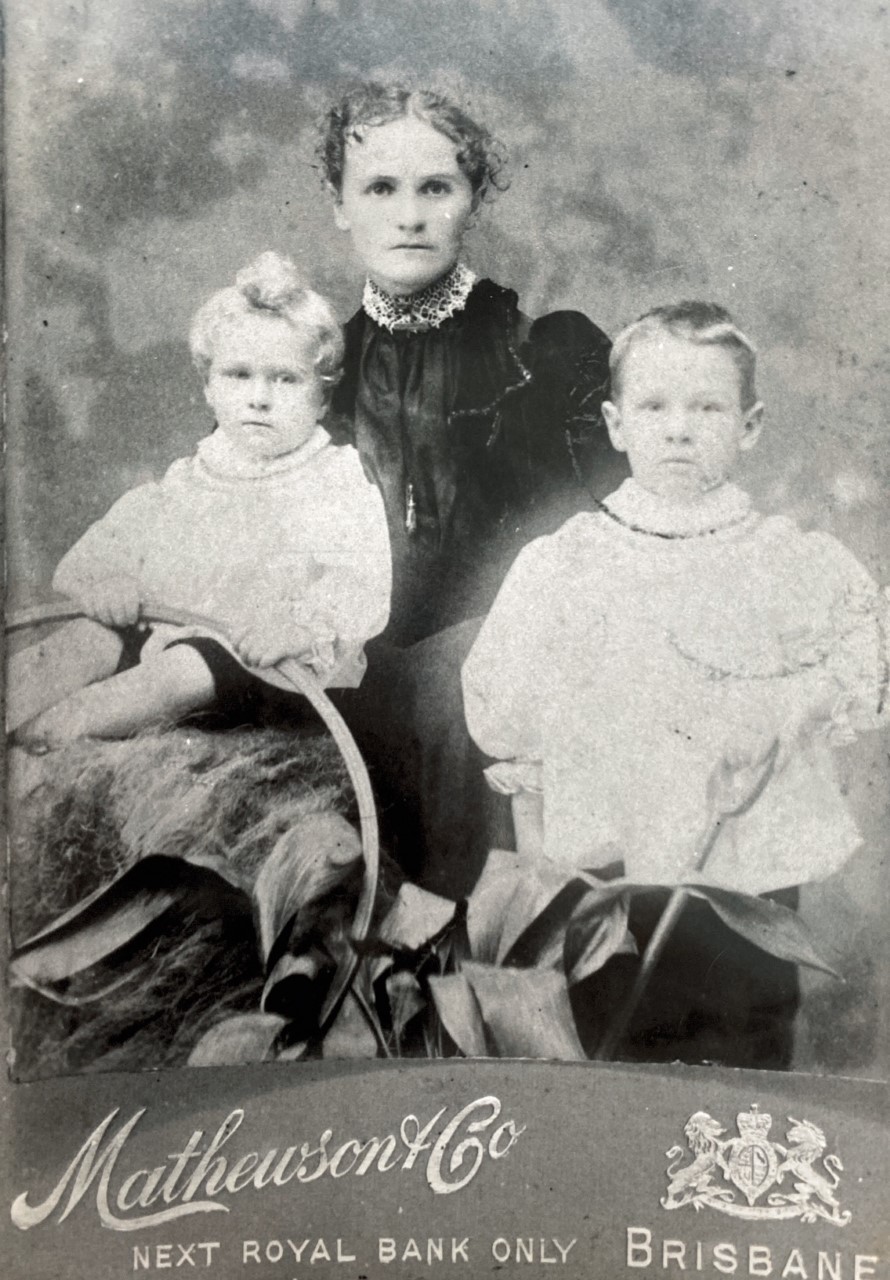 Copy of studio portrait, George Weeks (seated) with his brother and their mother Annie. 33114 George Weeks Collection, John Oxley Library, State Library of Queensland.
George grew up in South Brisbane, attended South Brisbane State School and went on to work as a labourer. On 14 August 1915, at the age of 21 years and 1 month, George enlisted as a trooper in the Australian Light Horse. Enlistment papers describe George as single, 5 feet 6 inches tall, blue-eyed and fair-haired at the time.
Service records don't tell us too much about the ensuing training period, but we can assume that George would have undergone training alongside other Light Horse recruits before being transported to Egypt on a troop ship. Records do show that George embarked on the ship HMAT Mashobra A47, which sailed from Sydney, New South Wales, on 4 October 1915. He was integrated into the 2nd Light Horse Regiment, 11th Reinforcement, on 9 January 1916 at Heliopolis, Egypt.
Trooper George Weeks astride his unsaddled horse in the Middle East during the First World War. 33114 George Weeks Collection, John Oxley Library, State Library of Queensland.
On his enlistment papers, it was noted that George had agreed to give two-fifths of his pay to support his mother. But, like many young Australian soldiers, George still had plenty of expendable income and was living in a foreign country. During the beginning of the 20th century Egypt had established itself as a cultural melting pot growing increasingly unhappy under British colonial rule. For many young Australians, Egypt would be their first experience in an overseas country; they were exposed to a variety of new and foreign experiences that they would have been unlikely to come across in Australia, far from the eyes of their family and friends. Like many other Australian soldiers, George took the opportunity to partake in all manner of adventures and whilst the details of his escapades are not present in his official records, his Statement of Service does give some clues. It is notable that he was reprimanded in April 1916 for being absent from parade, resulting in docked pay. He also had a week-long stint in hospital for an issue tactfully abbreviated to V.D.S.C. in July 1917, but was discharged and returned on strength to his unit. In August 1917, he returned to hospital for 3 weeks with an unlisted ailment, returning once again to his unit on 28 August.
In the period between January and May of 1916, the 2nd Light Horse Regiment was deployed to protect the Nile valley. In May they joined with other forces to defend the Suez Canal and then later in the year moved on to secure outposts on the Palestine frontier and do a stint of protective duty on the communications line in the Sinai. They were involved in the battle for Gaza in 1917.
Private George Weeks was killed in action in Beersheba, Palestine on 31 October 1917. He was 23 years old. His body was buried two days later, in the west corner of a site known as 'Gum Grove', in what is now known as the Beersheeba War Cemetery. The State Library's collection contains images of the grave site and its wooden cross marker, as placed by the Imperial War Graves Commission. This grave marker would later be replaced by the more permanent white stone markers that all fallen Australian soldiers received.
Studio photograph of George Weeks in military uniform, mounted on card. 33114 George Weeks Collection, John Oxley Library, State Library of Queensland.
George's death was reported in the Brisbane Telegraph on Friday 16 November 1917 (p. 3), in the 'Personal Notes' section; a simple statement informing readers that Mrs. A Weeks, of Lambourne, Gladstone Road, South Brisbane had been notified that her son George Weeks of the Light Horse had been killed in action in Palestine on 31 October.
Items in the collection show that George 'Nobby' Weeks, as he was known throughout the regiment, was well-liked. A letter of condolence from Lieutenant Colonel George Bourne to George's mother Annie told her that 'he was held in high esteem by his comrades'; a second letter from Major Gilbert Birkbeck to George's brother Thomas describes him as a 'fearless soldier and cheerful, willing worker'. We see similar messages about 1445 Trooper Weeks in digitised documents from the Australian War Memorial - 'He was a strong, fine fellow, and seems to have been well-liked by chums.'
Annie Weeks received two packages containing George's personal effects in April and May of 1918. Receipts from the National Archives list the contents of the first package as:
1 leather pouch containing two pieces of shell
1 small shell case
1 pipe
1 hold all, containing shaving gear and a comb
1 balaclava hat
3 'housewives' (small compact sewing kits),
1 muffler, 1 handk'f
1 pair of drawers
1 knife
In the second package, Annie found a wallet containing photos and cards, a pipe and George's two identity discs (which are preserved in the collection). The receipt for the second package also shows that the sum of 78 1/2 Piastres was extracted from the effects and forwarded to the Staff Pay Office, Cairo.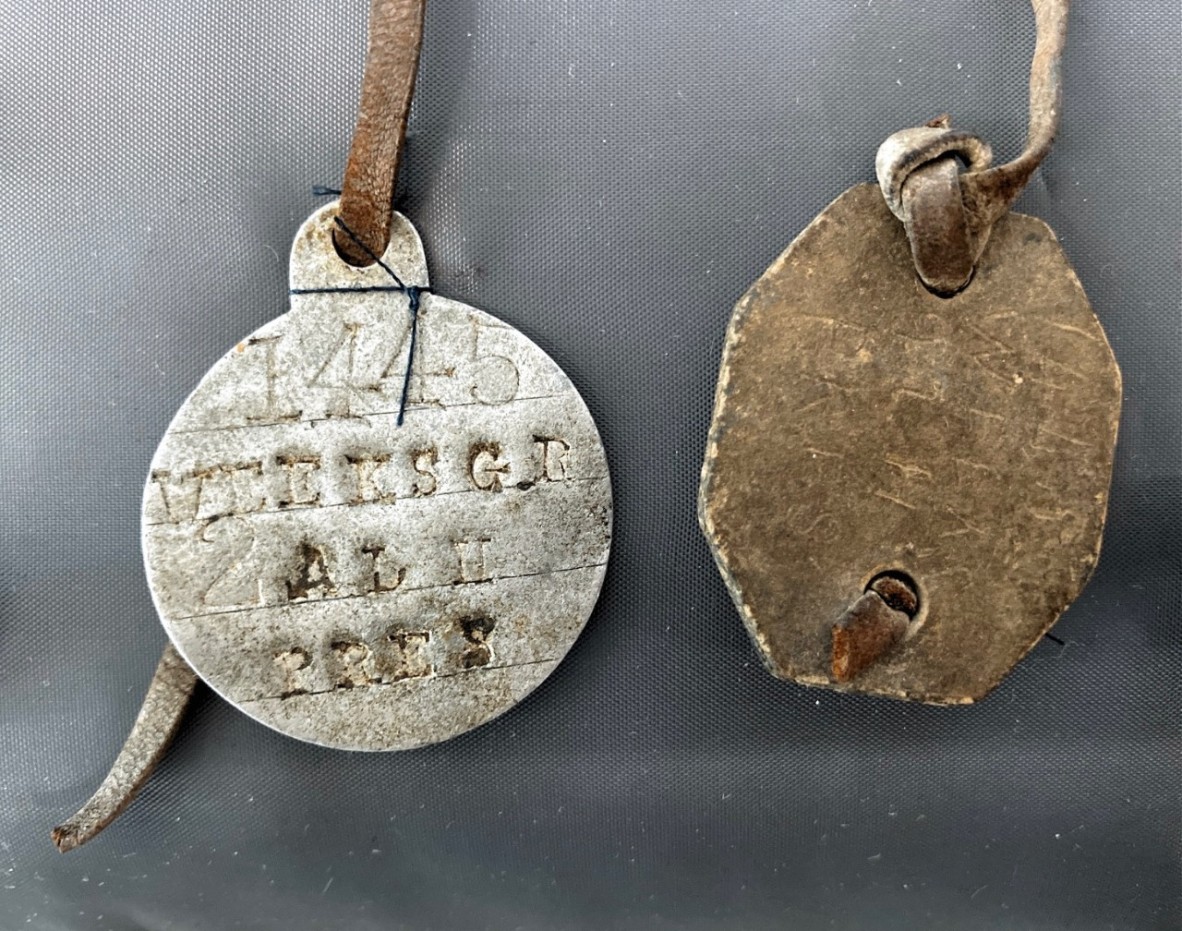 Photograph of George Weeks' identification discs, returned to his mother Annie Weeks after his death. 33114 George Weeks Collection, John Oxley Library, State Library of Queensland.
After George's death, Annie also received a number of special items which are now held in the State Library as part of the George Rickart Weeks collection:
A Memorial Scroll, received by Annie 1 October 21. These were presented by the King to the next of kin of those soldiers who died while serving in the Australian Imperial Force during WW1.
A Memorial Plaque, dated 1922 and engraved with Trooper George Weeks' name, along with the original accompanying letter from King George, Buckingham Palace.
The Mothers and Widows Badge, issued between 1918 and 1924.
The British War Medal, instituted by King George V in 1919 to mark the end of WW1.
The Star Service Medal, awarded to George.
Clockwise from left, Letter from Buckingham Palace accompanying the Memorial Plaque, the Memorial Plaque and the Memorial Scroll. 33114 George Rickart Weeks collection, John Oxley Library, George Weeks Collection, State Library of Queensland.
The collection also contains a receipt issued to Annie Weeks for the cost of the inscription on her son's gravestone. The inscription simply reads:
Greater love hath no man than he lay down his life for his friends.
You can find out more about George's life and the contents of the collection in the SLQ's Collection Guide.
Guest blogger, Monica Altmann.
Collection
Other References
Comments
Your email address will not be published.
We welcome relevant, respectful comments.