George Foster Gunggari Soldier of WWI
By JOL Admin | 19 November 2013
Hello my name is Reeghan Finlay and I work with the Yugambeh Museum, Language Heritage and Research Centre. I have been awarded an Indigenous Languages Research Fellowship at the State Library of Queensland.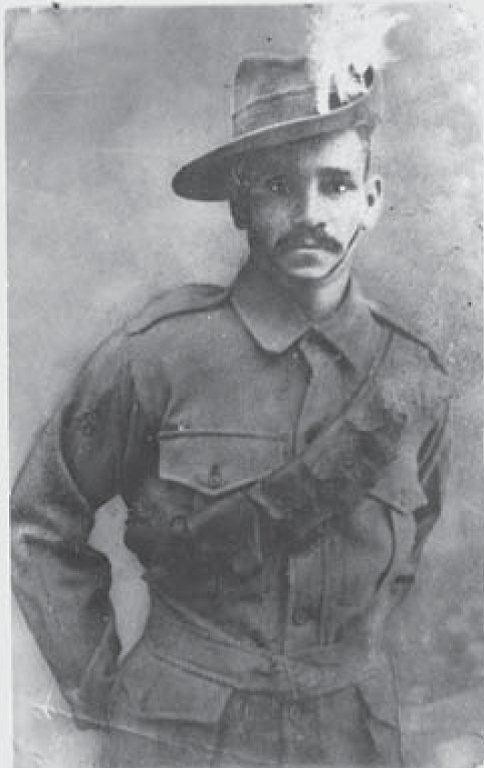 One of the projects that I've wanted to research is based on Gunggari soldiers for the marking of 100 years since World War 1 began in (1914-2014). Gunggari is the language group from the Mitchell area in South-West Queensland.
While researching eight Aboriginal soldiers who are Gunggari descendants that enlisted for World War I have found how hard it can be to find useful information or any information at all. There is very little information on Indigenous soldiers and they may not have identified at the time of enlistment. The eight Gunggari soldiers I've identified so far are: George Foster; Edward Collins; Fred Collins; Edward Smith; Thomas Smith; Harry Murray; Jack Kearns and Leonard Lynch. ­
I am really interested in finding this information for the families as one of these soldiers is actually my great-grandfather George Foster.
I have found digital copies of original documents on various websites; the best website by far was the National Archives of Australia.
This information has helped me to track where George Foster traveled on his war service with the 49th Battalion; the State Library holds an excellent reference book 'Always Faithful: a history of the 49th Battalion'. He enlisted on 28th May 1917 and was over in England by 3rd October 1917, he then traveled on to France by the 17th April and returned to Australia and was discharged on the 27th September 1919. I have found this out for most of the other soldiers as well. I have also discovered that one of the eight men was not allowed into the army when he first enlisted as he was a half-caste; he was however accepted in on his second attempt.
For all of the eight soldiers that I have been researching I have found their enlistment papers and discharge papers. The hardest thing to find however is actual images of the soldiers at war. Apart from regimental photographs, having a photo taken was not something that the AIF did. These soldiers would usually go to a professional photographer and pay to get their photo taken and send it back to Australia as a postcard. Consequently, these photo postcards are mostly in private collections.
AIATSIS also has an on-line Exhibition about Aboriginal and Torres Strait Islander involvement in the Australian Defence Forces - Indigenous Australian at War. Another source of information on Indigenous soldiers is a publication entitled 'Aboriginal and Torres Strait Islander volunteers for the AIF: the Indigenous response to World War One' by Philippa Scarlett who has compiled a reference listing of Indigenous men who volunteered for the AIF during WW1.
With this information as a starting point, it would be great to put together an exhibition on the Gunggari soldiers of WWI.
Reeghan Finlay - Indigenous Languages Research Fellow, State Library of Queensland
Comments
Your email address will not be published.
We welcome relevant, respectful comments.