The Gane brothers of North Queensland: WW1 servicemen
By JOL Admin | 30 November 2015
The Gane brothers. Tablelands Advertiser, 30 January 1980, p 9.
Bertie, Hugh and Jack Gane attracted the respect of their northern community, but they did not achieve high rank or great military honours during World War One. We can, however, find out a great deal about them during the war.
It is possible to fill out their story with the help of The Australian War Memorial, National Archives, the Queensland newspapers (in Trove and other locations), as well as the vast collection of family history resources at State Library of Queensland, including such records as Queenslanders who fought in the Great War.
Family background
The Tablelands Advertiser of 30 January 1980, found via SLQ's biographical clipping files, outlined that they were three of the nine children of Edward and Annie Gane, and were born during the 1890s in Montalbion on the Atherton Tablelands. Their father was a bullock team driver working between Port Douglas and Herberton. He was also the first mailman to carry mail by packhorse to the Gulf Country. After Edward Gane became incapacitated, Jack took over his bullock team. Edward Gane died in March 1914, and his wife soon after.
National Archives service records
It was against this background that the three brothers enlisted in Cairns. The National Archives digitised service records present the details in the original, signed forms that start their documented war history. Bertie enlisted in April 1916 at the age of 23, Jack in October 1916 at 22 years old, and Hugh in November 1916 at 21 years old. They gave a brother or sister as their next of kin. The service records also provide their service number, age, a physical description, religion, ship of embarkation and the ship on which they returned. Information about their illnesses or injuries, postings during the war, medal entitlements, and any correspondence between the servicemen or their family with the military authorities during or after the war are also included. This original material may be found at the National Archives RecordSearch, which, when selected, provides the option of NameSearch. It is then possible to select a category of records, World War 1, and search with a surname and then refine with a given name.
WW1 service record for Jack Gane. National Archives of Australia.
Australian War Memorial
The Australian War Memorial also provides information about servicemen in the people databases. The embarkation rolls at the beginning of their service tell us their rank, age, occupation, marital status, unit, service number, date of enlistment, next of kin, address before enlistment and their rates of pay. The nominal roll informs us of the following at the end of the war: their service number (which may have changed), rank, date of enlistment and date of death if killed in action (KIA) or date of return to Australia (RTA). Of the three Gane brothers, usually only one or two are listed on any of these databases. Other people databases, which may be relevant for other servicemen, include Honours and Awards, Roll of Honour, Prisoners of War, and Red Cross Files. The collection database holds photographs, unit diaries, official histories and much more. A feature of the War Memorial and National Archives websites is the linkage among the records to both sites.
Queenslanders who fought in the Great War
H Gane and JT Gane. Images from the website Queenslanders who fought in the Great War.
This collection of brief biographies of servicemen, compiled by Owen Wildman after the war, is available on Findmypast, as a CD-ROM, and on a website Queenslanders who fought in the Great War. It may be selectively copied in a variety of ways. Families contributed information and images, so entries will not be without bias.
State Library of Queensland, newspapers and Trove
JT Gane. Queenslander, 5 May 1917, p 22.
War news and photographs dominated the wartime papers. Regional newspapers were keen to provide news on their local soldiers. State Library of Queensland is the major repository for Queensland newspapers, so is a good place to find a fund of information. Trove provides free online access to a vast collection of Australian newspapers, usually up to 1954, but sometimes later. There is a link to Trove from SLQ's website.
The main cities, such as Brisbane, Rockhampton and Cairns, had weekend editions that featured photographs. The Queenslander, the weekend version of the Brisbane Courier, had thumbnails of many soldiers who went through the Enoggera camp. These have been scanned as high quality images and are available via One Search, State Library's catalogue, without copyright restriction. Simply acknowledge State Library as the source. These images are gradually being linked to the individuals' service records.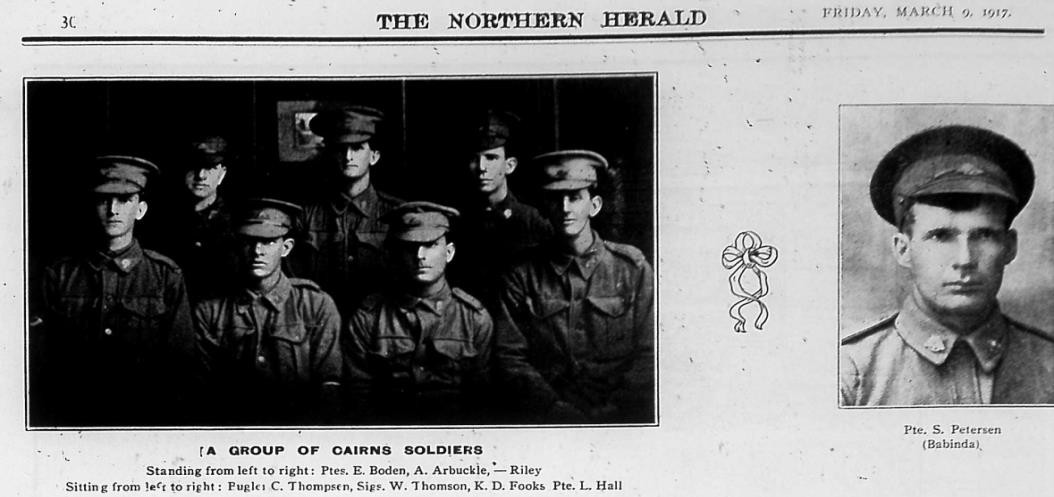 Cairns soldiers. Northern Herald, 9 March 1917, p 30.
J Gane. Northern Herald, 9 March 1917, p 30.
The Cairns Post had a weekend version, the Northern Herald, and it used a number of soldiers' photographs, including one of Jack Gane, also found in the Queenslander. State Library has also digitised many documents, diaries, letters and photographs beyond those published in the newspapers.
Compiling your soldier's history
The National Archives of Australia and New Zealand have combined efforts to create a template for you to draw on a serviceman's record at Discovering Anzacs. Start at the browse page to get an idea of what is available for you to use. You may also contribute new material.
What happened after the war?
Jack Gane. Tablelands Advertiser, 30 January 1980 p 9.
Land, homes and employment dominated concerns for returning servicemen. Soldier settlements were opened to deal with these matters. Information may be found at Queensland State Archives, National Archives of Australia, Trove and the extensive family history resources of State Library. The lengthy obituary for Jack Gane in the Tablelands Advertiser of 1980, providing information on the brothers, may be found in the biographical clipping files under his surname. These files include newspaper items published after Trove cut-off dates. The newspaper is also available among the extensive collection of newspapers on microfilm, which allow up-to-date access to the news. Search these sources for your soldier.
Stephanie Ryan
Senior Librarian, Information Services
Photographs from the Tablelands Advertiser have been used in good faith after attempts to contact potential copyright owners.
Comments
Your email address will not be published.
We welcome relevant, respectful comments.