Frozen cheese and footy
By JOL Admin | 10 March 2016
To be a Queensland soldier on foreign soil meant many different things.
For Lieutenant Keith Mackay it meant loneliness and frozen cheese.
For future aviator, Bert Hinkler, it was a source of pride, and for Corporal Ernest Mitchell it provided an opportunity to trumpet Queensland achievement.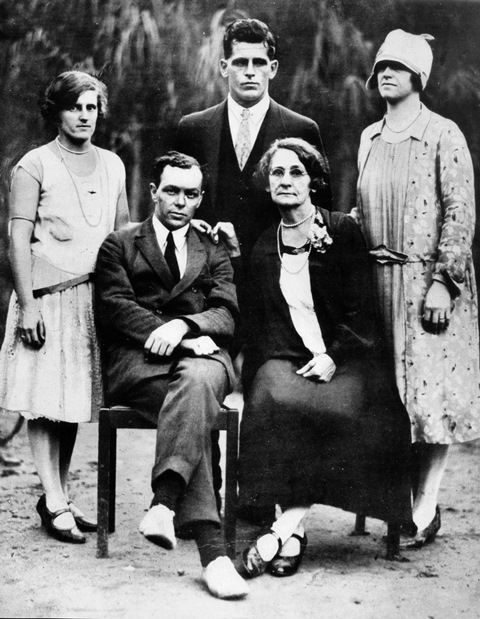 Bert Hinkler and his family Bundaberg Queensland 1928
Bert Hinkler and his family Bundaberg Queensland 1928
2015 Q ANZAC 100 fellow, Robert Hogg, has spent his fellowship year identifying and collating material from the State Library's rich collections.
This careful sifting helped him identify a number of sources "in which diggers expressed their attachment to Queensland, Australia and home".
However, at this early stage, the University of Queensland lecturer is reticent to confer uniqueness to Queensland soldiers serving in World War I.
"We all like to think that we are different from others, and emphasising that one comes from a particular place that is different from other places is one way of doing this," he said.
"Work needs to be done on the personal stories of these soldiers before conclusions can be drawn. "
Letters collected by the Bundaberg Historical Society aided Robert in his search for regional attachments.
"Bert Hinkler, writing to his mother, wanted to do the right thing by his hometown and country, as modest as that may have been," he said.
Hinkler wrote:
… never let it be said that a Bundy chap funked his duty for his country, and I made myself happy in the fact that whatever might happen, I was helping, even in a little way, in the great world-wide cause, in which so many thousands of brave men have fallen.
Lieutenant Keith Mackay was less than impressed with France:
Well what I have seen of this country it is not much chop. In all my travels I've seen nothing to compare to Australia. By jove you have no idea how cold it is here. It is terrible I can assure you. Everything is frozen including the bread and cheeses we are issued with.
Robert believed Mackay was quite lonely. While on leave in London he clearly missed his 15th Battalion drinking buddies:
I searched all the favourite haunts of 15th Bn officers but there are none in London. I tell you I've never been more fed up in my life.
According to Robert Mackay also played inter-battalion rugby. "State of Origin sentiment was alive in 1918."
Mackay wrote:
The team we played was a NSW Battalion and I think there were spectators from Q'land Batt to cheer us on. I can tell you the 15th were of their team yesterday.
Queensland won 5-0.
R. Manning, who was born in England, seemed to identify more strongly with Queensland than his native country:
It is rather monotonous at times and you have no idea how I enjoy a letter from Bundaberg; even though I am so near my home and parents I always call Bundaberg home. Well you know that you all made me feel at home there and I seem to have two homes now; only it's a long way to sunny Queensland, but I am coming back as soon as this war is over.
"Corporal Ernest Mitchell was clear that the Gallipoli landing was a Queensland achievement, and that non-Queensland battalions were merely 'assisting' the Queenslanders to take the beach."
I suppose you read all about our landing and I am a very proud man that I was among that lot, and that it was the Queensland boys that won the landing, and so made a footing for other battalions to follow and come to our assistance.
Robert said the fellowship had been extremely valuable, especially the assistance from library staff including Marg Powell, Robyn Hamilton and Chrissi Theodosiou.
He hopes to build on the research by examining the personal narratives of diggers from other parts of Australia, using material from the Australian War Memorial and the State Library of New South Wales.
"My advice to future fellows is to draw on the wealth of knowledge possessed by the library's staff. They really know their stuff."
The call for applications for the 2016 Q ANZAC 100 Fellowship program is now open until Thursday 31 March 2016. For more information please email Fellowships@slq.qld.gov.au or call 3840 7879 or 3842 9823.
Dianne McKean
Comments
Your email address will not be published.
We welcome relevant, respectful comments.