French Leave, 1915
By Marg Powell, Specialist Library Technician, Metadata Services | 19 June 2016
AWOL from the Isolation Ward
When Staff Sergeant Christie and Acting Sergeant Wakefield called the roll at 8 pm in the Isolation Ward of the Field Hospital, Enoggera Barracks, they found 16 men absent. The accused men were arrested and held in custody until tried by Court martial, held 27-29th April 1915.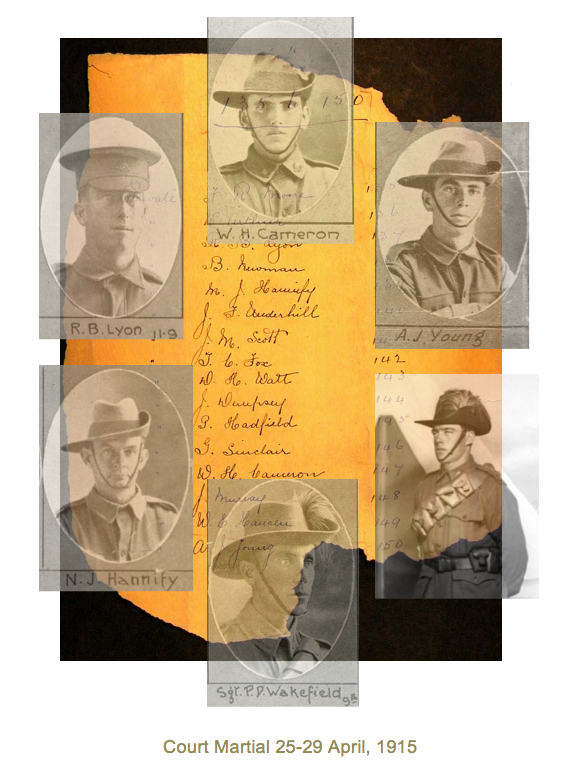 Each man was asked to plead to the charges of Breaking Barracks and being Absent With Out Leave. They were given the opportunity to make a statement and to call witnesses on their behalf. Held a week later, all men were found guilty and handed out a variety of punishments. Transcripts of the court martial can be accessed via the National Archives of Australiaopen_in_new, but they don't tell us what became of these men after they had completed their sentences.
By exploring the stories of the individual miscreants, we are privy to the lives of a considerable cross section of Australia's population at that time.

Frederick Raymond MOORE #1185 2nd Light Horse Regiment
Moore had been in the ward for 15 weeks, he absented himself to obtain money and private medical treatment; he was sentenced to 21 days detention. Moore had enlisted 6 January 1915 age 20, he later embarked in August 1915, and joined his unit in Wardan, Egypt in January 1916. Moore was later admitted to hospital for a dislocated collar bone, and shortly after he injured his knee cap. Unable to return to his unit, he was returned home to Australia for discharge in July 1916.
William ARTHUR 'K' Squadron, Unallotted Light Horse
Arthur absented himself for 7 days to get treatment for his condition, he had been already been recommended for medical discharge; he was sentenced to 7 days detention. No further records have been found, it is assumed that he was discharged and did not return for service.
Richard Brennan LYON #3404 9th & 49th Infantry Battalionsopen_in_new
Lyon was sentenced to 35 days detention. Lyon had enlisted 15 February 1915 age 25, a miner from Cawanal, he went on to serve in Egypt and France. His service record shows that he continued to have a checkered career in the army - with four more instances of being convicted of being AWOL, the most severe in 1918 when he was sentenced to 5 years penal servitude, commuted to 90 days Field Punishment no.1, and forfeited 104 days pay. Lyon returned to Australia in March 1919 and settled in North Queensland where he worked for the Queensland Railways Service.
Bernard NEWMAN Australian Naval and Military Expeditionary Force (AN&MEF)
Newman returned that night at 9:30 pm, he had already been considered for medical discharge for a hernia; he was sentenced to 21 days detention. Previously Newman had enthusiastically enlisted in August 1914, and embarked for Thursday Island, Garrison Duty with the Australian Naval and Military Expeditionary Force (AN&MEF), where they were tasked with the securing of German New Guinea. His service was cut short when the firemen serving on the troopship Kanowna went on strike, they returned and were discharged 18 September 1914. Newman re-enlisted 9 July 1917 age 23, #2040 but was discharged medical unfit shortly after. Bernard Newman returned to life in Townsville, but sadly died in 1923 age 29, leaving behind his wife Maude and baby son Patrick John.
Michael Joseph HANNIFEY #1321 4th Pioneers Battalion
Hannifey was sentenced to 21 days detention having pleaded guilty to having "just gone out to have a look around". Hannifey was 30 years old when he embarked overseas in October 1915, but was admitted again to hospital for VD when he arrived in Egypt in 1916. Hannifey was accidentally wounded in the head by a mule while shoeing it, later that same year. He survived the next two years serving overseas and returned to Australia in May 1919.
John Foster UNDERHILL #1202 5th Light Horse Regiment
Underhill pleaded guilty to both charges and was sentenced to 21 days detention; he had no real excuse for breaking out of camp except that he needed tobacco. Underhill had enlisted in January 1915, and after he had served his sentence he embarked from Brisbane in August, serving both in Gallipoli and Egypt. Wounded in action in May 1918 by a gun shot wound to the head, Underhill recovered to return to Australia in June 1919. Still keen to serve his country James Underhill enlisted in WW2 and served overseas until discharged in 1943.
John Monmouth SCOTT #1415 25th Battalion, D Coyopen_in_new
Scott had absented himself for treatment; he was sentenced to 21 days detention, declared medically unfit and discharged September 1915. Scott had earlier enlisted in NSW in November 1914, and embarked from Sydney on the Seang Bee in February 1915. The medical officer onboard, recommended he obtain medical treatment at the Field Hospital at Enoggera Barracks. He had already made application to be discharged, before being arrested and after further medical treatment was able to leave. Curiously there was also a John Nonnouth Scott who embarked from Brisbane in June 1915 but has a different service number.
Thomas Celcis FOX #1166 5th Light Horse Regiment
Fox absented himself for treatment; he was sentenced to 14 days detention. Fox enlisted from Nambour in March 1915, with his brother Walter. Aged 19 and 21 they embarked from Brisbane on board HMAT Kyarra in August. The brothers served together in Gallipoli, and the Middle East; they both returned to Australia in July 1919.
Daniel Housden WATT #3996 D Coy 25th Battalion
Watt had absented himself to attend the pictures; he was sentenced to 42 days detention. Watt enlisted in January 1915, age 25, from Charters Towers, and embarked for service overseas in September 1915, his history of crimes and misdemeanours continued. He was found to be AWOL when his ship was in port at Fremantle in November 1915; AWOL from trenches June 1916; insubordination - sentenced to 2 years imprisonment with hard labour September 1916 which he served in a military prison Le Havre, France. He returned to duty almost two years later to the 3rd Australian Machine Gun Battalion, in August 1918. Watt was granted permission to remain in London when he was demobilized in September 1919, intending to reside at Macduff, Scotland. He later resided in Toowoomba, Qld & Salisbury, SA.
Joseph DEMPSEY #1664 25th Battalion, A Coy
Dempsey had absented himself to obtain money and seek outside treatment for his condition; he was sentenced to 35 days detention. Dempsey served his sentence and embarked for the Middle East. He joined his unit in Gallipoli, and later after serving in France, he was admitted to hospital suffering from severe 'shell shock'. Dempsey was declared medically unfit, described as suffering from 'delusional insanity' and was returned to Australia for treatment in 1917. So severe was his debility that medical authorities were reluctant to allow him to return to Brisbane, he was treated at the Military Mental Hospital at Royal Park, Melbourne, before returning home to West End, where he lived with his brother Patrick.
Percy HADFIELD #1634 25th Battalion
Hadfield had stated when questioned that he had gone into Brisbane to obtain medicine and to let relatives know that he would not be proceeding overseas; he was sentenced to 28 days detention. He subsequently embarked that July to see action at Gallipoli. In 1916 he wounded his left shoulder, during an action in Pozieres, France. He was repatriated home in February 1917, and declared medically unfit for continued service. Percy Hadfield married Rosetta May Costin in 1919, and was employed by the Postal service in Brisbane for many years.
George SINCLAIR, Unallotted Infantry
Sinclair absented himself for several days to obtain private treatment. Although sentenced to 42 days detention he was declared unfit for detention by the Medical Board and that he should receive further medical treatment. No further records have been found for George Sinclair.
William Henry CAMERON #1627 25th Infantry Battalion
Cameron enlisted in January 1915 just 18 years of age, from Townsville. His unit departed Brisbane in June 1915 and by September was serving in Gallipoli. Cameron again was hospitalized with mumps, but rejoined his battalion in France, now a Signaller, he was killed in action 14 November 1916, near Fleurs and is remembered at the Villers-Bretonneux Memorial.
John MURRAY #2250 9th & 49th Infantry Battalions, MM
Murray absented himself to purchase cigarettes; he was sentenced to 21 days detention. This soldier was more than likely Private Murray #2250 who served in Gallipoli and France. His misdemeanour at Enoggera was certainly made up for by his actions later in 1917 when he was awarded the Military Medal. Serving as a regimental stretcher bearer, Murray worked continuously for a day and a half, carrying wounded back to safety, under heavy shell fire, himself being wounded in the operation. Just three months later he was again wounded while serving under fire, this time he succumbed to his wounds, and died at the 10th Casualty Clearing Station, Belgium. There is much correspondence on his service record, from the War Office who were unable to trace his next of kin, and so his medals for such gallant service never found their rightful home.
William Edward HANSEN #2166 25th Infantry Battalion
Hansen absented himself to purchase medicine in Brisbane, and to inform his parents he would not be leaving Australia; he was sentenced to 35 days detention. Hansen enlisted in February 1915, age 21 and embarked from Brisbane in September 1915. He was transferred to 47th Infantry Battalion, 11th Field Artillery Brigade, 4th Divisional Artillery Column; wounded GSW left leg, which was later amputated; he returned to Australia in March 1919.
Alexander Jeffard YOUNG #2960 9th Infantry Battalion
Young appeared in the court room on an ambulance stretcher; he stated that he had left the ward to obtain money owed, and to farewell friends about to embark overseas. Young was given his chance to serve and departed for the Middle East in August 1915; he proceeded to Lemnos just before the Gallipoli evacuation and was promoted to Sergeant in Egypt before joining his unit in France in 1916. Later awarded the Distinguished Conduct Medal for his conspicuous bravery and cool judgement, Sergeant Young returned to Australia in September 1919.
Further Reading:
Marg Powell | QANZAC 100 Content Technician | State Library of Queensland
Comments
Your email address will not be published.
We welcome relevant, respectful comments.