Frederick WHARTON #6530
By Marg Powell & Des Crump | 22 October 2018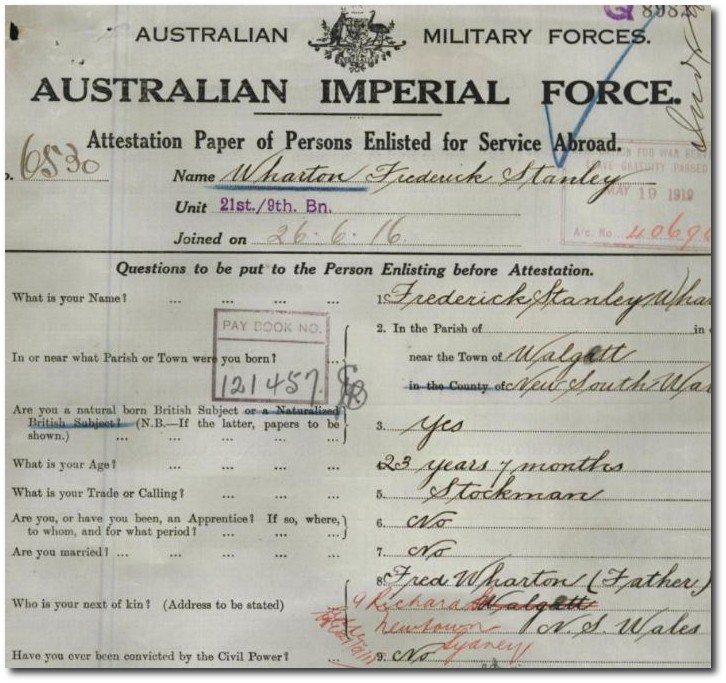 Indigenous Australian, Frederick Wharton, 9th Infantry Battalion
Fred Wharton was born in 1893 at Walgett, NSW to Frederick Horsley Wharton and Grace Hendren. One of three brothers to enlist, Fred was working as a stockman at Pentland, near Charters Towers when he volunteered in June 1916.
His initial training took place at Rifle Range Camp, Enoggera just outside of Brisbane, where he was allotted to the 21st Reinforcements for the 9th Infantry Battalion. He left Brisbane on board the troopship HMAT Boona in October, arriving in England six weeks later. Four weeks after arriving he was admitted to Fargo Military Hospital with bronchial pneumonia, where he remained for the next 2 months. Wharton was discharged to the Durrington Training depot, but not long after was again hospitalised, this time with mumps.
Wharton was discharged from Parkhouse Military Hospital and by June 1917 was on his way to join his battalion in France near the village of Mailly-Maillet. In the early morning of 19 September 1917 the 9th Battalion prepared to move into the front lines. They marched from their camp, to Chateau Segard and occupied dugouts and trench shelters before moving into the front lines. As the troops moved forward they were hit by enemy fire, Fred Wharton was one of the many casualties of the day, hit by shell fire to the neck.
Not seriously wounded he was returned to his unit 4 days later, but by late October he was evacuated from the front lines suffering what was then described as NYDN - Not Yet Diagnosed Neurological - or Shell Shock. He wasn't to return to his battalion again until mid January 1918. By June 1918 the 9th Battalion was operating near Hondegrem, north of Hazebrouck during the great spring offensive. Fred Wharton was severely wounded in the chest, evacuated from the field and transferred to hospital in England.
After treatment and convalescence it was decided that Fred Wharton should be returned home. The war had not long ended and Wharton left England on board the Saxon 11 December 1918 returning to Charters Towers, Queensland.
Frederick Wharton remained in Pentland, working as a stockman until his death in 1949, he is buried in the Charters Towers cemetery.
Herbert John WHARTON #2398 enlisted at Moree, 14 September 1915. Herbert served with the 6th Light Horse Regiment in Egypt, returning to Australia in January 1919.
Ernest Oswald Wharton #4400 enlisted at Moree, 28 August 1915. Ernest was charged with 'overstaying leave' by 17 hours and 'failing to embark with unit' and later discharged 'Unlikely to become an efficient soldier."
Read more ...
The information in this blog post has been researched by State Library staff and volunteers, it is based on available information at this time. If you have more information that you would like to share or further research uncovers new findings, this post will be updated.
Comments
Your email address will not be published.
We welcome relevant, respectful comments.