Frederick GAUL, 42nd Infantry Battalion
By JOL Admin | 14 December 2017
Frederick Minerva GAUL
He completed his initial training at Thompson's Paddock, Enoggera Army Barracks, before sailing on board HMAT Borda with his fellow recruits, assigned to the 42nd Infantry Battalion, B Company in May 1916.
It was here that he had his portrait taken which was published in The Queenslander Pictorial, 15 July 1916.
They arrived in England six weeks later and by November he was serving in France. He contracted Mumps in January 1917 and was admitted to the 7th General Hospital, St Omer for several weeks. When he rejoined his Battalion they were in the front line trenches in Belgium.
In early October the 42nd Infantry Battalion took part in the battle of Broodseinde, it was here that Private Frederick Gaul suffered gunshot wounds to his elbow and thigh. He died of his wounds the following day at No.17 Casualty Clearance Station.
Frederick Gaul was one of more than 50 men from the Battalion who died during this battle.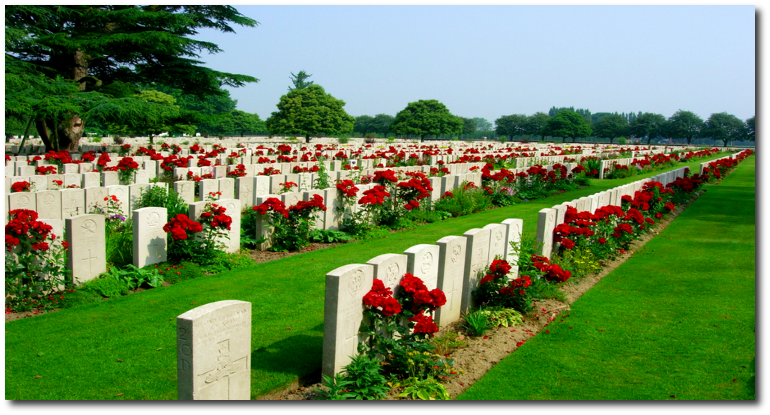 Private Frederick Gaul is buried at Lijssenthoek Military Cemetery, near where he fell.
Frederick Gaul was not the only family member to enlist. His brother William and his uncle Harry also volunteered.
William James GAUL enlisted one month after Frederick, and was assigned to the 9th Infantry Battalion. Aged 22 he sailed for Egypt in May 1916 but was remustered firstly to train in England and then proceeded to France in February 1917.
In April 1918 while being billeted at Caestre, William Gaul accidentally discharged a revolver, fatally wounding his comrade Private Hugh Smith from Roma.
He was tried and found guilty of 'recklessly discharging' his firearm and awarded 1 years imprisonment with hard labour. His sentence was suspended, and later remitted and he returned to his unit. William was later severely wounded in action and repatriated home from hospital in England in December 1918.
Harry GAUL was working with his brother Walter (Frederick and William's father) at Elderslie Station, near Winton when he volunteered in 1914, but was rejected as medically unfit, suffering from a ruptured hernia. He reapplied to enlist in August 1917, and was again discharged, on medical grounds.
Read more ...
Comments
Your email address will not be published.
We welcome relevant, respectful comments.