Frederick DODD #Q20409
By Marg Powel & Des Crump | 14 September 2017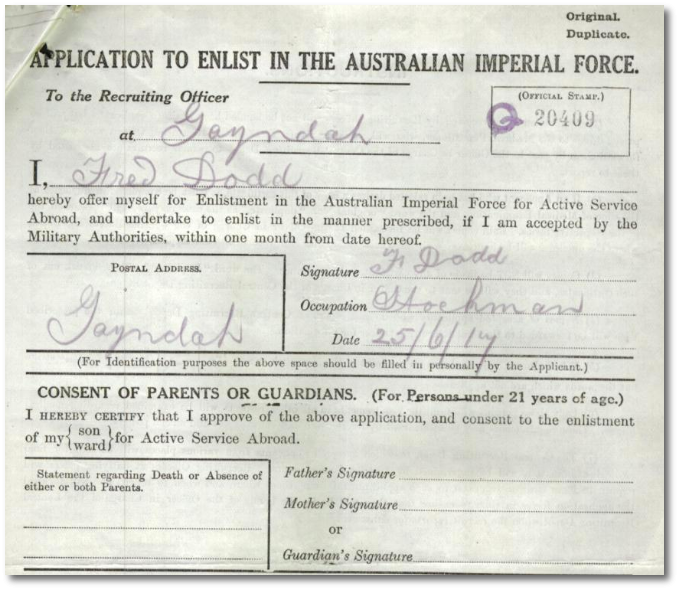 Indigenous Australian, Frederick Dodd, No.1 Depot Battalion
Frederick (Fred) Dodd was born at Goomeri, Queensland to Tommy and Topsy Dodd in 1893 and was working as a stockman when he volunteered to serve with the first AIF in July 1917. Allotted to the Light Horse, he trained at Enoggera, Brisbane but was found to be suffering from rheumatic pain. Through an injury caused by an earlier fall from a horse, he had damaged his right leg and it continued to hamper him. He was discharged in October 1917 not being fit for active service.
Fred Dodd returned to his wife Queenie Dodd (nee Pope) and daughter Amy in Gayndah, Fred and Queenie had another 11 children. Frederick Dodd died in 1955, Queenie later married Bruce Meldrum in 1956.
Read more ...
Service record: DODD, Frederick
Scarlett, Philippa. Aboriginal and Torres Strait Islander volunteers for the AIF: the Indigenous response to World War One. Fourth edition, Indigenous Histories, Macquarie, ACT, 2018
One of the soldiers featured in SLQ's HistoryPin Collection
Queensland's Indigenous Servicemen Digital Story and Oral History
The information in this blog post has been researched by State Library staff and volunteers, it is based on available information at this time. If you have more information that you would like to share or further research uncovers new findings, this post will be updated.
Comments
Your email address will not be published.
We welcome relevant, respectful comments.