Frederick COOLWELL #56907
By Marg Powel & Des Crump | 10 July 2017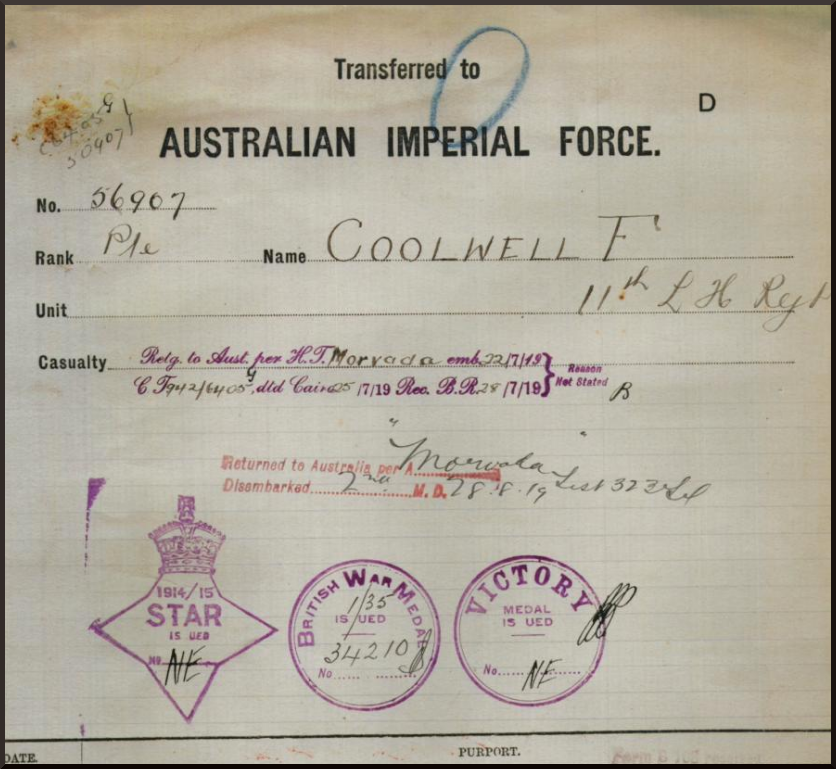 Indigenous Australian, Frederick COOLWELL, 11th Light Horse Regiment
Frederick Richard Coolwell was born at Tamborine, Qld in 1899 to Edward Coolwell and Lucy Culham. Just 19 years old and working as a stockman he volunteered to serve for his country in Brisbane, 22 May 1918. Coolwell trained with at Rifle Range camp, Enoggera, just outside Brisbane, his skills working with horses would have stood him in good stead for one of the mounted regiments, and he was assigned to the 3rd Reinforcements for the mounted regiments, Egypt.
Trooper Coolwell embarked on board the troopship HMAT Wiltshire from Sydney one month after enlisting, landing in Egypt 5 weeks later.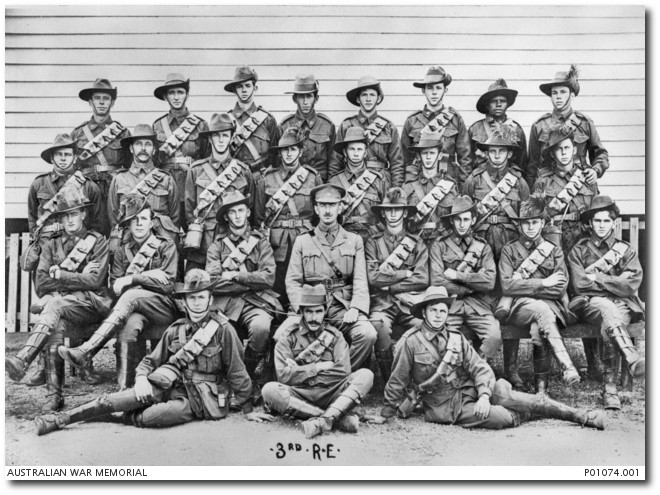 The image above, from the Australian War Memorial's collection identifies Fred Coolwell, service number 56907, top row, second from right.
After additional training at Moascar, Coolwell was allotted to the 11th Light Horse Regiment. He joined the regiment in the field when they were encamped just outside the village of Zgarta, Libya on 18 November 1918.
The regiment had already been informed of the German armistice, the news of which was received with "great enthusiasm" but this did not mean the troops were immediately returned home.
The men were kept busy initially with maintaining their horses and equipment and were soon redeployed to Cairo where they assisted with containing the uprising by the Egyptian population, unhappy with the English occupation.
Coolwell remained with his unit until he returned to Australia at the end of hostilities, on board HMAT Morvada, 20 July 1919. There he returned to live and work in the Beaudesert area and married Jessy Mary Walker in 1923, he had been granted an exemption from the limitations of the 'Aboriginals Protection and the Restriction of the Sale of Opium Act 1897 (Qld)' in 1914.
Read more ...
The information in this blog post has been researched by State Library staff and volunteers, it is based on available information at this time. If you have more information that you would like to share or further research uncovers new findings, this post will be updated.
Comments
Your email address will not be published.
We welcome relevant, respectful comments.