Frank EGGLESTON #3211
By JOL Admin | 17 August 2017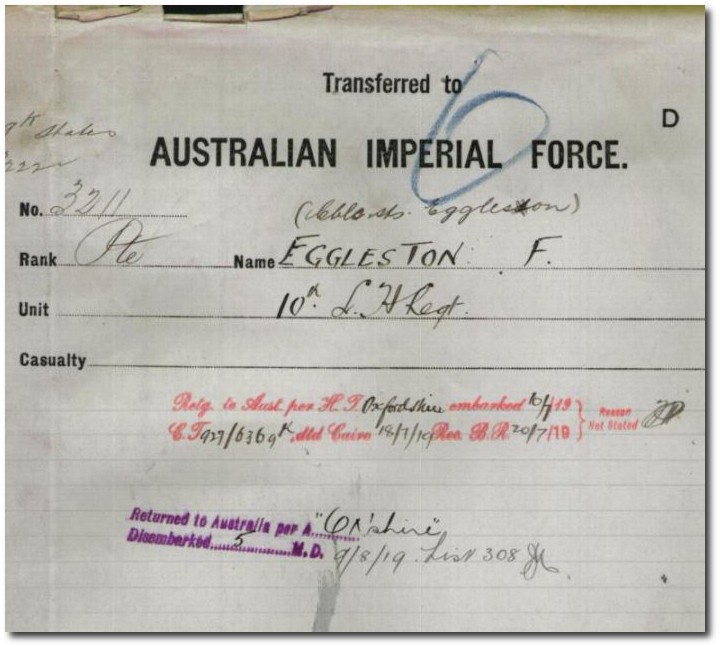 Extract from Frank Eggleston's service record. NAA: B2455, EGGLESTON Frank
Frank "Pompey" EGGLESTON, Imperial Camel Corps & 10th Light Horse Regiment
In April 1915 Frank Eggleston had been arrested for impersonating a soldier and gaoled for 1 month; two years later he was given the opportunity to serve as one.
After enlisting in Kalgoorlie, he embarked from Fremantle in May 1917 on board HMAT Port Sydney and arrived in Egypt four weeks later.
Frank was allotted to the Imperial Camel Corps and joined his unit at Ferry Post, Egypt in September 1917. The Corps primary role was to participate in extended patrols in the Sinai Desert alongside the Australian Light Horse regiments. They later worked the northern areas of Palestine, but were disbanded in June 1918 in favour of the Light Horse.
Frank Eggleston was hospitalised several times, suffering from the gruelling conditions of service in the northern deserts. He contracted Sand-Fly Fever and then Malaria, taking him out of active service for several months. Frank, now with the 10th Light Horse Regiment remained with his unit until the end of hostilities and was returned to Australia in August 1919.
Read more ...
Comments
Your email address will not be published.
We welcome relevant, respectful comments.