Frank Edgar OWEN #4196
By Marg Powel & Des Crump | 8 May 2018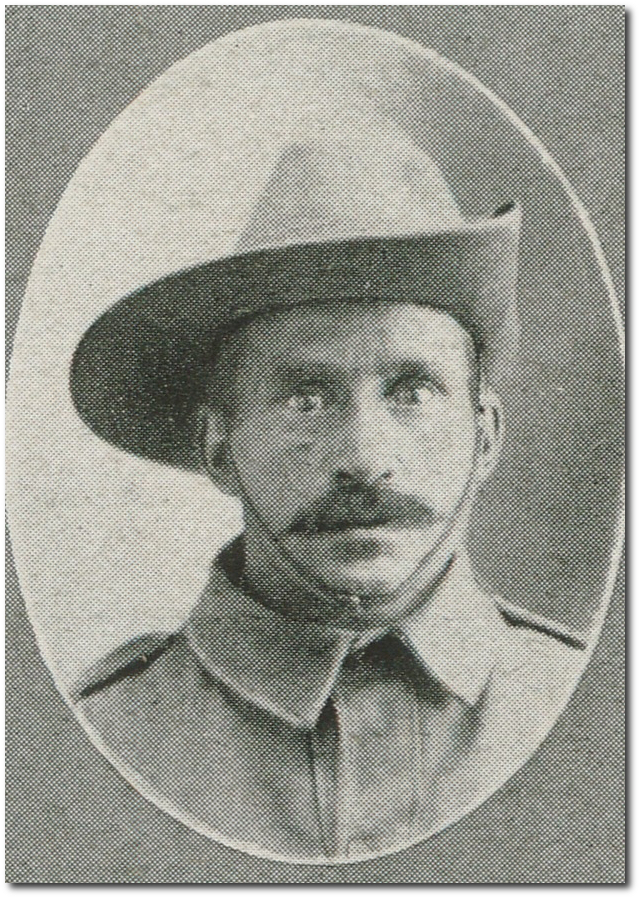 Francis (Frank) Owen, The Queenslander Pictorial, 19 June 1915
Indigenous Australian, Frank Owen, 26th Battalion & 4th Field Engineers
Francis (Frank) Owen was born in 1881 at Wallaroo, SA to Frank and Ellen Owen. One of three brothers to enlist, Frank was working as a teamster and horse breaker in Gympie, Queensland when he volunteered for the first AIF in April 1915.
He initially trained at Enoggera Barracks just outside Brisbane, before embarking 4 weeks later for Egypt with the recently formed 26th Infantry Battalion, A Company. They sailed on board the troopship Ascanius arriving in Egypt in July, keen to join their comrades on the Gallipoli Peninsula.
Owen was transferred to the 4th Field Company Engineers in August 1915 and rather than wait for his Company to be deployed he stowed away on a transport ship and landed at Anzac Cove on 28th August. For his efforts Owen was charged with conduct "to the prejudice of good order and discipline" and sentenced to 14 days field punishment no. 2 (confined to barracks) before being allowed to join his company, as a Sapper on 25 September.
Owen remained with his unit on Gallipoli until they were evacuated to Mudros, in December 1915, then to Alexandria where they were encamped at Tel-el-Kebir. Owen went AWOL shortly after, no doubt celebrating their return in Cairo, and was fined for being absent without permission for 4 days.
In March troops were remustered for duty either with their existing battalions or newly formed ones. Now a Driver, Owen fell ill and was admitted to hospital with bronchitis and missed his opportunity to sail for France.
Owen eventually embarked for France in October 1916 but again was hospitalised. Owen then injured his knee while on active service near Amiens in December 1916 and was evacuated to England for treatment.
While Owen was able to return to his unit in France in November 1917, his knee injury persisted and required several more admittances to hospital for treatment.
In November 1918 as the armistice was being brokered, Owen was taken seriously ill with influenza. He spent more than 6 weeks in hospital recovering from its effects and was one of the early medically repatriated soldiers, who returned home to Australia in January 1919.
Frank Owen returned to his community in Robe, but found employment difficult to secure. A proud Australian, he applied for a Returned Soldiers Discharge Badge, no doubt to remind others of his service. Frank married and had 4 children, but his life ended age 56 after being fatally injured by a motor vehicle in 1938.
The Robe RSL arranged a simple burial and were granted money from the local Repatriation Commission to cover their costs. Frank was well known in the community, and during his later years worked a Cray fisherman, whose home was a 'tin and bag hut.'
An item in the newspaper of 1916 refers to the experiences of Private Frank Owen of Robe - while on Gallipoli - after charging a trench he was separated from his comrades and arrested by a British regiment who thought - owing to his dark complexion - that he was a spy, he was later released. On another occasion, while on duty as a sniper his knapsack was shot off by the Turks returning fire.
Franks brothers Edwin Owen #6418 and Charles Owen #697 also served.
Read more ...
The information in this blog post has been researched by State Library staff and volunteers, it is based on available information at this time. If you have more information that you would like to share or further research uncovers new findings, this post will be updated.
Comments
Your email address will not be published.
We welcome relevant, respectful comments.