Forgotten Heroes: Percy Cooke 15th Battalion
By JOL Admin | 30 July 2015
Private Percy Goude Cooke MM, 15th Infantry Battalion, 8th Reinforcements was 31 when he joined the Queensland forces in the First World War.
Short in stature (5ft 2in) amongst the mostly lofty troops, he was not short on courage and strength.
Private Percy Cooke, Caldwell Family Papers
He landed with his Battalion on Gallipoli at 1 am, 2nd November 1915, after being delayed due to an outbreak of mumps, on Lemnos Island. They occupied a position in Hay Valley, just as winter began, and remained there until being evacuated on 13 December as part of the Allied withdrawal.
By June 1916 they were again in the firing line, and as Company Messenger Percy was required to move between lines under heavy enemy fire to maintain lines of communication.
It was during the Battle of Pozieres, in early August that Private Cooke was wounded. Regardless - Percy carried on his duties, showing 'dash and courage throughout' - on two occasions within great danger of exposure to the enemy and under machine gun fire, he retrieved men who had become separated from their units, and continued until ordered by his commander to have his wounds dressed.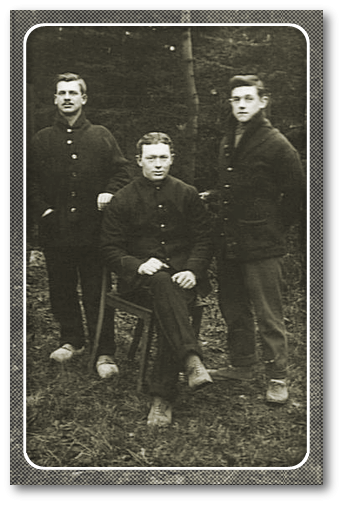 POW Percy Cooke at left, AWM P01930.002
For these actions Private Cooke was recommended for and awarded the Military Medal, but he would receive news of this commendation until much later, as he was taken prisoner by German troops on the 12th August.
Message from Percy, NAA Service Record
Percy was able to send a message to the Allied authorities to inform them of his capture and there is considerable correspondence on his service record informing his family of his capture and whereabouts.
Percy's fortunes changed early in 1918 when he and two fellow prisoners made their break for freedom and successfully escaped to Holland. Percy cabled his sister who was living in England on 16 April 1918 - Escaped Holland, Safe. It was from here that he wrote to his mother a thrilling account of their escape, this letter was later published in Australian newspapers.
Percy (rear, 2nd from right) in Holland, AWM P01981.037
Considering that Percy had been wounded both in the left arm and right thigh, they all did well to avoid their captors and to be welcomed into the arms of neutral Holland.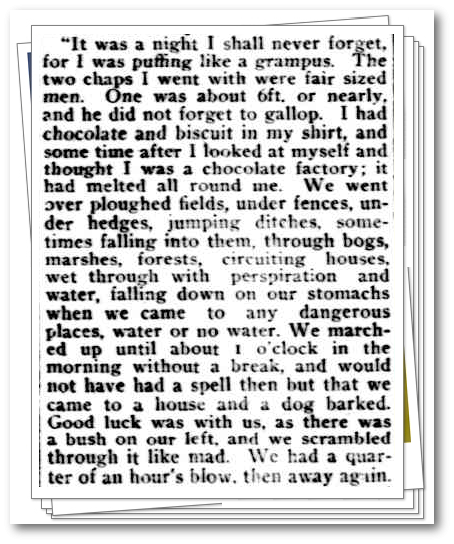 Cairns Post 6 July 1918
Percy wrote with humour and lighthearted-bravado of this perilous journey, and its existence gives us a picture of the man, injured, heroic and covered in chocolate !
Percy returned safely to Australia not long after his escape to Holland. He married Agnes Wakefield in 1922 and lived a full and happy life in Indooroopilly, Brisbane until he died in 1966.
His portrait was found in an unrelated collection that includes several other forgotten heroes, including Merchant Seaman Stanley McDonald, who was featured in an earlier published story.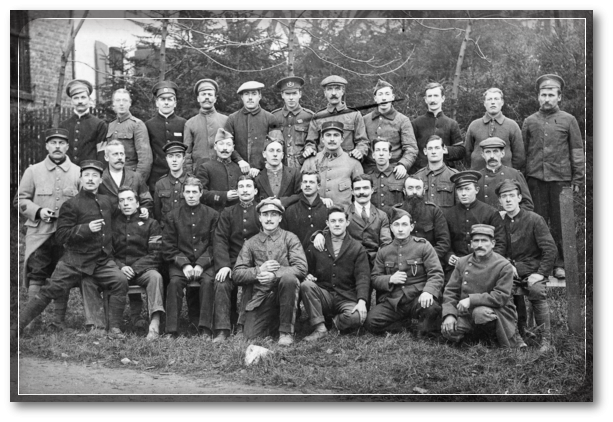 Percy Cooke, 2nd row, 5th from left AWM P01930.001
Several images of Private Cooke at Dornap prison camp have been sourced from the Australian War Memorial, the captions provide us with another link to his story, they were donated by his niece Gwen Jackson.
In recognition of his 'gallant conduct and determination displayed in escaping' from captivity Private Percy Cooke was awarded a bar to his Military Medal in 1920.
How proud and relieved must his family have been to welcome him home, his brother Sgt. Major Claude Cooke also served with distinction in Egypt.
We are honoured to be able to share Private Percy Cooke's story, to commemorate his service to his country and those who served alongside this forgotten hero.
Percy's fellow escapees were: Private George Henry Reed 54th Infantry Battalion and Private John Osborne , 1st Battalion Scots Guards.
John Osborne was a professional soldier, from Liverpool, England who had served with the Scots Guards since 1905, he was discharged from the army on his return to England.
George Reed was a telegraph operator from Bombala, New South Wales. His service record at the National Archives of Australia includes his statement given to the authorities in London, about his experiences as a Prisoner of War, before being repatriated to Australia.
Research and story by guest Blogger and Q ANZAC researcher Judy Gilloway
Marg Powell
QANZAC 100 Content Technician
State Library of Queensland
Comments
Your email address will not be published.
We welcome relevant, respectful comments.