Finding Private Cameron ... and his letters
By JOL Admin | 27 January 2016
A daughter's search for the truth about her father's wartime past has been as oblique as history itself.
After months of careful research, 2015 Q ANZAC 100 fellow, playwright Elaine Acworthopen_in_new, maintains a real sense of longing for her long-deceased father who served in both world wars.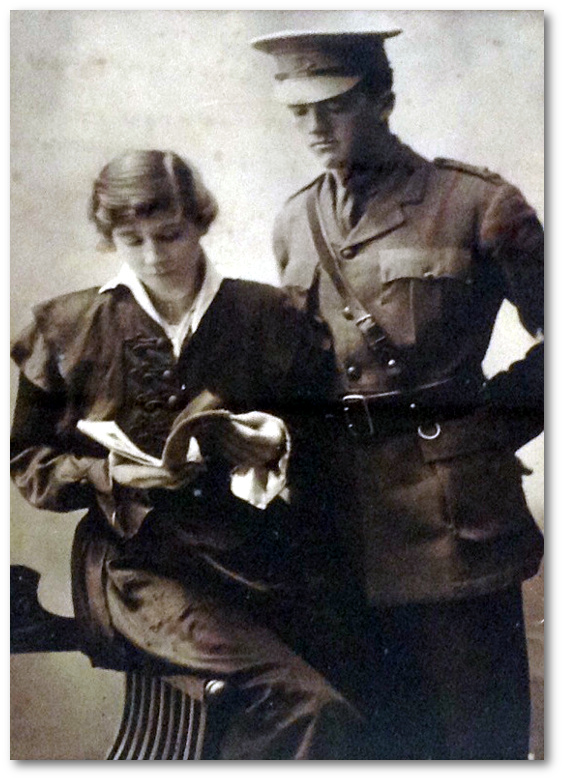 The erstwhile typewriter ribbon salesman from Brisbane's West End, Bill Acworth, left scant clues as to his wartime exploits.
The erstwhile typewriter ribbon salesman from Brisbane's West End, Bill Acworth, left scant clues as to his wartime exploits.
So it has been left to Elaine, who was just 14 when her father died, to try and dig up the facts and illuminate them for the stage.
As one of the Q ANZAC 100 fellows she has been expertly guided through the immense resources of the State Library in an effort to uncover the dark corners of her father's wartime life.
The fellowship has helped her carve out time to research and create a powerfully personal theatrical work. She also hopes to pull together an additional audio piece on her father.
"It has been a terrific experience and the library have been wonderfully supportive," she said.
"The fellowship has been valuable on multiple levels; on the financial level it gave me breathing space to do the work. And more than that, it gave me access to the material and to those people who could navigate it."
The unearthing of the letters and diaries of Ron Bowker Cameron, a private in the 25th Australian Infantry Battalion, has helped her construct the first draft of her script. Her father was in the 26th Battalion, and their lives in the trenches would have intersected.
"Ron's experiences in the trenches essentially would have been my father's experiences in the trenches."
"Ron sent lots of letters home, describing actions, talking about their experiences and about the death of friends."
"He was such a boy, such an enthusiast, so keen on keeping in touch with his family."
"His early letters talk about getting cake and biscuits his mother and sisters had sent over from Queensland (to the Western Front)," Elaine said.
Ron wrote of this unexpected midnight feast:
"The night before we shifted up the lines, two great boxes of cakes arrived. I ate as much as I could and gave my mates a good taste."
And despite his impending engagement on the battlefield, he sought to soothe the nerves of loved ones on the opposite side of the world.
"I'm feeling really tip-top but I'm going to have a little excitement in a day or two. Please don't worry about me. I'll be as right as rain. "
Sadly the young private's comforting words ultimately proved false. He died on the battlefields of France aged 25.
While Ron does not specifically mention Elaine's father in his correspondence home, they helped her inch closer to his movements.
This convoluted search for the truth about her father has become the dramatic spine of her theatre piece.
"That's affected the structure and content of the play, that notion of him still being an opaque figure in my mind."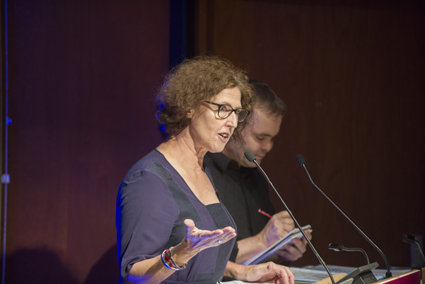 Elaine Acworth, SLQ 3 March 2016
Elaine Acworth, SLQ 3 March 2016
One of the play's characters is Elaine herself.
Her character interacts with other characters who are based on real people from the war years who may well have met her father.
"They are my imaginings of these real people."
"It's like wandering through a veiled world to find facts that are hidden and no longer possible to retrieve."
The journey to understand has been complex and, at times, frustrating.
My character keeps asking these people if they knew my father or if they had met him, Elaine said.
"This process is me trying to move from a child's love of her father to an adult's understanding."
"This is normally a shared journey, parent and child together coming to a new appreciation of their relationship, but he can't do the journey with me, I have to do it myself," she said.
However, the process has not dimmed her childhood memories.
"You don't lose your love, you just come to understand more of the man."
The call for applications for the 2016 Q ANZAC 100 Fellowship program will close on Thursday 31 March 2016. For more information please email Fellowships@slq.qld.gov.au or call 3840 7879 or 3842 9823.
Dianne McKean
Comments
Your email address will not be published.
We welcome relevant, respectful comments.