Farewelling a legend : Martin Sharp
By Administrator | 5 December 2013
We were saddened to hear of the recent death of one of the characters of the Australian and international art world Martin Sharp. Known as a painter, cartoonist, art director and film maker he drew cartoons for The Australian and the Sydney Morning Herald, created posters for Bob Dylan and Jimi Hendrix, painted the laughing face of Luna Park, designed a tapestry for the State Library of New South Wales and was captivated by Arthur Stace and his "Eternity" message.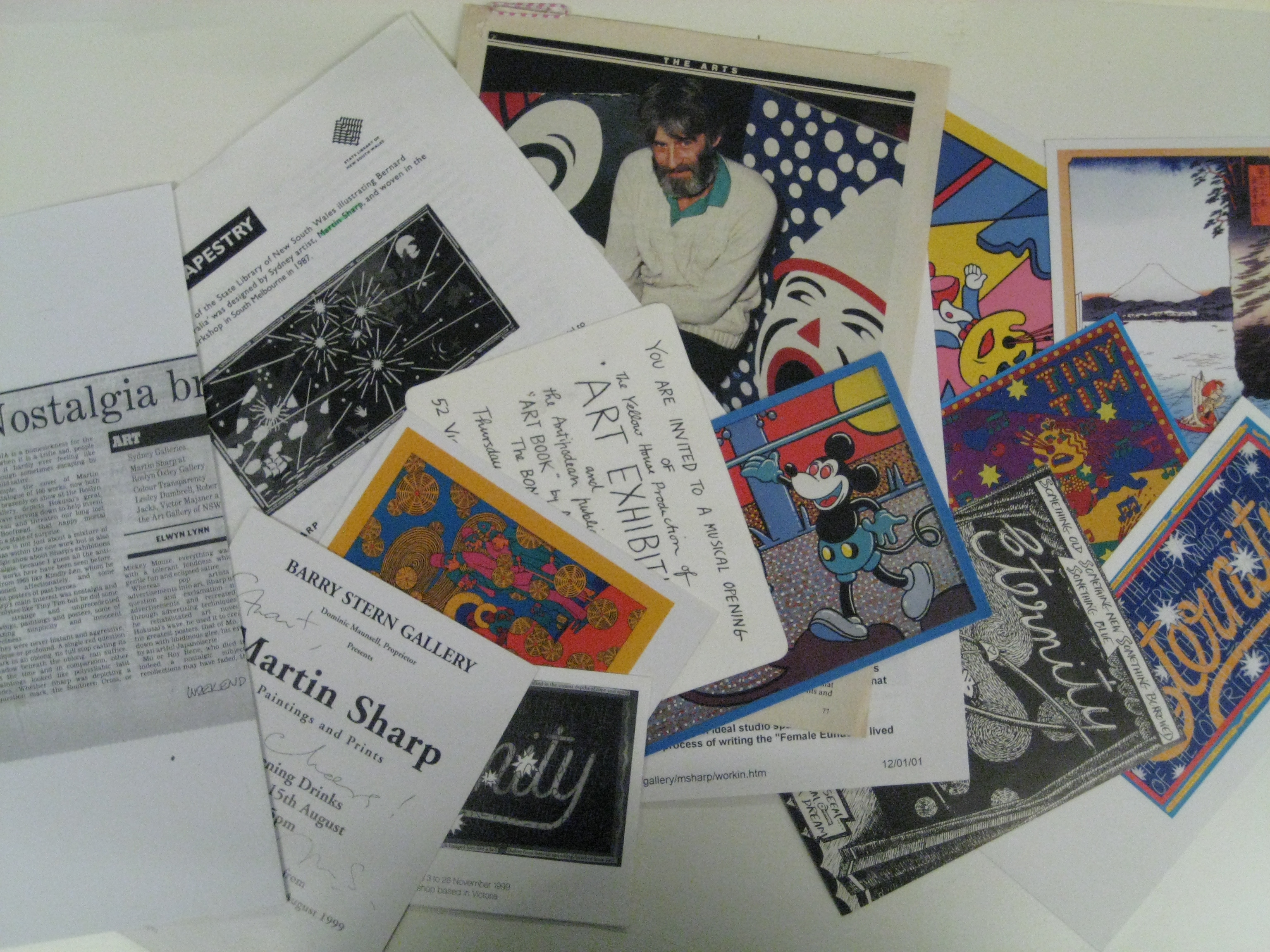 Sharp was co-creator of the satirical Oz in Sydney from 1962-1964 and was convicted and later acquitted in the infamous Oz obscenity trial. He moved to London and was involved with London Oz from 1967-1968. While in London he published a book of cartoons as well as "Magic Theatre Oz" and held an exhibition "Sharp Martin and his Silver Scissors Cartoons". He then returned to Sydney and established the Yellow House. An exhibition of his London work and another entitled "The Incredible Shrinking Exhibition" were held here and Sharp supervised its installations for a number of years. Hugely popular, the Yellow House was a multimedia space where each room represented an entire art work. He returned briefly to London in 1972 where he created Art Book.
Sharp came back to Australia in 1973 and held an art exhibition at Bonython Gallery, Sydney. During the 70's he produced posters for the Nimrod Theatre, was involved in the restoration of Luna Park and became fascinated with Tiny Tim. He spent a number of years making a film about Tiny Tim and Luna Park called "Street of Dreams". He exhibited at the Roslyn Oxley9 Gallery in 1986 and 1989, and his work has been included in a number of more recent exhibitions, such as the Yellow House 1970-72 exhibition at the Art Gallery of New South Wales in 1990, the Federation : Australian Art and Society exhibition held at the NGA and elsewhere throughout 2000-2002. Sharp was a finalist for the Archibald Prize in 2012.
Learn more about Martin Sharp through the Australian Library of Art's collection. Browse the Oz Magazine, examine the exhibition catalogue Martin Sharp : work on paper, the poster Sex! or our collection of related ephemera. Alternatively, settle down with the monographs Art Book, Australia to Oz? : the making of the tapestry, Cartoons : a selection from Oz, The Australian, The Sydney Morning Herald, Honi Soit, Tharunka etc, or scrutinise the artist's book Catalog no. 3.
The Australian Library of Art was fortunate to recently receive an original poster by Martin Sharp from Queensland artist Luke Roberts.
Martin Sharp had a unique style and his death will leave a huge gap in Australia's cultural life.
Bibliography and further reading:
Art Gallery N.S.W n.d., Martin Sharp, Art Gallery of N.S.W., Sydney.
Anderson, H 1996, Australia to Oz? : the making of the tapestry, Red Rooster Press, Hotham Hill.
Australian Galleries n.d., Martin Sharp : Biography, Australian Galleries, Sydney & Melbourne.
Frost, A 2013, Martin Sharp, Australian artist who came to symbolise the '60s, dies aged 71, The Guardian, Surry Hills, http://www.theguardian.com/artanddesign/2013/dec/02/martin-sharp-australian-artist-who-came-to-symbolise-the-60s-dies-aged-71
McCulloch, A, McCulloch, S & Childs, E 2006, The new McCulloch's encyclopedia of Australian Art, 4th ed, Miegunyah Press, Carlton.
State Library of New South Wales n.d., The "Oz?" Tapestry, State Library of New South Wales, Sydney.
Taylor, A 2013, Artist Martin Sharp dies of long term illness, The Sydney Morning Herald, Pyrmont, http://www.smh.com.au/entertainment/art-and-design/artist-martin-sharp-dies-of-long-term-illness-20131202-2ykk4.html
Weight, G n.d., Martin Sharp : Artist, cartoonist, songwriter, film-maker (b. 1944), an adaption from an original article by the author published by Australian Artist Magazine, published on the internet by MILESAGO - Australasian Music and Popular Culture 1964-1975, http://www.milesago.com/People/martin-sharp.htm
ALA team
Comments
Your email address will not be published.
We welcome relevant, respectful comments.