Evelyn ELLIS #554
By Marg Powel & Des Crump | 17 July 2017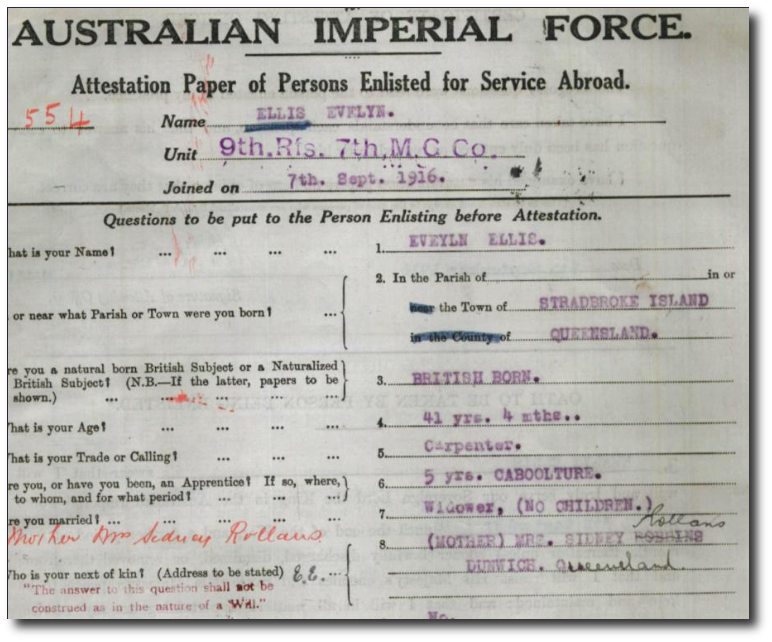 Indigenous Australian, Evelyn ELLIS, 9th Reinforcements, 7th Machine Gun Company
Evelyn ELLIS was born on North Stradbroke Island, Queensland in 1884 and worked as a carpenter before volunteering to serve with the first AIF in September 1916. After training at Seymour Barracks, Victoria, he embarked from Melbourne in December 1916 on board HMAT Orontes bound for England. The reinforcements trained at Perham Downs before sailing for France in September 1917. Ellis had been transferred to the 3rd Division Machine Gun Company.
Gunner Ellis served in France until being taken ill early in 1918, he was returned to Australia in May 1918 and medically discharged.
Read more ...
The information in this blog post has been researched by State Library staff and volunteers, it is based on available information at this time. If you have more information that you would like to share or further research uncovers new findings, this post will be updated.
Comments
Your email address will not be published.
We welcome relevant, respectful comments.