Ernst Oskar Queitzsch
By JOL Admin | 15 December 2016
Oscar QueitzschSource: Tablelands Regional Council Libraries
Oscar Queitzsch
Source: Tablelands Regional Council Libraries
Guest Blogger: Gwen Price, Tablelands Regional Council Libraries
Ernst Oskar (Oscar) Quesitzsch was born 4 April 1894 at Burkhardtsdorf, Saxony Germany to Ernst Herman and Anna Minna Quesitzsch nee Gunther. At four days he was baptised at the local Lutheran Church.
The surname Quesitzsch is the not very common. In 2014 it was the 1,423,954th most common name with 75 people living in USA and Australia according to http://forebears.io/surnames/queitzsch
Before World War 1 many young men left Germany because they were unhappy with the direction in which Germany was heading. They also didn't want to be conscripted under a militaristic regime.
Oscar had left Bremen, a port in north-west Germany aboard the "Kleist" and arrived in Sydney 26 June 1913. Other members of his family had also emigrated to Australia. His brother Paul in 1913 and their cousins Kurt, Camilla and Osmar Quesitzsch had emigrated in 1912 from Chemnitz, Germany.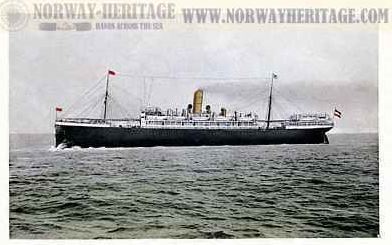 Steamship Kleist. Source: Norway Heritage
Steamship Kleist. Source: Norway Heritage
World War 1 began August 1914. All Germans were the enemy. Even those who had been born in Australia were considered an "enemy within". Many Germans were interned or deported – or both. German schools were closed, speaking the German language was banned and many Australian towns with German names were renamed. Families with German names even anglicised their names.
Oscar was one of the lucky ones that weren't interned during World War 1. However he was issued an Alien Registration Certificate No. 16 at Atherton on 21 October 1916.
Oscar was interested in photography and developed prints from his own glass plates. Through this hobby he met Dr Jarvis Nye from the Atherton District Hospital. He gained employment there as a wards man.
Oskar Quesitzsch with goannaSource: Gwen Price
Oskar Quesitzsch with goanna
Source: Gwen Price
Dr Jarvis Nye, a returned soldier had commenced at Atherton District Hospital in 1917. He had progressive ideas for advancing medical services in Atherton. In 1919 the new X-ray plant was ordered from Sydney. Oskar was sent to Sydney for training on how to operate it.
Local anti-German sentiment came to a head at a Hospital Board meeting when the Atherton RSSILA (Returned Sailor's & Soldier's Imperial League) moved a motion "That the German at the hospital be dismissed and a returned soldier put in his place. Dr Nye stood and said the motion should be changed to "instead of the wards-man Queitzsch being dismissed that the superintendent be dismissed, for while I am here the wards-man will remain." Eventually the talk died down and the enormous workload of the hospital continued.
When Oskar applied for naturalisation in 1922 he had been employed for four years as a wards-man at the Atherton District Hospital. Three local British born citizens had to attest to Oscar's character and good standing in Atherton.
Naturalisation papers for Oscar Quesitzsch (p 1)
Naturalisation papers for Oscar Quesitzsch (p 2)Source: National Archives of Australia 1922/17141
Naturalisation papers for Oscar Quesitzsch (p 2)
Source: National Archives of Australia 1922/17141
There also had to be no evidence that he had shown himself by act or speech to be disaffected or disloyal to His Majesty the King. He had to place advertisements in the local papers to declare his intention to apply for naturalisation.
Newspaper advertisement for naturalisation from naturalisation fileSource: National Archives of Australia 1922/17141
Newspaper advertisement for naturalisation from naturalisation file
Source: National Archives of Australia 1922/17141
On 5 April 1926 Ernst Oscar Queitzsch married Ena Grace Foxwell. Ena was the second daughter of eight children born to John Edward Foxwell and Edith Isabel Stanfield. John had selected Portions 294 and 295 Parish of East Barron. The family had lived at Kureen from 1907 and her father John was active on local agricultural boards.
The Memorial Wards at the Atherton District Hospital were officially opened during November 1926 by Tinaroo Shire Council Chairman Mr F Grau. The new Gordon Operating Theatre and Mathieson X-ray Room were also opened.
Before Christmas 1926 Dr and Mrs Nye left Atherton to reside Brisbane. Oskar left Atherton in December 1929 and joined Dr Nye's clinic practice. Initially he did all the pathology work and later worked as a radiographer.
Oscar and Ena had one daughter named Jillaine. According to the 1934-1959 Queensland Electoral Rolls Oscar, a technician and his wife Ena were living at 332 Gympie Road, Kedron Brisbane.
Ernst Oscar Queitzsch, aged 78 years died at Albany Creek, Brisbane on 1 November 1972. In his honour the Oscar Queitzsch Memorial Prize is awarded annually for excellence in radiology studies.
Comments
Your email address will not be published.
We welcome relevant, respectful comments.