Ernest WATTS #6850
By Marg Powell & Des Crump | 3 May 2019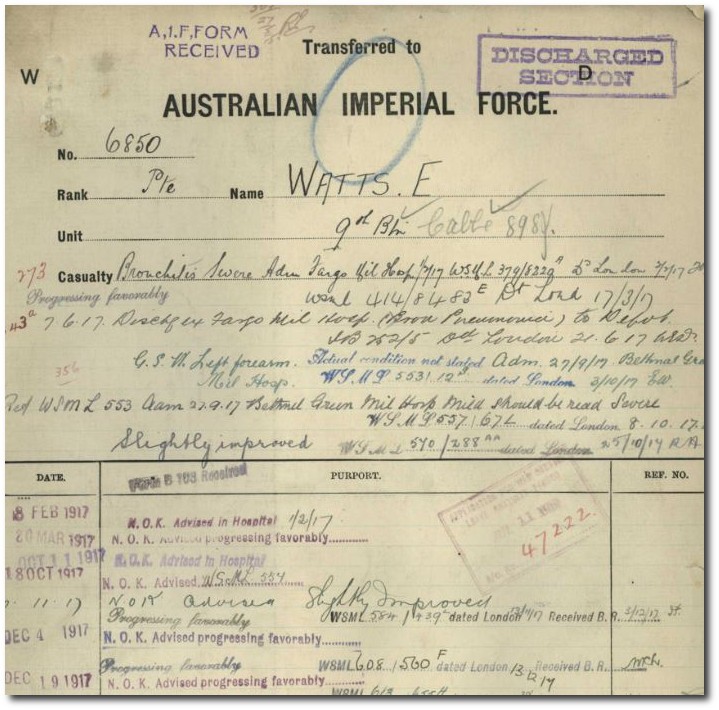 Indigenous Australian, Ernest Watts, 9th Infantry Battalion
Ernest (Ernie) Longbottom Watts (1893-1962) a Yuin man, was one of three brothers who volunteered to serve for his country, their parents were Charles Watts and Mary Ann Longbottom.
Ernie was 25 years old when he enlisted in the first AIF in August 1916. Although he enlisted in northern New South Wales, like many other men from the area, he trained at the military camp in Enoggera, just outside Brisbane and was assigned to a Queensland regiment. His young brother Charlie was already in camp, and due to embark at the same time for service overseas.
Ernie left Brisbane without his brother and embarked on HMAT Marathon late October 1916 bound for England. For Ernie his voyage ended with being admitted to the military hospital at Fargo not long after they arrived, seriously ill with bronchitis and did not rejoin his battalion until early June.
Finally fit and well he sailed for France and joined the 9th Infantry Battalion in the field 5 August 1917 just prior to their move to Vieux Berquin, south west of Bailleul. Six weeks later the battalion took part in the battle of Menin Road on 20 September, on the Western Front, where Australian Divisions advanced on German positions through Polygon Wood, but at a heavy cost. It is estimated that the two Australian Divisions sustained over 5,000 casualties.
Ernie Watts was severely wounded during this action, receiving gun shot wounds to his right forearm, as well as to both feet. He was evacuated to hospital in England where he spent many months recovering from his wounds. Ernie was eventually allowed to return home, in March 1918.
Ernie Watts was honoured, along with other members of the Numulgi community who served, by having his name inscribed on the honour roll, unveiled in the Numulgi Soldiers' Memorial Hall in September 1921. During the ceremony the Reverend A.E. Preece stated that he "hoped the honour roll would remain as a lasting memory of the great things done by their men, and the part taken by the Numulgi heroes in the war."
Those commemorated on the roll include:
D.L. Clark; J. Langdon; L.S. Carter; J.C. Watts, L.H. Skellington; H.S. King; E. Watts; W. McMonigal; A. Harvey; I. Dawson - all wounded; G.A. Small, F. Heron, A.E. Kimber, G.S. McBlack, G.A. Miller, W. Duncan, J.F. Crowther.

In memoriam - S.S. Smith; P.B. Mailey, V. Hudson, E. Condon, S. Wilson DCM, R. Clarke DCM, W.P. Low, J.G.F. Richardson, F. Harvey, T.W. McMurtrie, A. Chapman, W.S. Elliot, J.H. Elliot, M. Gaffney, H.O. Kirke.
Ernie Watts also enlisted during the Second World War, but did not serve overseas.
Read more ...
The information in this blog post has been researched by State Library staff and volunteers, it is based on available information at this time. If you have more information that you would like to share or further research uncovers new findings, this post will be updated.
Comments
Your email address will not be published.
We welcome relevant, respectful comments.