Ernest Alexander GALLAHER #5839
By Marg Powell | 9 October 2017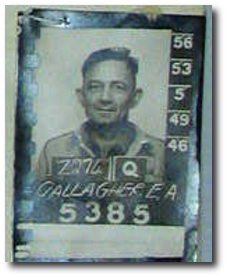 Ernest Alexander GALLAHER
26th & 25th Infantry Battalions - WW1
5th Light Horse Regiment & 5th Motor Regiment (Wide Bay and Burnett Light Horse) - WW2
Private Ernest Gallaher was born at Laidley in 1900, and moved with his mother Catherine and stepfather Henry Glover to Cooran prior to the war. Ernest followed his older brother Charles to camp when he enlisted (underage) in June 1916 and where he was assigned to the 4th Reinforcements for the 26th Infantry Battalion.
Ernest arrived in England on board the troopship Boonah early 1917, and in March he was admitted to hospital with mumps. Two weeks later he joined his fellow reinforcements at the 7th Infantry Training Battalion, in Rolleston. Now ready to join their battalion in the front lines, they embarked for France and the Australian Base Depot at Le Havre, here Ernest was transferred to the 25th Battalion.
In October 1917, the 25th Battalion was operating in Ypres, very near where his older brother Charles was also serving. Ernest was wounded in the leg, and was treated in hospital in France, before rejoining his unit, however a few months later was re-admitted to hospital suffering from tonsillitis. Ernest spent some time recuperating at No.1 Convalescent Depot, at Boulogne before returning to the front lines, this time with his original battalion the 26th.
In September 1918, Ernest Gallaher was found guilty of offences under military law, and sentenced to serve 1 year and 4 months in a military prison, and was transferred to a facility where he remained until being returned home in July 1919.
Men of the 5th Light Horse Regiment, 1940. From left Trooper Robert Hodgetts (Bundaberg), Trooper Ernest Gallaher, and Trooper G. Simpson, at Beaudesert.
Undeterred by his experiences in the First World War, Ernest Gallaher again volunteered his services during the Second World War, enlisting in December 1940 with the 5th Light Horse Regiment at Gympie, which was later was converted into a motor regiment, and renamed the 5th Motor Regiment (Wide Bay and Burnett Light Horse).
* Family advice received is that Ernest and his brother Charles Gallaher were of Aboriginal descent.
Read more ...
The information in this blog post has been researched by State Library staff and volunteers, it is based on available information at this time. If you have more information that you would like to share, or further research uncovers new findings, this post will be updated.
Comments
Your email address will not be published.
We welcome relevant, respectful comments.