Edward KELLY #1986
By Marg Powel & Des Crump | 1 December 2017
Extract from service record for Edward Kelly (National Archives of Australia)
Indigenous Australian, Edward KELLY, 2nd Australian Remount Unit
Edward (Ned) Kelly was born at St George, Queensland in 1879 to Kelly and Elizabeth. He volunteered to serve with the first AIF in October 1915, where his extensive skills as a horse breaker were used to great advantage in the 2nd Australian Remount Unit.
The Remount unit was made up of experienced men who had worked as drovers, stockmen, horse breakers, and rough riders. Horses arrived in Egypt in their hundreds each week, to be handled and cared for by the Remount Units. Bases were set up within riding distance of major areas of operation, for mounts to be readied for the troops in the field.
Kelly was assigned to the 7th Squadron, and embarked for Egypt aboard HMAT Orontes in November 1915. Although not in the front lines of defence, their work was often arduous and the conditions trying as they brought to strength the mounts they had been supplied.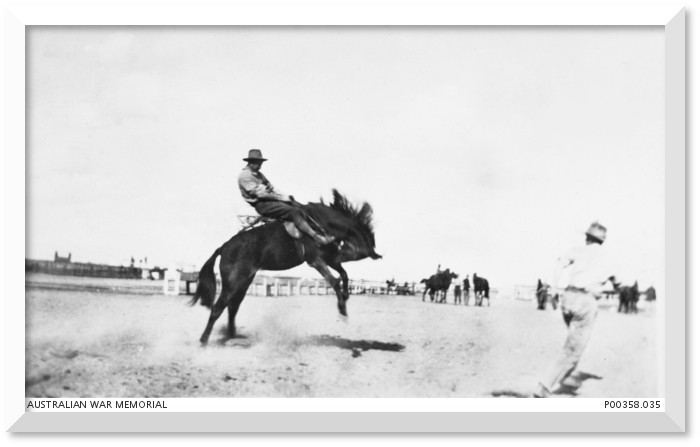 Edward Kelly, riding a buck jumping horse, Egypt, 1916-1919 (Australian War Memorial)
Kelly was not only stationed with the Remount Unit at Moascar, but deployed to the Field Remount Sections at Rafa, in November 1917 and at Ludd in September 1918.
During the 4 + years that Kelly served, he was only admitted to hospital once, for malaria in October 1918. Trooper Kelly returned to Australia in September 1919 and married Ada Lavinia Hazard in 1921 taking up residence in Dalby on the Western Downs and returning to work as a stockman.
Read more ...
The information in this blog post has been researched by State Library staff and volunteers, it is based on available information at this time. If you have more information that you would like to share or further research uncovers new findings, this post will be updated.
Comments
Your email address will not be published.
We welcome relevant, respectful comments.