Edmond COOCHY #Depot
By Marg Powel & Des Crump | 24 July 2017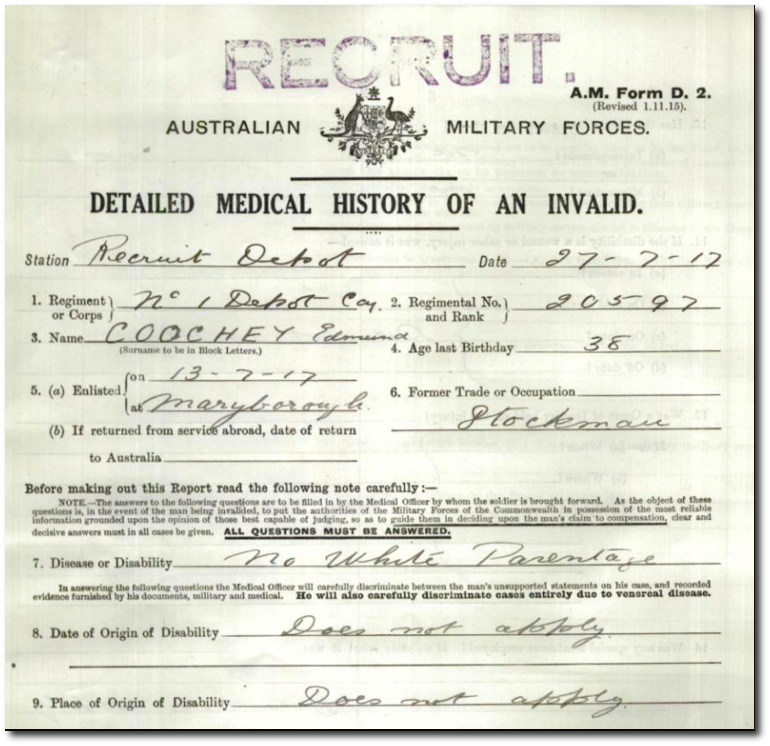 Indigenous Australian, Private Edmund COOCHY (AKA Couchy), Depot Battalion
Edmund Coochy a stockman on Mt Joseph Station, Brooweena, was born in Gayndah, Qld in 1889. His wife Agnes and two month old child were living at Gayndah when he enlisted in July 1917. Edmund Coochy was discharged two weeks later for having 'no white parentage'. Edmund Coochey and his family were later 'removed' to the Aboriginal Settlement at Barambah, now known as Cherbourg.
Edmund Coochy's brother Walter Coochy #2420 was accepted to serve with the 5th Light Horse Regiment, without being excluded due to his heritage.
+ Their surname is variously spelt - Coochy, Coochey, Couchy
Read more ...
The information in this blog post has been researched by State Library staff and volunteers, it is based on available information at this time. If you have more information that you would like to share or further research uncovers new findings, this post will be updated.
Comments
Your email address will not be published.
We welcome relevant, respectful comments.