Dragon Tails: Chinese in North Queensland
By Administrator | 29 July 2015
Did you know that in 1877, 90% of the people on the Palmer River Goldfields in Queensland were Chinese? Chinese labourers travelled to many parts of the world as indentured labourers or seeking prosperity and fortune.
Recently, the city of Cairns hosted Dragon Tails: 4th Australasian conference on overseas Chinese history and heritage, with scholars from the United States, South Africa, Indonesia, New Zealand and every state of Australia. Comparing the experience of the Chinese in many countries and colonies proved a very valuable way of approaching the history of the Chinese in North Queensland.
The keynote speaker for the conference was Professor Evelyn Hu-DeHart from Brown University, Providence, RI, who is a specialist in North American race history studies, and has studied the Chinese labourers on the sugar plantations of Cuba. Archaeologists, anthropologists, historians, museum curators, musicologists, genealogists and local historians introduced topics as diverse as restoring temples, identifying Chinese digits on gravestones and temple boards, understanding Chinese naming conventions, exploring inquests and exhumation records, and the history of the processional regalia and musical instruments that were imported from China for each temple.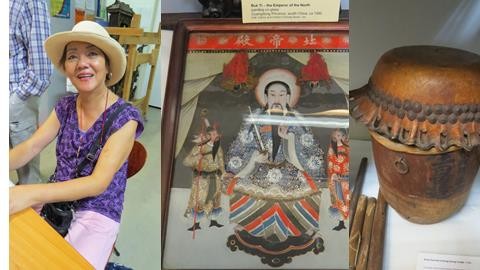 Professor Evelyn Hu-DeHart and objects in the CADCAI collection
Professor Evelyn Hu-DeHart and objects in the CADCAI collection
Understanding North Queensland means understanding the Chinese contribution to the region. In 1873, gold was discovered at the Palmer River, and 22,000 Chinese entered through the port of Cooktown. The Chinese walked, by all accounts, mostly in single file from Cooktown to the Palmer River, carrying their possessions and tools on their shoulders. Cooktown swelled very quickly to a town with as many pubs as brothels, and a vigorous Chinatown sprang up on the waterfront. Alluvial tin mining was another potential source of wealth and prosperity, and soon tin was mined on the Palmer River and at Stanthorpe in Southern Queensland, where Chinese fortune seekers were imported directly through Brisbane to work in the tin mines in the 1870s.
The Chinese met with racism and a distinct lack of encouragement by other miners, workers, and members of society. Soon, the journalists were describing the immigrants as "celestial heathens", and used other derogatory terms as they questioned their rights to mining claims, land and jobs. They became aliens under the White Australia Policy and could not own land.
Yet the Chinese became valued members of the North Queensland community, through their business acumen, cuisine and ability to grow anything anywhere. Key to their participation in the Queensland community was the celebration of Chinese festivals, lion dancing, dragon dancing, and musical performances, which became part of Queensland's mainstream festivals and celebrations.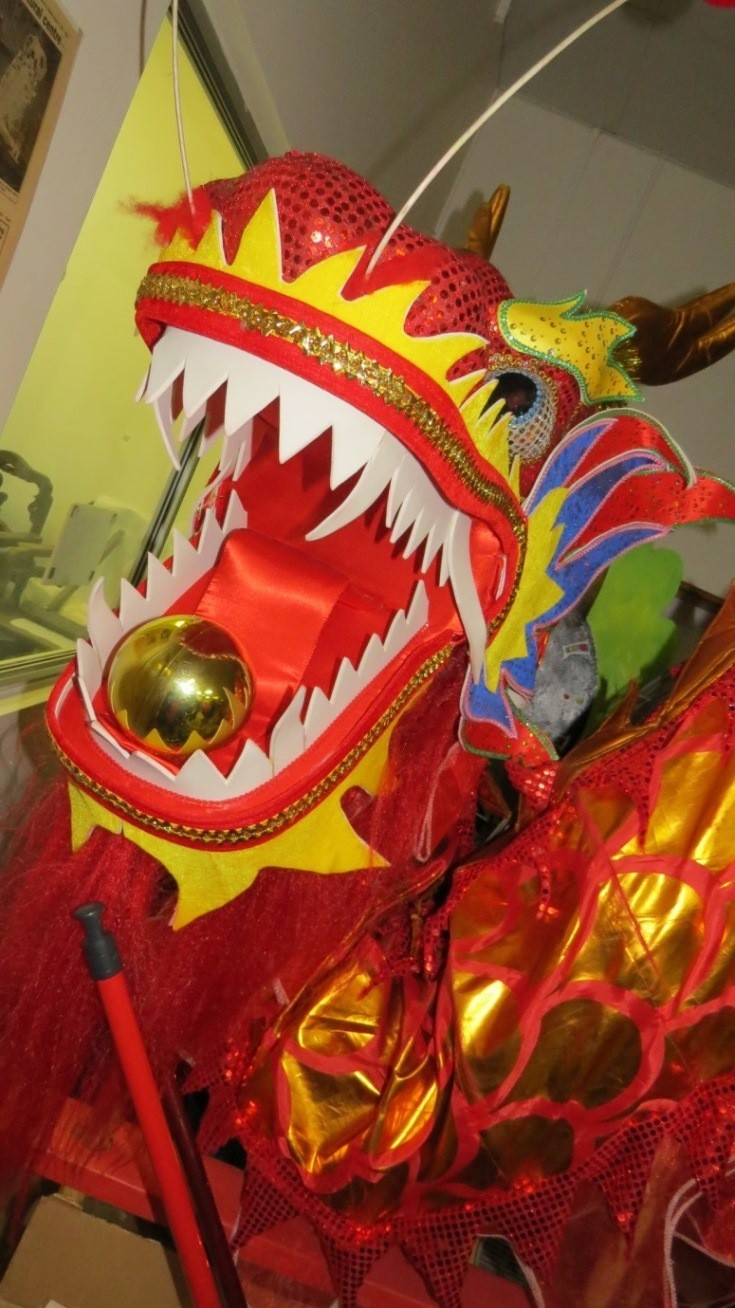 Chinese Dragon from the CADCAI collection
Chinese Dragon from the CADCAI collection
Chinese temples existed in most major northern cities of Queensland, and also in Brisbane. Of the remaining temples in Atherton, Innisfail, and Brisbane, the former is the only example of its kind in existence. It is made of wood and covered completely in corrugated iron. Restored for the National Trust by a group led by archaeologist Gordon Grimwade, the Atherton Hou Wang Temple is now an important relic of the Chinese heritage of Queensland. Many temples were damaged by cyclones in the north, while others were demolished as the last worshippers drifted away.
Archeologist Gordon Grimwade explains the interior of the Atherton Temple
Archeologist Gordon Grimwade explains the interior of the Atherton Temple
Chinatowns were demolished as "unhygienic and unsavoury" after World War One, and important historical records and archaeological sites were removed in the joint names of progress and cleanliness. Dragon Tails conference delegates were warmly welcomed at both Atherton and Innisfail temple communities as they learnt about the trials and tribulations of Chinese labourers in early Queensland.
Christina Ealing-Godbold, Senior Librarian
Information Services
All images supplied by Christina Ealing-Godbold
Find out more:
Dragon Tails Conference program http://www.dragontails2015.org.au/Program.html
Atherton temple http://www.houwang.org.au/temple.html
Cairns & District Chinese Association Inc (CADCAI) http://www.cadcai.org/
Innisfail temple http://www.innisfailtemple.com/
Chinese Heritage In Northern Australia (CHINA Inc) http://chinainc.yolasite.com/
Comments
Your email address will not be published.
We welcome relevant, respectful comments.