Digitised@SLQ: Regimental Standing Orders
By JOL Admin | 9 July 2015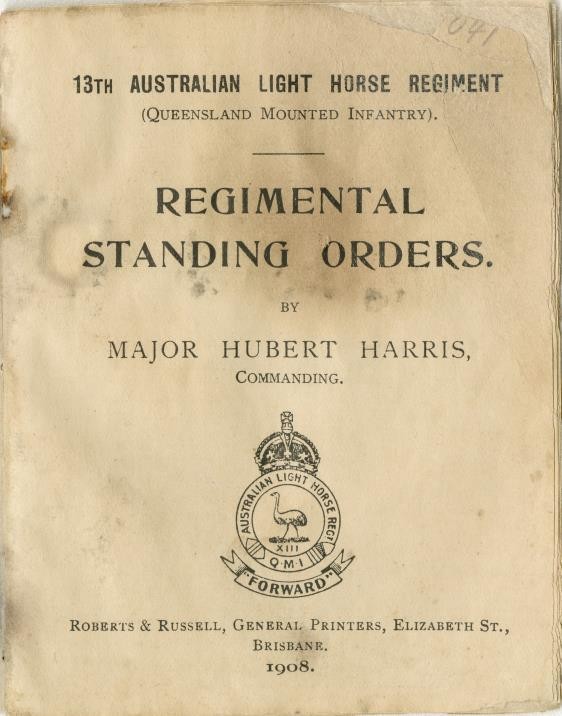 Regimental Standing Orders
State Library recently digitised the Standing Orders of the 13th Australian Light Horse Regiment (Queensland Mounted Infantry), written in 1908 by Major Hubert Harris, Commanding Officer. Before Federation, Queensland supported a number of local mounted infantry units. As forces were mobilised for overseas service in South Africa, three contingents of horsemen were raised from these local militia. After the Boer War and following Federation, the State forces were amalgamated to form the Commonwealth Military Forces. On 1 July 1903 the four battalions of the QMI were reformed as the 13th, 14th and 15th Australian Light Horse Regiments (Queensland Mounted Infantry). Further re-organisation following the 1910 Kitchener Report led to the creation of Military Districts (Queensland became the 1st Military District), and military units were renamed accordingly. The 13th (QMI) Australian Light Horse became the 2nd (QMI) Australian Light Horse.
When war broke out in 1914, three expeditionary Light Horse Regiments were raised in Queensland - the 2nd Light Horse Regiment, the 5th Light Horse Regiment and the composite 11th Light Horse Regiment whose C Squadron was raised in South Australia. While there was no connection between the 2nd (QMI) Australian Light Horse and the AIF 2nd Light Horse Regiment, the 2nd LHR did draw enlistees from the militia unit.
Regimental Standing Orders
So the digitised Regimental Standing Orders represents a precursor to World War, and reveals the duties and responsibilities of officers and troopers in a local Queensland militia unit. Much of the publication involves the care of horses and their equipment. Captain R.M. Stodart, who later became Commanding Officer of the 2nd Light Horse Regiment during the First World War, is listed as the unit Adjutant.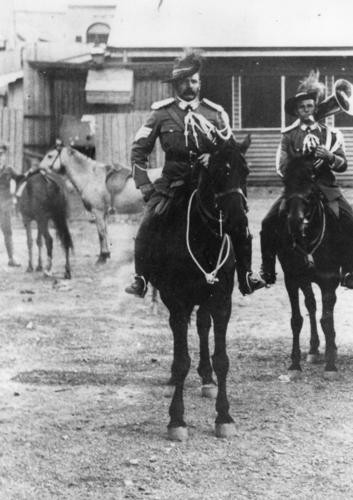 Sergeant Beard mounted on his horse Paddy ca. 1908
Sergeant Beard mounted on his horse Paddy ca. 1908
One of the aims of State Library's QANZAC100: memories for a new generation project is to identify and digitise 100 collections from around the state. This publication has been digitised as part of that deliverable. The digital item is now part of State Library's collection, and the original physical copy belongs to the collection of the 2/14 Light Horse Regiment (QMI) Museum at Gallipoli Barracks, Enoggera.
Newly digitised content can be found throughout this blog by looking for digitisation tags and Digitised@SLQ headings. More content is available through State Library's catalogue One Search.
Robyn Hamilton – QANZAC100 Content Curator, State Library of Queensland
Comments
Your email address will not be published.
We welcome relevant, respectful comments.