Diaries of a stretcher bearer 1916-1918
By JOL Admin | 23 March 2015
Diaries of a stretcher bearer 1916-1918
Diaries of a stretcher bearer 1916-1918
Along with its collections of original letters, diaries and photographs, State Library of Queensland also holds many publications pertaining to the First World War. One such title is Diaries of a Stretcher Bearer 1916-1918. Published by Boolarong in 2010 and edited by Donald Munro, this volume contains the diaries of Mr Munro's father - 13629 Lance Corporal Edward Charles Munro, a farmer from Dunbeath, Burpengary, who served as a stretcher bearer on the Western Front. Edward enlisted, aged 19, in the Army Medical Corps, Special Reinforcements, and with the 5th Australian Field Ambulance, embarked on board the HMAT A61 Kanowna on 29 March 1916.
Life as a stretcher bearer was both strenuous and dangerous, as teams of bearers were responsible for immediate removal of wounded from the thick of the action. Casualty rates among stretcher bearers were high, as they often performed their duties while under direct fire. Edward Munro's diaries offer a frank account of his experiences, and convey the hardships of life as a non-combatant on the front line.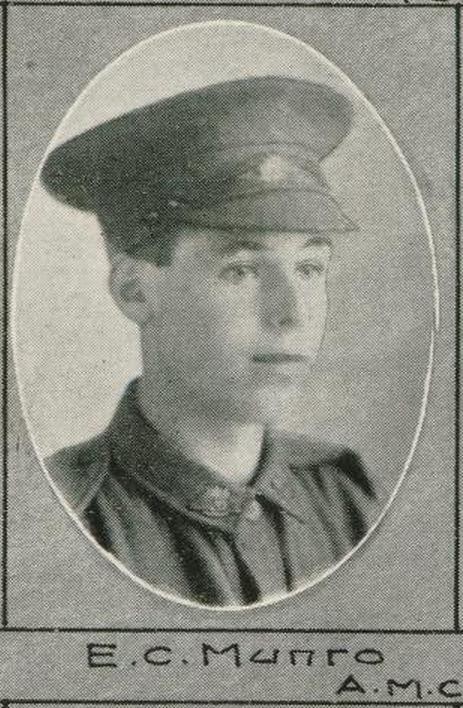 Page 25 of the Queenslander Pictorial, supplement to The Queenslander, 15 April, 1916, Image: 702692-19160415-0025
Page 25 of the Queenslander Pictorial, supplement to The Queenslander, 15 April, 1916, Image: 702692-19160415-0025
Edward was awarded the Military Medal for bravery in the field during the Battle of Bullecourt in May 1917, but his achievement was tempered by the deaths of both his brothers. Older brother James, commissioned with the Royal Flying Corps, had been killed in a flying accident in 1917, and his younger brother Christian died of wounds on 24 April 1918.
Included in Edward's service record at the National Archives of Australia is a poignant letter from Munro's mother dated 28 May 1918, requesting that Edward be permitted to come home to Australia, as he was the only son left alive. In the letter Mrs Munro explained that because her husband, Edward's father, was also serving in New Guinea, she had no one to help her manage the farm. Edward was subsequently returned to Australia on 23 September 1918, and discharged for 'family reasons'.
A summary of the action at Bullecourt can be found in Munro's entry in the AIF Database:
'The men formed a stretcher squad carrying wounded on May 3rd North of NOREUIL during the intensity of the bombardment. While so engaged they were in the vicinity of a Trench Mortar Shell Dump near NOREUIL, when an enemy shell fell in the dump causing a fire and great explosion killing and wounding a number of men nearby. The stretcher squad with utter disregard of danger rushed to the spot and attended the wounded and carried them away in safety, in spite of an intense enemy barrage following on the explosion. They carried wounded continuously for 36 hours in spite of heavy barrages. Between the hours of 4 and 6 a.m. on that date the barrage was particularly heavy and there were no troops moving on the road at the time on account of the heavy fire. In spite of this 28 cases were carried 1 3/4 miles to a place of safety. During this time they frequently stopped to attend to wounded on the way.'
Source: Commonwealth Gazette No. 189
Date: 8 November 1917
Diaries of a stretcher-bearer is on the shelf in the John Oxley Library, and can also be purchased at the Library Shop.
Robyn Hamilton - QANZAC100 Content Curator
Comments
Your email address will not be published.
We welcome relevant, respectful comments.