Desert Ambulances
By Marg Powell, Specialist Library Technician, Metadata Services | 2 March 2015
One of the challenges during the First World War lay with the transport of wounded men across desert conditions - no ordinary wheeled vehicles would do the job.
With characteristic initiative the transport section of the 2nd Light Horse Field Ambulance came up with a Sand Sledge.
Constructed using a sheet of galvanised iron with the front bent to 45 degrees, with a floor made of a rectangle of timber bolted to it, which could hold a stretcher. It had a swingle bar attached so that it could be harnessed to a willing beast.
Double sand sledge, AWM H13945, Sinai, 1916
Colonel David Croll
commander of the 2nd Light Horse Field Ambulance describes the hilarious test-run of this innovation -
" ... a quiet old horse was fetched out and harnessed to the contraption. All the time he was being yoked up he was looking back curiously at the strange affair they were hitching behind him and showing every sign of nervousness. He started off all right across a patch of sand, but presently came to a bit of gravel on which the iron made a horrible scraping noise. That ended it - he went through the camp like a cat with a kettle tied to its tail - and was last seen going through the A.S.C. cookhouse with the sleigh trailing straight out in the air behind him ... "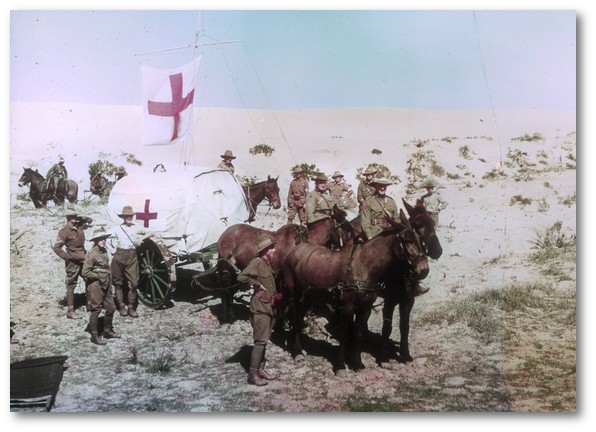 Field Ambulance wagon AWM P03631.035, 1918
Ambulance carts - horse drawn, covered wagons - were used in less sandy territory, although they provided a much more comfortable ride for the wounded.
Camels were also used as ambulance transports, fitted with cradles or
Cacolets
for transporting wounded. Designed for either sitting or lying they have been described as damnable contraptions, but often there was no alternative. Camels could walk very long distances with very little water.
The journey was very slow and for the wounded the ordeal of being flung around, on the side of a lumbering camel would have seemed interminable.
Camel ambulance with cacolet SLQ, OM77-14
Colonel Croll describes transporting wounded -
A sand-cart required 4 horses and two drivers and took 2 casualties
A sledge took one casualty and required 2 horses and 2 drivers
A camel took two casualties but was very rough and very slow
His narratives document the co-ordination of field transport - bearers, drivers, horses, camels, wagons; the supply of medical services as well as the basics of food, water and shelter, but it also describes with great compassion - the difficulties in treating and retrieving wounded men in desert conditions, collecting them under fire in open warfare.
David Gifford Croll was an eminent doctor-soldier, remembered not only for his outstanding service in Egypt, Gallipoli, Sinai and Palestine, but his leadership in medicine in Queensland. He is featured in the State Library of Queensland's 2015 exhibition: Distant Lines : Queensland voices of the First World War.
Further reading:
Comments
Your email address will not be published.
We welcome relevant, respectful comments.